Taieser Al Saati
Executive Partner, License no. 46411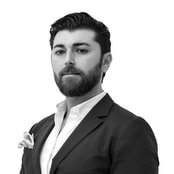 Languages:

English, Arabic
Dr. Taieser Al Saati is an Executive Partner at LUXHABITAT Sotheby's International Realty. A Syrian national with vast experience in the GCC's real estate market, Al Saati is one of the region's leading real estate professionals.
Specializing in working with high-net-worth individuals and investors, Al Saati has secured the sales of more than USD 1.4 billion in residential and commercial properties over the past two years, including record- breaking deals on some of Dubai's most expensive assets. Among these, USD 1 billion of sales were achieved in Jumeira Bay alone, an area that is set to witness capital appreciation of as much as 25 percent in the next 24 months.
With over a decade of experience within Jumeira Bay alone, his recent successes include closing the deal for the single biggest residential land sale on the Island for AED 180 million, the most expensive villa in Dubai to date at AED 125 million, among several Skyline view Bvlgari mansions and also achieving the only resale at the super-exclusive Marsa Al Arab.
Thanks to his expert understanding of how risk, opportunity costs, and information impact investment choices, Al Saati has successfully won his clients' confidence, helping him build long-term relationships across the sector. Today, Al Saati has a reputation that precedes him, with his clients often referred through personal recommendations. Thanks to his global network of UHNWIs, some with a net personal worth of up to USD 25 billion, Sotheby's International Realty has exclusive access to some of the world's finest homes and properties.