Top 10 Emirates Hills Properties
Touted as homes to the rich and famous, the Emirates Hills area has stunning villas to covet.
Words by Aneesha Rai in Portfolio · May 12th, 2015
Our last press release revealed that the Emirates Hills locality in Dubai received a surge in transactions by almost three times compared to last quarter in Q1 2015. The most expensive property transacted this past quarter was an Emirates Hills villa at AED 60 million. Touted as homes to the rich and famous, it is difficult to come up with an address for villas as exclusive as this locality. With an average transaction amount of AED 34.5 million, one must have deep pockets to be able to own a villa in this locality.
Luxhabitat presents to you our 10 best Emirates Hills properties for sale in the UAE:

1) E Sector, Emirates Hills (AED 65 million)
The newest addition to our portfolio, this property is located in a private corner plot and stands in beautifully created grounds extending to in excess of 31,000 square feet. The villa has been created with some of the finest materials imported from Europe. It has a luxury feel and open plan family living areas with stunning floors handcrafted with imported Spanish/Portuguese marble. All of the six bedrooms have individually designed bathrooms and the 2 master suites offer large lounge/dressing areas with private terraces incorporating pool access and pool views.
2) E Sector, Emirates Hills (Price on Application)
This striking contemporary villa is breath-taking both inside and out. In a thoroughly modern style, the sleek lines are complemented by high ceilings and large windows, bathing all of the rooms with natural light. A very open floor plan with high gloss, chrome and glasswork throughout, the villa, unusually, features natural sedimentary stone with a highly polished finish, in neutral colour, which runs through all three liveable floors of the property.

3) H Sector, Emirates Hills (AED 42 million)
This beautiful villa has an amazing landscaping with private pool, gorgeous exteriors all upgraded offering amazing views of the golf course. Open bright living room, bright rooms with high ceilings and of course high quality wood and flooring span this 5 bedroom villa.

4) H Sector, Emirates Hills (Price on Application)

Pristine and classy, this Emirates Hills villa offers you lush and luxurious living. Nestled in a peaceful locality, this villa offers an ideal retreat for the reclusive. Featuring 5 bedrooms, the villa features marble flooring with an occasional elaborate finish, keeping it regal in appearance.

5) L Sector, Emirates Hills (AED 175 million)

This villa tops our list of the most expensive properties in Dubai. Modern finishing and state of the art home technology, allowing control from a smart phone, sit comfortably alongside a grand interior with classic Italian design influences making this a unique and inspiring place to live.

6) R Sector, Emirates Hills (AED 49.5 million)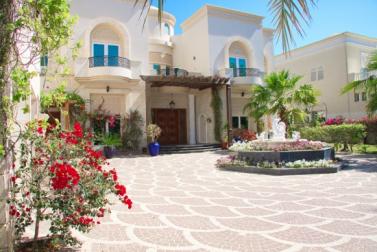 This stunning 6 bedroom villa is located on the golf course in the most prestigious area of Emirates hills .The views and location and the peaceful and tranquil street the villa is located in adds value to the gorgeous landscape.

7) P Sector, Emirates Hills (AED 33 million)

This classic villa hosts six bedrooms and is nothing short of opulent. Its basement features a private cinema, whiskey bar as well as a gym and a sauna. Hosting 3 bedrooms, this villa spans a remarkable 13,000 sq ft.

8) H Sector, Emirates Hills (AED 36 million)
This majestic and ultra chic 4 bedroom villa is a stunning example of modern open space living. With top quality fittings and finishes from luxury brands like, Miele kitchen appliances, Zanotta furniture and Elitis wallpapers, this villa oozes charm.

9) W Sector, Emirates Hills (AED 27 million)

This beautiful Arabic style villa located in the most prestigious area of Emirates Hills with open plan and 3 floor and 6 parking spots is an amazing choice for families.

10) V Sector, Emirates Hills (Price on Application)
The villa is spread over two floors which are accessible through a magnificent glass railed, floating staircase or a lift. The ground floor hosts most of the living spaces of the home including two large entrance halls, two large lounge areas with one opening out into the garden and pool area, a dining area adjacent to the enormous kitchen and another seating area surrounding the floating staircase and bridge area which has the indoor garden and is excellently accented by the inwards slanting glass walls.