Portfolio
Top five villas in Al Barari
Here's our top five picks of the best villas in Al Barari
Words by Aneesha Rai in Portfolio · Apr 15th, 2022
Surrounded by lush greenery, Al Barari hosts some of the most beautiful retreat-style villas in a green setting. Here are our top five picks for villas on the market in Al Barari:
1. Villa Blackrock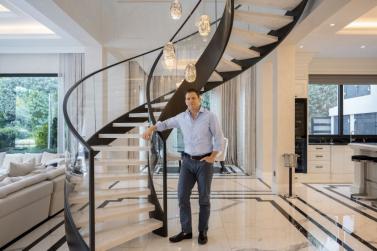 Carefully curated and wonderfully curated, Villa BlackRock was designed by owner Nabil & Italian architect Frederico Spagnulo and hosts a state-of-the-art swimming pool, spa, cinema room and stunning walk-in wardrobes. Additional highlights include Italian marble and tiling, Swedish wood flooring, Belgium fireplaces and carpeting, American veneered panelling, a large bespoke English lawyer desk, a German/Swiss spa, American/German kitchen appliances, a UK indoor speaker system, a Canadian outdoor speaker system, a gun-metal crystal drop chandelier and a bespoke spiral staircase by an accomplished Iranian artisan with works in the Guggenheim museum in New York. Read more about the villa in our Open House interview here.
2. The Nest Villa, Aed 16 Million
Maryam's The Nest villa in Al Barari is full of character and upgrades that carry warmth & hospitality. The villa also carries touches of carefully curated Pakistani art from up and coming artists. Eclectic and unique elements encompassed in the villa were sourced in collaboration with Heliya from Heliya Design company and include pieces from the Bowery Company, Loom Collection and the Line Concept. You can read more about Maryam's home on our Open house feature.
3. The Nest Villa, Aed 18.5 Million
This Nest villa also comes with upgrades; with its own private elevator for easy access and covered parking to protect your cars. There are five well-sized bedrooms in the villa, all with their own en-suite bathrooms and several large balconies that overlook the beautifully landscaped garden and private swimming pool.
4. The Nest Villa, Aed 15.65 Million
This Nest villa is situated on a corner plot with a chic and contemporary open-plan space. Inspired by bungalow living, it features a show & wet kitchen. The villa also happens to be Vastu compliant.
5. Acacia Villa, Aed 22 Million
This Acacia villa hosts 7 bedrooms and is one of the largest villa types in the area. The living area consists of separate formal and informal family living and additional dining areas, opening up to the garden and pool. The two basements are ideal as a cinema or games room and have an adjoining shower room. The villa has a large roof terrace which is perfect for entertaining and admiring the Dubai skyline view. The garage offers space for three cars.
Interested in viewing more villas? Have a look at our villas for sale in Al Barari.