Stunning Lagoon Royal Villa nestled on the Palm Jumeirah
Stunning Lagoon Royal Villa nestled on the Palm Jumeirah
Palm Jumeirah Villa
Situated on the iconic Palm Jumeirah, it is a haven of luxury and opulence, as well as lavish design and world class amenities. Owners lucky enough to purchase one of the Royal Villas will be transported back to experience the Royal Ottoman Era. This four-bedroom Lagoon...
Lifestyles
AED 37,000,000
Royal Villas
Palm Jumeirah
Royal Villas on the Palm Jumeirah offer a luxurious lifestyle to its residents. Each villa is designed to offer unparalleled views of the Arabian Gulf and is equipped with state-of-the-art amenities. The Royal Villas on Palm Jumeirah capture the spirit of the Ottoman era, featuring the finest...
Explore Royal Villas
Neighborhood
Palm Jumeirah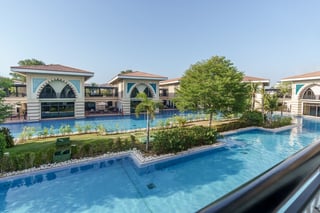 The revered Palm Jumeirah is the world's largest man-made island and is comprised of a two kilometre long trunk, a crown made up of 17 fronds and a surrounding crescent. It has over 4,000 exclusive villas within gated communities and spacious apartments which enjoy beautiful sea views along with...
Explore Palm Jumeirah