Delve into Elad Yifrach's fantastical world of artisanal design
Words by Laura Cherrie Beaney in Design & Architecture · Jun 13th, 2022
The home accessories and tableware brand, L'Objet, forms a bridge between multiple worlds - the historic and the contemporary, the tangible and the imaginary, design and art. Meticulous craftsmanship underpins all that they do. Founder and Creative Director Elad Yifrach is a lifelong traveller and many of the artisans that contribute to his vision are friends that he made along the way.
Some pieces are formed using bespoke plaster moulds that can cast only fifteen pieces during their lifetime while dinnerware is gilded several times in 24-karat gold and platinum to emit a captivating glow. Processes of hand assembly often require architectural manipulation of materials to create unconventional textures using techniques unique to the brand. Such handwork and fine materials are often the domain of heritage brands yet Elad aims to push beyond what has been done before. Soup bowls are inspired by space monsters and the otherworldly landscape of Joshua Tree, California while candle holders crafted from 24-carat gold-plated porcelain are adorned with a piercing eye motif that smacks of surrealism.
Expect the unexpected; functional objects that bring joy back into the art of dining and double as works of art. In fact, L'Objet regularly invites contemporary artists and designers to collaborate on collections. In 2019 the Haas Brothers invested vessels, table games and serveware with their playful approach to art that straddles sci-fi and psychedelia while interior designer, Kelly Behun, challenged conventions in art and design through her series of sculptural flatware, frames, bowls and trays. A place where traditional artisanship collides with the strange and the sublime, we delve into Elad's world.

Elad: I decided to create my own brand, L'Objet, in 2004. I was working as an interior designer before and had so many ideas about how to complete a space with objects that were both functional and decorative, textured and modern, yet classic but I struggled to find such creations. My mentor at the time pushed me to experiment and I began to bring my ideas to life, and so L'Objet was born. After that, I moved to New York and lived there until 2020. Now I live in Lisbon, Portugal, where I just opened my design studio. I love what I do because I'm in a constant mode of discovery.
Elad: L'Objet is a luxury design house specialising in exquisitely crafted tableware, table accessories, home décor, apothecary, and home fragrance. The aesthetic of the brand is a modern take on classic craftsmanship with attention to detail and fine materials. Porcelain, wood, stone, and fine metals - gold and platinum - are some of the main materials that we work with. For each collection, I select materials from the regions most renowned for their production. The artisans that I work with are all experts in their field. Some even come from a long line of creators, with centuries of skill passed down to them. Elevated craftsmanship is one of the key pillars that informs all L'Objet products. When I find an artisan that I enjoy working with it becomes an enduring relationship.
Elad: Our ethos stems from the timeless nature of each piece, and its ability to transform its surroundings. Clients who come to L'Objet discover that luxury is not determined by an object's price, but by its worth.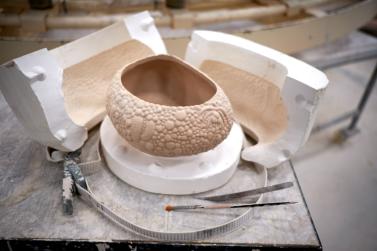 Elad: My favourite piece at the moment is the Cenote vase. It's a beautiful juxtaposition of organic shape, refined porcelain and glaze. Cenote is a true representation of the brand, involving extreme craftmanship and complex techniques. It's a very tall piece of porcelain (58 cm height) so it requires a master craftsperson that knows how to manipulate the material into an organic form. The final look is achieved by applying layered reactive glazes onto fine porcelain. Aesthetically, there's a duality of the rough and the elegant that I love.
Elad: The completion of The Celestial Bowl was a proud moment. The design was not without its challenges - the challenge of defying gravity by incorporating spikes in a horizontal direction, for example. It's just amazing when something that you dream of comes to life thanks to the innovation and artistry of our team.
Elad: Travelling is one of my greatest passions. I've travelled the world and continue to be inspired and surprised by new places and cultures. I'm also a healthy living and mindfulness enthusiast. I've been practising yoga and meditation for many years, it's what guides me through life.
Elad: Travel, culture, and art are great influences in my life. At L'Objet we regularly join forces with other artists and designers, it's always an interesting process to combine two worlds and create something fascinating. I have an unwavering curiosity for design and craftsmanship that comes out wherever I go.
Elad: The design traditions of the Middle East and North Africa have always been a great source of inspiration to me. At the same time, French and Greek histories have regularly informed much of my work. Historic art movements – from surrealism to cubism - have contributed to L'Objet collections in both form and philosophy. Also, Fashion has informed a lot of the way I think when I approach design.
Elad: Each L'Objet collection is rich in detail, unmatched in quality and rooted in academicism. A lot of our pieces have a really distinct look, influenced by the European academies of art and classicism yet I like to give them a twist. Our designs are often infused with cross-cultural references and carry a sense of mysticism inspired by human rituals. This, along with our constant exploration of the potential of our materials set us apart. We are always exploring new materials and techniques that push the boundaries of craft and design, for example, combinations of wood and metal in unconventional formations in our collaboration with Kelly Behun. And more recently, the use of mother of pearl in the Haas Tic-Tac-Toe a game that came from our second collaboration with the Haas Brothers.
Elad: If you're looking to reinvigorate your home don't be afraid to move things around. Explore with style. Add some humour and whimsical touch to every room. Don't take it too seriously.
Elad: The best piece of advice I've ever received? Always remain true to yourself whether you're designing or making business or personal decisions. It's you that has to live with your choice.
Elad: I'm currently working on a new collection that will come out early next year. I want to continue to innovate with materials and evolve our craftsmanship with pioneering techniques.
All images courtesy L'Objet.