From sea views to the city's skyline, here are the best views these luxury properties have to offer.
Words by Aneesha Rai in Portfolio · Sep 9th, 2015
From views of the rippling waters of the Arabian sea to the bustling city skyline, here are the best views in Dubai:
1) Signature Villa, Palm Jumeirah
This signature villa is stunning inside out with gorgeous gallery views of the marina and the skyline throughout its rooms. Furnished to the highest possible standards, this villa features numerous high quality upgrades and a sophisticated floor plan that brings the light in, creating a well naturally lit indoor lighting graced by impeccable furniture.
2) Emirates Crown, Dubai Marina
If you are a fan of floor to ceiling 270 degree views, then this penthouse in the Marina offers you delightful views of the Palm, Marina and Sea. Its soothing interiors and open plan living offers a relaxing atmosphere to live. Minimalistic and graced throughout by tasteful works of art; you can even bathe in the views of the stunning skyline in your jacuzzi bathtub.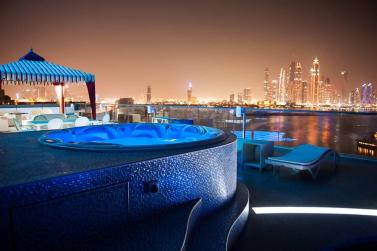 With your very own jacuzzi on the terrace, you wouldn't need to step out of this penthouse on the Palm. Equipped with a DJ booth, gazebo, dance floor and bar, you can always entertain your guests right at home with the shimmering Dubai skyline in the background. This penthouse is located on the very tip of the frond and offers some unbeatable 180 degree views, starting from Burj Al Arab and going all the way to the heart of The Palm.
4) HT Sector, Emirates Hills
Lush greenery from the golf course surrounds you at this tranquil mansion in Emirates Hills. With the skyline in the background, and a direct view of the golf course, you can truly enjoy these wondrous views right from the comfort of your stunning pool.
5) Signature Villa, Palm Jumeirah
With the skyline and a private beach beckoning, this tastefully designed Palm villa is fitted luxuriously inside out. With a fire and water theme featuring outdoors, be prepared to be taken aback by the delightful elements that bridge at this lavish home.