An interview with Tarik Al Zaharna
We gather thoughts on design from the co-founder of T.Zed Architects at NASAB, KOA Canvas
Words by Aneesha Rai in Design & Architecture · Mar 14th, 2021
We met with Tarik Al Zaharna, founder of T.Zed Architects to discuss the culmination of members-only co-working space NASAB and KOA Canvas and all things architecture and design in the region. Tarik talks about how he creates architecture that lasts and how simple changes in design, materials and orientation can help create a concept that weathers beautifully over time and the curation & creation of a space for creatives.
Q: What was your brief like for KOA Canvas?
Tarik: The brief was honestly one of the most authentic, genuine and refreshing briefs that we've received from a client. There was a mutual understanding in the sense of how the architecture of the project should be approached more rather than a certain liking of a style. We wanted to focus on longevity, and want it to be relevant 50 years from now. We wanted to create a hub where creatives could feel comfortable and collaborate. We're part of this really interesting movement and honestly, it's very much a privilege for us.
The client understood that there wasn't there weren't enough places in Dubai that really focused on bringing people together socially and comfortably in a very well designed environment. The interesting thing about the brief, is that there was no visual direction. It was verbal - a conversation. We knew we wanted it to be timeless and we want it to be a place for social interaction. We want it to be very unique. It has to be a different type of architecture and different types of interiors. It was very much a back and forth conversation. If you notice the ground floor, it seems to be a lot more social and transparent in comparison to the private spaces above.
I wouldn't say we toured the world, but we went to hotspots like New York, Hong Kong and London with with the client to see how other co-working spaces and members clubs operate. And we identified what does and doesn't work. We also had to translate that to to the demographic that we have here, because even though these cities - these international cities are very cosmopolitan, Dubai still has a lot of diverse people from diverse backgrounds. So we wanted to find the right balance. We wanted something that is approachable and not too stuffy. We found that creating breakout spaces, nooks and spaces would really cater to the way that all of us would like to work. So some people prefer to be out in the open to engage and socialize; whereas others like myself perhaps want to be a little bit away and have my own nook.

We are currently working on phase 2 & 3 at KOA Canvas. Phase 2 involves some hotels and hotel apartments and phase 3...will be revealed soon. The very unique thing about the project is that it has flexible floor plans - which made structuring and MEP work quite hard, but it was worth it. There's duplexes, studios, one bedrooms, and two bedrooms units. The duplexes have pivoting panels that open onto other smaller units. So as a buyer, you could choose to either have a smaller unit next to the duplex or larger duplex with the smaller unit next to it and you can end up with a lock-out studio. And even within some of the studios, we have very rarely used fixed panels to define whether it's a one bedroom.
Q: Can you tell us about some of the materials used?
Tarik: In terms of the materials used, we wanted to use materials that were of good quality and could withstand the test of time. On the exterior, we used thermally modified tulip wood, which has never been used at this scale before, it's something we worked on with the American Hard Wood Export Council. We used a lot of exposed brick and concrete that weathers well.

One of the things that I really wanted to highlight with this project was longevity. The owners of the project were really encouraging, very forward thinking and very design conscious. They wanted to encourage the idea of weathering. So if you look at all the materials that we're using here, everything really feels like you're out of completely out of the city. All the materials are starting to weather quite beautifully; it's a new building...you can tell it's a new building and a new design...but at the same time, the materials are really going to withstand the test of time just because we live in a very harsh and arid landscape - you have the humidity, cold and heat - the temperatures vary quite drastically. We have a prevailing north-west wind, so we've addressed that in the facade as well. The northwest sides are a little bit more open in order to capture the prevailing winds at the same time, because they get less sunlight and they're able to use a lot more sort of transparent and permeable - whereas the southeastern facade is angled in a way to allow natural light and prevent overheating. So you'll see the elevation slightly change; and you'll see these slight projections and recesses at least in the elevations, but it was all done with a purpose.

Honestly finding the right materials was a very extensive process. It wasn't something that we just figured out from day one. We knew the target and we knew the end goal and how to get there. We really had to sort of filter out and go through so many materials, not just materials, but also the way we address the material too.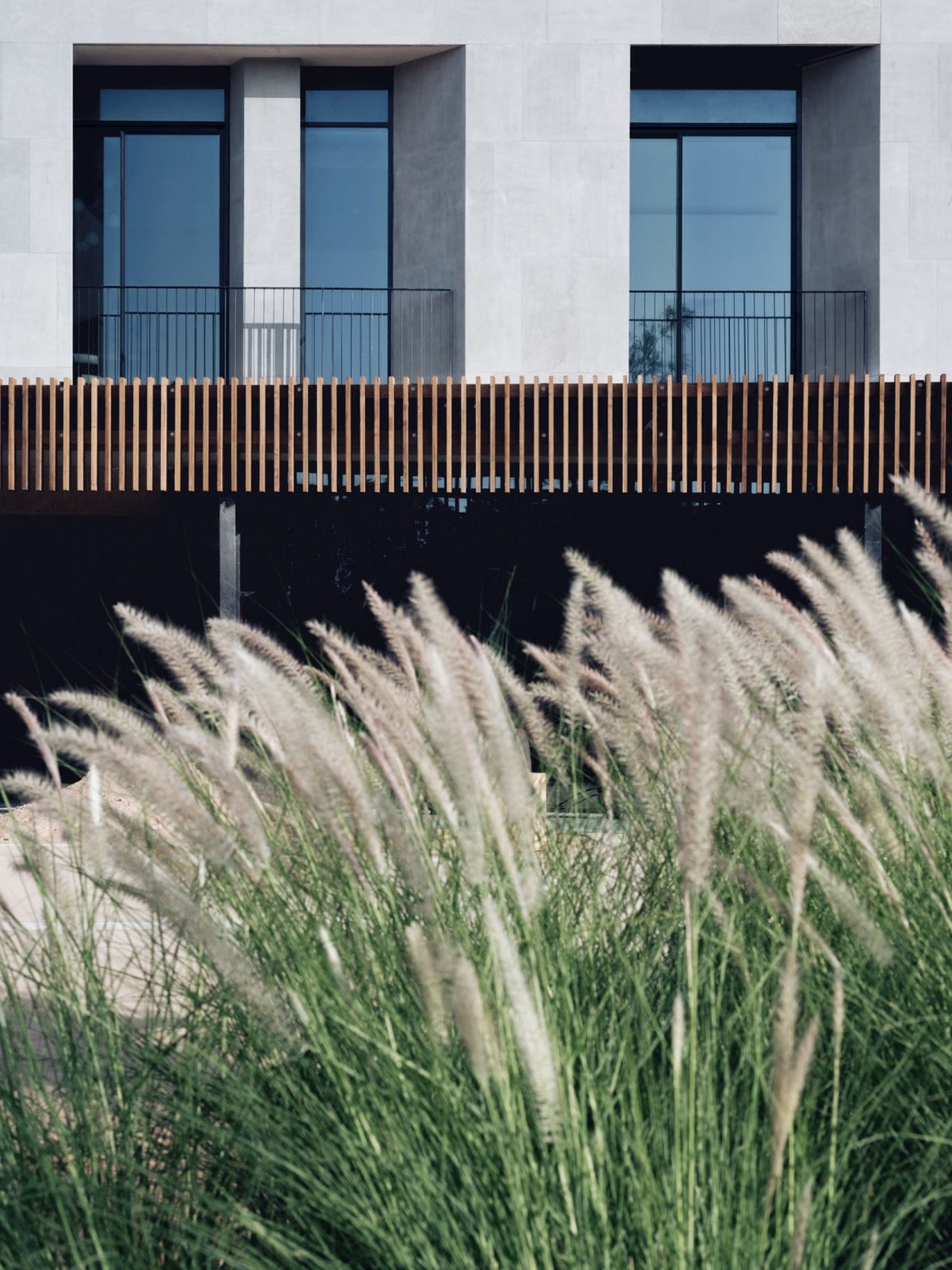 Q: What are your thoughts on the design scene in Dubai?
Tarik: The design industry in my opinion is super saturated, there's not exactly a high barrier to entry. I think I think a lot of people might just take a small course and then call themselves a designer. I'm not saying I have the answer and I'm not the epitome of designers, but there are certain hoops to jump through and certain sacrifices that have to be made. I think you have to pass the stages and accomplish certain things to call yourself one. This is part of the reason as to why clients and end-users and industry professionals don't necessarily take designers and architects too seriously. For an architect, there are a couple of things you need to do to qualify, but the term 'designer' has been thrown around too easily.
Q: Why is NASAB a members-only club?
Tarik: They made it a members-only club because there's a selection process and criteria involved. It was important to the developers to attract and introduce the creative community to one another. So what they're trying to do is really create a nice and energetic community of creatives that previously didn't have a place to be, without breaking the bank - but at the same time create a space to induce conversations. So you'll find collaborations have actually started and incubated in the space. I personally know some interior designers who are now doing very well - when I first met them, their office was at NASAB.
Q: What are some of the recreational experiences at NASAB?
Tarik: We wanted to create an experience where people can go and spend the whole day here, with enough recreational and training facilities. At the roof, we have a high altitude chamber for changing, a lap pool and spa. The gym has a skylight which is rare for gyms here, it brings the light in. We also have a multi-purpose amphitheatre overlooking the water for events and performances. Non-members can now get a day pass to enjoy the facilities.

Q: What is home to you?
Tarik: Wherever I travel, I'd like to sort of feel like settled in and I belong. I never really feel out of place, to be honest with you. It's because of my upbringing, you know. I was born to Palestinian parents, grew up in Saudi Arabia, moved to Luxembourg, lived and worked in the US, and in Germany. My parents now live in France, so I'm there a lot. So where is home? Home is where I have love, family, and friends, and I'm able to practice what I love.
Q: What are your favourite design spots and/or designers in Dubai?
Tarik: I haven't been yet but I love the design of Terra Eatery by BONE Studio. Natalie & Achraf are doing some super interesting work - they're a very talented, young team. I think Studio M by Abboud Malak is doing fantastic and outstanding work.