Design & Architecture
In The Studio: La Nena
Discover handcrafted Spanish homeware in a cocoon-like setting
Words by Laura Beaney in Design & Architecture · Apr 13th, 2023
Situated in Al Quoz, the cultural heart of Dubai, La Nena offers a sense of sanctuary away from the pace of the city. The cavernous space comprises an interior design studio, retail space and coffee shop where visitors might browse collections by La Nena Home or relax and reflect upon life, accompanied by a coffee and pastry.
It's an environment that encapsulates the La Nena sensibilities. Sculptural archways illuminated by soft yellow light reveal earth tones, raw textures, and the brand's signature surfaces. Handcrafted by artisans of the Galicia region in Spain, collections comprise lamps, furniture, flower pots, and candles united by simplicity and a desire to celebrate local, artisanal design.
La Nena's regional partner, Laura Lander shares how this Spanish design concept found new roots in the UAE.
Laura: I've always had a strong interest in interior design but after finishing my degree in fashion business management in The Netherlands and moving to Dubai in 2016 my passion grew. I was working at Mawaheb from Beautiful People, an art studio for adults with special needs, which unfortunately had to close during Covid-19. I then found myself looking for something else to be passionate about, which is when I came across La Nena in Europe and it felt like it was meant to be.
I've always been in touch with my creative side. As a child, I filled my days with drawing, making jewellery, and dreaming about floorplans for future homes.
When I met my business partner, Syafiq Hertog, who is Dutch – Singaporean, and grew up in Dubai - I found someone who shared my dreams for the future. He's pragmatic and a real doer, he ensures that dreams come true. My passion for design and aesthetically pleasing images grew from my Pinterest board to the reality of owning a shop in Dubai!
At La Nena, design, craftsmanship and a passion for creativity come together to create unique spaces and elements. La Nena was born as a retail concept that focuses on selling unique and handcrafted interior collections. If I were to describe the La Nena design aesthetic I would say - rustic minimalism meets naturally organic chic. The purpose was always to take our knowledge and creations beyond our ateliers, to promote the value of craftsmanship and design, locally handmade.
The company was founded in Lugo (Galicia), in the Northwest of Spain, a place where craftsmanship and tradition are prized. Our founder, Martin Villamor, began as an expert in continuous coating; he explored and improved the different qualities of materials to create new construction finishes. A-Vida Spain is renowned for its unique craftsmanship and extensive collection of finishes (4000+) and production versatility, closely aligned with innovation and sustainability.
You can describe our finishes as unique, tailormade, and earthy. We use a lot of natural materials, such as stones, shells, sand, and wood in our finishes which gives our spaces character and the option for endless creativity. We believe we should play with design.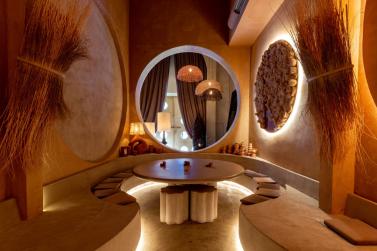 A lot of our products and finishes find their inspiration in nature and form an effort to replicate nature's ability to ground us within our spaces. We have finishes that are named after gorgeous cathedral beaches filled with shells or beaches made up of glass washed ashore by the currents. The Galician backcountry in Spain holds all the stories and secrets that inform our concept.
For our showroom and café in Dubai, We worked very closely together with our team of in-house architects and designers, Inefable Studio, who have done great work under the creative direction of Martín Villamor too. We tried to think outside the box and defy the regular rules of architecture to create a space where all senses are stimulated.
When Syafiq and myself came across the concept we instantly fell in love. We fell for everything from the ambiance in the store to the unique furniture items, handcrafted by the team in Spain - nothing like this had been done in Dubai before!
La Nena felt like coming home. Dubai is home and equally, Dubai was ready for a new concept. The city is becoming such a hub for designers, artists, and creatives. This is partly thanks to the great initiatives from the government that support the arts.
La Nena is both a passion project and a new stepping stone in our professional career growth in the Middle East. We hope to be opening up more locations throughout the MENA region over the coming years.
So far, my favourite project has been the launch of our store in Dubai. We have been present and involved every step of the way. We've coated every surface in there with our material. The pure shock and awe expressed by our visitors when they step inside make it so worth it!
People are increasingly creating spaces that establish a sense of peace, this might be through the simplicity of design or by involving nature in their surroundings. We're going back to basics. Now we're appreciating the value of craftsmanship more and more, we're craving uniqueness in the pieces that we fill our lives with and embracing design rooted in cultural traditions rather than mass-production. This is exactly why we fell in love with La Nena!