Exquisite Sea Facing Penthouse | The Palm
Exquisite Sea Facing Penthouse | The Palm
Palm Jumeirah Penthouse
We are delighted to offer this exceptional duplex Penthouse located on the Palm Jumeirah. Occupying the top floor of this Beachfront building the property is over 5,000 Sq. Ft. in size and has unrivaled views of the Arabian Gulf Sea, Burj Al Arab, and Burj Khalifa. The...
Development
Shoreline Apartments
Shoreline Apartments is an interesting and beautiful community, located in Palm Jumeirah. The homes feature a gorgeous living and dining area within the apartment to entertain guests. The lower floors of the homes consist of large kitchens, guest en-suite bedrooms complete with a private terrace,...
Explore Shoreline Apartments
Neighborhood
Palm Jumeirah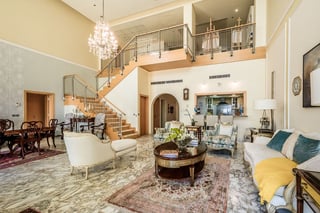 The revered Palm Jumeirah is the world's largest man-made island and is comprised of a two kilometre long trunk, a crown made up of 17 fronds and a surrounding crescent. Its 4,000 exclusive villas and spacious apartments enjoy beautiful sea views along with amazing facilities such as a range of...
Explore Palm Jumeirah