DUbai Harbour
Luxury Waterfront Living
A new upcoming development located in Mina Al Seyahi, on King Salman bin Abdulaziz Al Saud Street, between Jumeirah Beach Residence and Palm Jumeirah, Dubai Harbour will be the largest marina in the MENA region. Its waterfront living will extend over 20 million square feet and feature luxury residences, an 875,000 square feet shopping mall, an events arena, hotels, restaurants, cafes and a yacht club. Significant developments in the area include Beach Vista, Grand Bleu Tower by Elie Saab, Marina Vista, Palace Beach Residence, and Beach Isle. Direct access to the development is available through Sheikh Zayed Road.

On The Map
Closest Tram Station: Mina Al Seyahi Station
Closest School: Emirates International School, Meadows

Dubai International Airport: 28-minute drive
Closest Hospital: Al Zahra Hospital

The Neighbours
Cosmopolitan Crowd
Dubai Harbour is all set to attract the cosmopolitan crowd of high-earning individuals who would love to live in a resort-style lifestyle. All residents will be complemented with access to shimmering beaches marinas, yacht clubs, malls and dining venues.
Upcoming projects that Dubai Harbour will host include a new hotel by Address Hotels and Resorts and a number of high-rises residential apartments overlooking the breathtaking Arabian Gulf.
What To Expect
Resort Style Living
Dubai Harbour will define a truly resort-style living by the pristine water. The masterplan will comprise of the Skydive Dubai and upcoming projects like Dubai International Marina Club and Logo Island. It will also host apartment building, hotels and a signature hotel to be known as Dubai Lighthouse.
Upon completion, Dubai Harbour will be able to accommodate 1.2 million passengers annually and will be the first cruise destination to built two terminals simultaneously. The size of each terminal is set to be approximately 14,000 square metres in size. The marina will feature 1,100-berths that will accommodate some of world's biggest private yachts.
A new bridge will link Dubai Harbour directly from Sheikh Zayed Road. It will also be accessed by Monorail at Palm Jumeirah or from a metro stop at the new Bluewaters Island project. There will also be a pedestrian bridge with a jogging and cycling track to the Palm Jumeirah.
The upcoming luxury hotel of Dubai Lighthouse that Dubai Harbour will host will feature a 135 metres observation deck offering breathtaking 360 degrees views. It will have a solid, smooth and unrestrained appearance and will also be used as a gigantic screen for light shows and high-resolution projections.
The luxury hotel will also feature a 150,000 sqft cruise liner terminal that will be capable of handling 6,000 passengers. It will also host entertainment and retail space, a yacht club, shopping mall and residences.
What Not To Expect
Affordable Living Amidst The City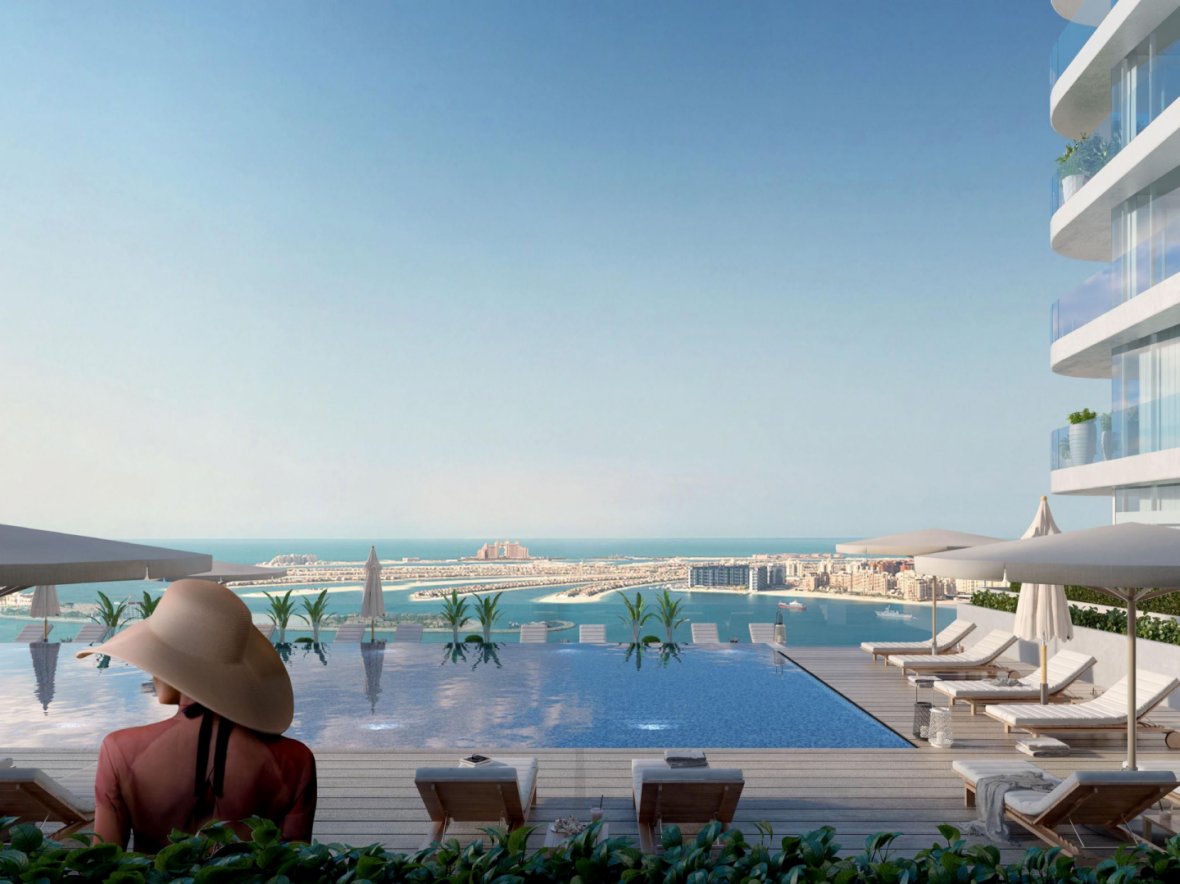 Dubai Harbour will be an upscale waterfront community that will host the high-earning individuals of the city. It will feature a series of luxury residential apartments, luxury hotels as well as high-end retail, dining and entertainment spaces.
Also, being located away from the centre of Dubai, the residents will miss out on the vibrancy and extra noise that the city has on offer.
Architecture
The developments in Dubai Harbour feature a contemporary style, with sleek lines and an airy open layout to complement the glorious sea views and beach vistas. The apartments have fitted kitchens with wooden cabinets big enough to hold all kitchenware, built-in wardrobes along, and a central air-cooling/heating system. Amenities in these developments include access to the extensive private beachfront, direct promenade mall access, a state-of-the-art gym, and a magnificent swimming pool with breathtaking sea views.
Browse Properties In Dubai Harbour
Emaar Beachfront

AED 9,000,000

Apartment
3 beds
1,939 sq. ft.

Emaar Beachfront

AED 7,900,000

Apartment
3 beds
1,910 sq. ft.

Exclusive
Similar Areas To Dubai Harbour