Dubai Marina
A luxury man-made marina
Dubai Marina hosts a stretch of yachts, restaurants and stores on a strip; directly adjacent to The Beach, behind Jumeirah Beach Residence (JBR). An awe-inspiring area that delights its residents who have purchased their sparkling apartments with a cosmopolitan, free-spirited atmosphere and its unique, invigorating lifestyle, it is approximately 3.5km long with 11 km of marine frontage. The length of the water's edge littered with cafes and restaurants, as well as high end clothing stores. Its strategic location on Sheikh Zayed Road makes it close to business and commercial centers, and is merely a short drive from most of Dubai's hot-spots and tourist attractions, helping the residing tenants of rented apartments amidst the area. Dubai Marina promotes a riviera-style living in a modern aesthetic with its 50 million-square feet of area and offers an array of some of the world's tallest luxury apartment buildings and villas that can be bought or leased out. Dubai Marina is built along a man-made canal, offering a stunning waterfront view for many of its residents. This creates a picturesque and tranquil atmosphere.
Dubai Marina Location Map
Closest metro station: Damac Properties Metro Station

Closest tram station: Dubai Marina Tram Station
Closest school: Wellington International School
Closest hospital: Emirates Hospital
Dubai International Airport: 26 minutes drive.
Directly accessible via public transport; Dubai Metro, Dubai Tram and Dubai Water Taxi.
The Neighbours
A Dazzling Life For Singles
Although its strategic location in New Dubai allows families to settle in, the nightlife of Dubai Marina is better suited for the singles in Dubai. The stylish and sophisticated man-made marina hosts cosmopolitan restaurants and trendy late night lounge destinations. Over 180 desirable high-rise clusters of buildings reside in the heart of the marina.
Dubai Marina is one of the most sought-after destinations of the city and it offers unmatched amenities available within the vicinity, that include; Dubai Marina Mall, Marina Walk, Dubai Marina Yacht Club, Pier 7, The Address: Marina, and many more that can all be accessed via the plenty of taxis always available and the direct public transport connections.
The vibrant nightlife of Dubai Marina creates a chic, urban lifestyle for the singles in Dubai.
What To Expect
A dynamic community & waterfront living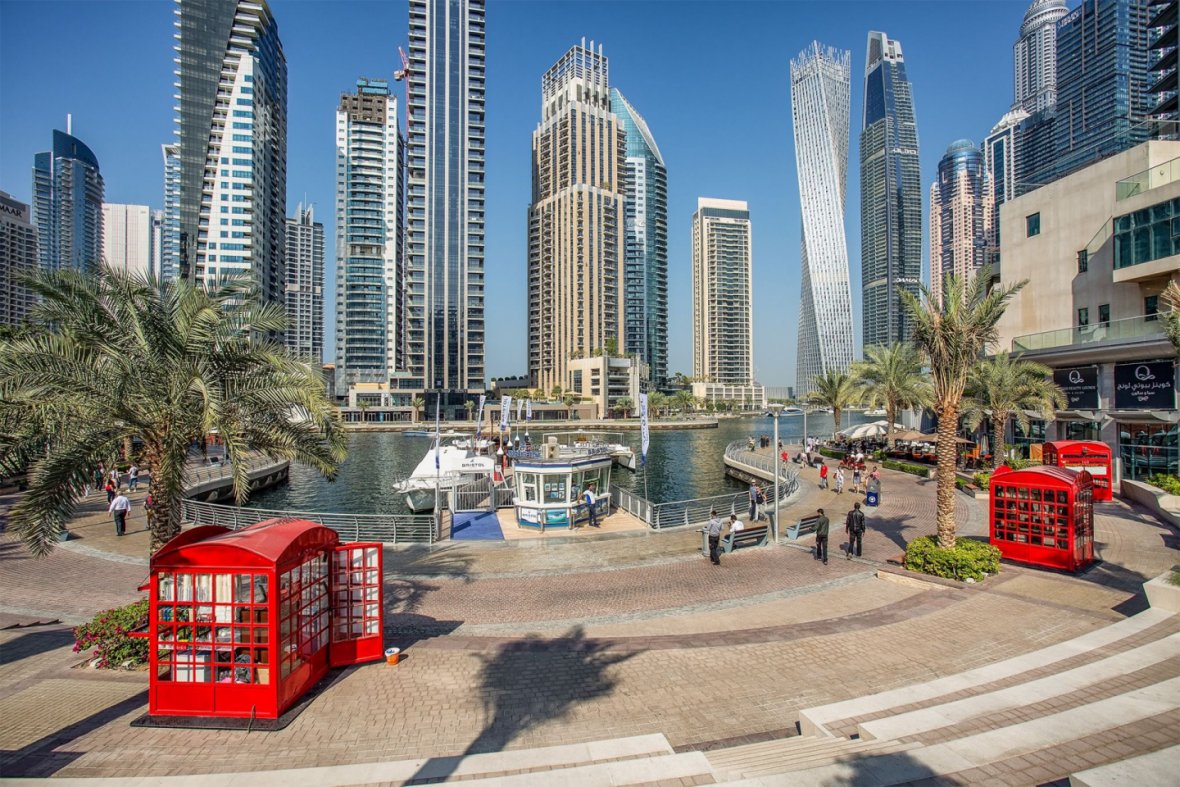 The Marina Walk provides a pedestrian-friendly walkway alongside restaurants and cafes like Cafe Bateel and favourite coffee shops like Starbucks and Costa, all in abundance.
The luxurious marina hosts an array of physical activities to be carried out. Residents lead a very active life as the Marina Walk is one of the best places in Dubai for walking/jogging/running. Moreover, the area has a wide variety of gyms and spas available in the vicinity to help keep the inhabitants in top shape. The marina is a very suitable place for fitness-centric individuals.
Dubai Marina brings its residents comfort and luxury along the waterfront. Plenty of hotels, spas, shops, restaurants, cafes and nightlife venues make the area a desirable place with an unrivaled location and high aesthetic standards, that is lovely to walk around and explore during the months with better weather. It is the best way to see Dubai Marina because of the several kilometers of walkways.
A dramatic skyline of skyscrapers makes the marina particularly impressive when illuminated at night. The beach is merely a matter of minutes away, convenient enough for the sun, sand and sea lovers. There are heaps of supermarkets, pharmacies, salons and dry-cleaners within the vicinity, and a beautifully constructed mosque.
The Dubai Marina Mall is conveniently situated inside Dubai Marina and grants easy access to all its residents. Although not included in the list of large shopping malls of Dubai, Marina Mall offers a plethora of retail and dining options making it unnecessary for anyone to travel long distances for their desired needs. Waitrose is the available hypermarket in the mall and they have a Cineplex that provides Reel Cinemas viewings.
Connected to the Marina Mall is the 5-star hotel The Address: Dubai Marina. The rooms overlook the beautiful waterfront, while the hotel hosts an open kitchen bistro that is open around the clock and an upscale spa that promotes relaxation and rejuvenation. One of the main attractions of this hotel is the stylish chill out lounge that is located on the rooftop, around the infinity pool. Shades offers its customers a night of shisha, drinks and inviting scenery, as well as live entertainment on the weekends.
Pier 7 is a multi-story, chic tower located in the heart of Dubai Marina that is dedicated to diverse cuisines, booming the fine-dining scene of Dubai. The circular design of the building gives it the best view of the Gulf while feasting on some of the most inviting food in Dubai. The seven floors are allotted to seven different eateries, one of which is the very popular Fumé; they offer a wide variety of delicious, yet affordable meals for breakfast, lunch and dinner, as well as an exciting bar menu.
Vida Residence, Dubai Marina, is a stylish and sophisticated building with stunning vies of the marina that is set to take over the space of the Dubai Marina Yacht Club. It promotes riviera-style luxury living by purchasing or leasing out their apartments. Built with nautical inspired architecture, a lifestyle of harmony and a relaxing, healthy lifestyle has been promised amongst cosmopolitan crowds. Walking distance from all the top spots in the marina, they offer a wide range of dining outlets within their premises.
What Not To Expect
A Family Oriented Community
Dubai Marina does not hold any schools in the immediate vicinity, however there are plenty of nurseries within the area. The traffic during peak rush hours is not very friendly in the marina, which is why it gets very difficult for the children studying in schools to reach on time. It may be a good fit for young couples who enjoy a fast-paced life. Nightlife and plenty of tourists all year round can be a nuisance for families with children.
Dubai Marina is very free-spirited and indulges singles in its eccentric appeal.
Architecture
Shimmering Mirage Of Architecture
The waterfront city within a city stretches for two miles and aims to host 120,000 people upwards in its startlingly tall towers. The emerging high-architecture skyline spurs a worldwide phenomenon of construction, where each building seems better artistically structured than the previous one. Although Dubai Marina shows seemingly endless construction, each project makes it worthy because of the impressive skyline of skyscrapers, unlike anything in the world, and this makes it a top tourist destination.
The man-made marina is widely known in the world to have the highest amount of skyscrapers in an area, and the second tallest residential building in the world: the Princess Tower. It is a 101-story residential-only building with an additional six floors of parking, built in a postmodern architectural style, in 2012.
With the marina hosting the most amount of penthouses in an area, Le Reve is one of the most sought-after buildings in Dubai because of its high security advantages, which mainly attracts the rich and the famous with rents amounting to approximately AED13,500,00. The tower offers 50 floors of VIP amenities . It is a top choice for a home for the elite with private elevators, concierge services, driver's quarters, an infinity pool, gymnasium, jacuzzi, sauna, valet parking, video security and many more. Many of the apartments are owned by A-list crowds and celebrities.
The Cayan Tower in Dubai Marina is one of the most intriguing structures of a building ever constructed. A 73-story skyscraper designed by the same architectural group that built the Burj Khalifa. With a twist of 90 degrees, this tower became the world's highest skyscraper built in a twist.
Browse Properties In Dubai Marina
Trident Grand

AED 13,300,000

Apartment
4 beds
5,743 sq. ft.

Emirates Crown

AED 18,000,000

Penthouse
5 beds
7,690 sq. ft.

Emirates Crown

AED 29,999,999

Penthouse
5 beds
7,685 sq. ft.

Exclusive
Similar Areas To Dubai Marina