Jumeirah Islands
Lakeside living in the heart of the city
Jumeirah Islands is a development of villas within man made islands spread across 300 hectares. The islands are separated into forty-six clusters. There are sixteen individually styled villas in each cluster. These homes are surrounded by artificial lakes which are an integral part of Jumeirah Islands community which has a land to water ratio of around two to one, the highest in the world.
The development comprises a total of 736 luxury properties with around four or five bedrooms.The homes have numerous amenities such as having its own swimming pool, garden area, and a maids room, to accommodate all of the resident's needs. The houses vary in size and are anywhere between 5,101 to 7,200 square feet (670 m2). Jumeirah Islands are one of Nakheel's flagship developments and are situated on the East of the Shiekh Zayed Road, right between interchanges 5 and 6.
On The Map
1. Closest metro station: Jumeirah Lakes Towers Metro Station (7 minutes)
2. Closest Tram Station: Jumeirah Beach Residence Tram Station (10 minutes)
3. Closest School: Dubai British School (10 minutes via Al Asayel St/D72)
4. Dubai International Airport: 30 minutes away
5. Al Maktoum International Airport: 27 minutes away (via Sheikh Mohammed Bin Zayed Rd/E311)
6. Dubai Marina Mall (11 minutes)
7. Closest Hospital: Lifeline Hospital (13 minutes via D59)

8. Closest Mall: Ibn Battuta Mall (9 minutes via D59) Dubai Marina Mall (11 minutes)
9. Dubai Mall and Downtown Dubai: 27 minutes (via E44)
10. Mall of the Emirates: 15 minutes (via Abu Dhabi - Ghweifat International Hwy/Sheikh Zayed Rd/E11)
11. The Pavilion Jumeirah Islands 8 minutes.
The Neighbours
Dubai's Most Exclusive Housing Development
This exclusive neighbourhood is wonderful for people who want a secluded island retreat with lakeside views. This self-contained community allows its residents to enjoy the surroundings of dynamic water currents and crystal waterfalls which leads it to be called a liquid asset. The 736 villas feature a private swimming pool while the unique architecture, lush landscaping, quaint walkways, and bridges and paths that serve to enhance this residential community.
There is a range of community amenities, such as a supermarket and a clubhouse that has a gym, a restaurant, and other leisure facilities. Jumeirah Islands are an excellent place to unwind and relax in a chic, exclusive atmosphere.
The facilities and amenities in this area include jogging and cycling tracks, gyms, squash, tennis and basketball courts. There is also a swimming pool and children's play area. It also has numerous cafes and restaurants along with some shopping outlets. The major destinations of Dubai are not too far from Jumeirah Islands.

There are amazing health care facilities and medical institutes for Jumeirah Islands residents convenience, such as Life Medical JLT, Welcare Ambulatory Clinic, NMC Family Clinic and Jebel Ali Hospital.

The Malls in the area are nearby such as the Ibn Battuta Mall and Dubai Marina Mall both accessible in about 9-11 minutes. The mansions are built in such a way that it gives the maximum view of the garden making the inhabitants feel that they are one of kind in Dubai.
What To Expect
Family Oriented Community Living
Due to its prime location being located between Dubai Marina and Jumeirah Lakes Towers, Jumeirah Islands residents have a variety of entertainment options. Some of the benefits to living in Jumeirah Islands are the close proximity to the malls. Dubai Mall and Downtown Dubai are 27 minutes away and the Mall of the Emirates is only 15 minutes away. The closest shopping mall is the plush Dubai Marina Mall which is just 11 minutes from Jumeirah Islands.
Jumeirah Islands are attractive to larger families due to how spacious the different villas and townhouses are in this development. This area has competitive prices for families looking to live in a lakeside community.
The Pavillion
Jumeirah Islands residential community is 8 minutes away from the Pavilion Jumeirah Islands. The Pavilion Jumeirah Islands are part of the Nakheel Pavilions. The Pavilions are retail centres that cater to the needs of the different communities. Each Pavilion features dedicated retail centres, supermarkets, restaurants, amenities for shopping and recreation.
The water-front retail pavilion, the Jumeirah Islands Pavilion brings about 14 restaurants, shops, and cafes to the neighbourhood. As a resident of one of the Jumeirah Islands townhouses, the Pavilion will provide a new destination for people living and working nearby. This Pavilion complements the Nakheel Pavilions at Furjan, Jumeirah Park, Discovery Gardens and International City.
What Not To Expect
A Bustling Vibrant Area For Young Professionals
Jumeirah Islands are not suited for young professionals as it mostly a family oriented area. This can be seen with the renowned schools and nurseries in the immediate vicinity of Jumeirah Islands, such as the Dubai British School, Emirates International School, The American University, Delhi Public School and Regent International School.
Single young professionals might miss the vibrancy of the busy areas of town such as the Dubai Marina and Downtown Dubai.
Architecture
Five Different Architectural Styles
The Jumeirah Islands are a gated community with townhouses that come with many amenities such as the en-suite bathrooms, maids room, study, private garden veranda, outdoor terrace, roof terrace and a double garage. The construction began in 2014 and the townhouses were finished in 2017. The residents there can enjoy having access to a communal pool, gardens and a jogging track.
There are different benefits to having a home in Jumeirah Islands such as the access to beautiful lakeside views, infinity pool, sports bar, landscaped gardens fringing open bodies of water and the ability to live in a secure gated community. The various houses are inspired by 5 different themes. These are Oasis, European, Mediterranean, European, Islamic and Tropical. This enables the prospective residents to pick from a variety of contemporary architectural designs.
The five different clusters are named based on the various architectural styles that are available in the Jumeirah Islands area.
1. Oasis Cluster villas are built to base on natural sanctuary idea and villa community possess central garden cultivated with flora and a wide selection of bird species. This is perfect for residents that like being surrounded by nature.
2. Mediterranean Cluster villas are a high end gated community residential community. Residents can enjoy dynamic water currents cascading into the continuous flow of water. So they can experience the idyllic waterfront living. The facades of those villas Islamic, European, Oasis, Venetian, Costa Del Sol, and Mediterranean.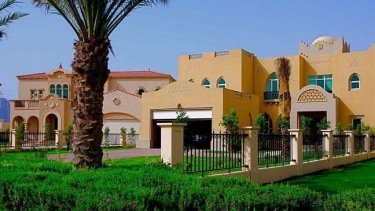 3. Islamic Cluster villas are built with the design concept is an ode to the architectural styles of Ottoman, Mumluki, Moroccan and Abbasi. Villas and gardens are inspired to display whimsical floral pattern of an Islamic tile. Every detail from the construction of the villas and gardens show an enchanting fusion of 18th century Islamic culture and modern architectural design.
4. European Cluster has residential units that indicate great geometric garden of France during the 17th century. The European design of residential units and gardens are aimed to create a tranquil environment for residents. The gardens are said to be renovated in rhythmic, conical forms with large clipped plants and colourful clusters of plants in diverse geometric designs. These are Italian, Venetian, Venice Medici and Spanish.
5. Tropical Cluster villas have lakeside surroundings and offer elegance and luxury while being situated in the midst of landscaped gardens surrounding open bodies of water. These villas offer spacious and elegant properties make for wonderful homes.
Properties In Jumeirah Islands
European Clusters

AED 20,900,000

Mediterranean Clusters

AED 17,500,000

Villa
4 beds
10,700 sq. ft.

Exclusive

Mediterranean Clusters

AED 27,750,000

Villa
5 beds
12,820 sq. ft.

Featured
Similar Areas In Jumeirah Islands