Jumeirah Village Circle
Feeling of tranquility
Jumeirah Village Circle, situated in the heart of new Dubai, offers its residents with amenities required for a luxurious lifestyle in a tranquil setting. The compact and gated community houses more than 2000 sprawling luxury villas and exclusive townhouses in a peaceful village setting. But it is the quality of the amenities on offer that sets the place apart.
On The Map
Dubai International Airport: 24 minutes by car
Closest metro station: Mall of the Emirates
Closest School: JSS International School, within the vicinity
Closest Hospital: Al Zahra Hospital
The Neighbours
Family Centric Housing Community
Jumeirah Village Circle is an ideal community for families, who want to avoid the hustle and bustle of the city but at the same time want to enjoy the amenities of an urban life. The beautiful community offers more than 2,800 villas and more than 3,100 townhouses which are complimented with ultramodern home accessories. Facilities like schools, located in its vicinity, makes the community perfect to live in.
What To Expect
A Peaceful Community Away From The Noise Of The City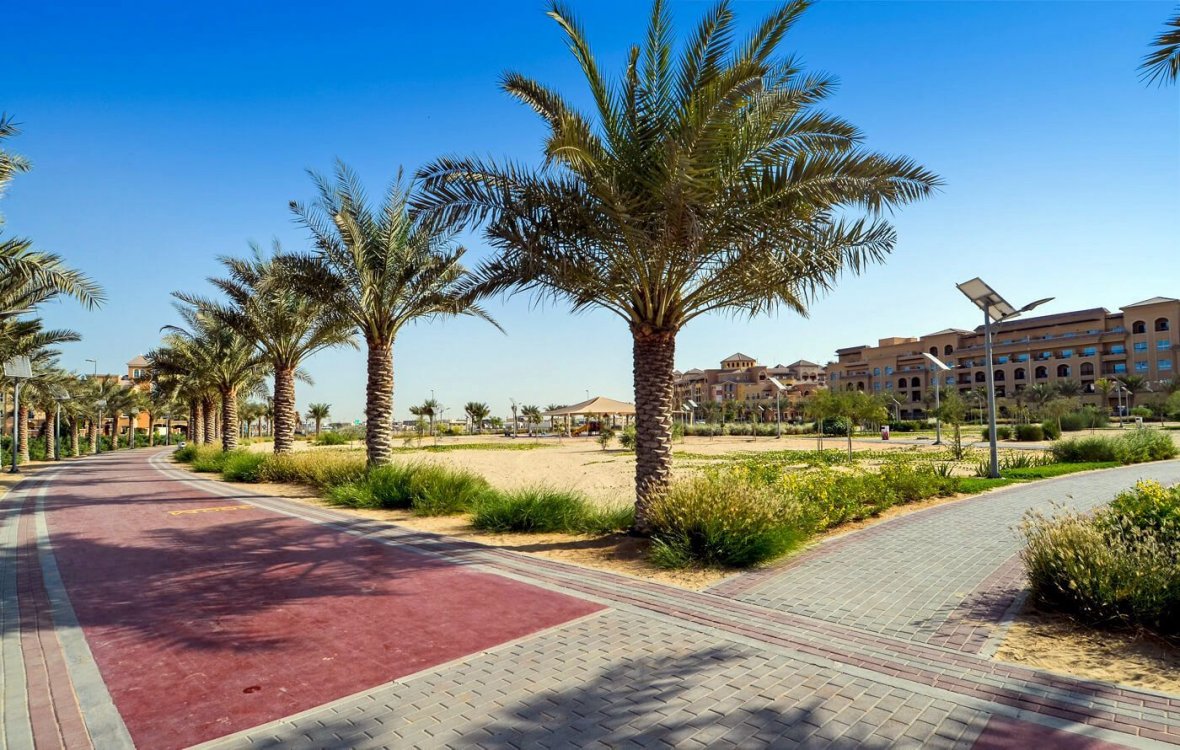 Jumeirah Village Circle provides its residents with a healthy lifestyle in a fun and safe environment which is perfect for social interactions. One can enjoy the principles of village life in an urban setting in this community.
An ideal community for families, it also hosts two international schools, town and country clubs, community centre and medical facilities.
For those who like indulge in physical activities, can make use of the community sports and leisure amenities like football and cricket pitch, tennis courts, croquet lawns, swimming pool as well as jogging and cycling trails. Children can make use of beautiful and green play areas, game areas and cycling tracks. Being a pet friendly community, it also houses veterinary clinics in its vicinity.

What Not To Expect
Singles
The community is ideal for families who want to lead a quiet and peaceful life and may not be a good choice for single professionals as it lacks the vibrancy and excitement which they normally look out for.
Architecture
A Tranquil Touch To A Modern Living
Jumeirah Village Circle boasts of its distinctive architecture and host of facilities and provides a self-contained environment for its residents. The 4 bedroom villas comes with with 3 terraces, where the top floor terrace is a perfect place from where one can enjoy the tranquil village setting. Especially built to embrace village life in an urban setting, the villas are spacious and have been designed in innovative ways.
Each villa comes with a garage for 2 cars, spacious open living and dining areas, kitchen, guest toilet along with a beautiful terrace by the back side gardens. The roof is split into maids room and terrace and is designed with glass balustrade and lets one have the view of the back side garden. While the fittings of the villas have a modern flavour, their designs perfectly fits the lush surroundings of the garden.
Jumeirah Village Circle is Dubai's first ever "village" neighbourhood, offering a new take on urban living. The village is composed of small clusters of one-off residential blocks and commercial areas, arranged on a ring road around a central park area. This vibrant community features many aafés as well as an array of services for residents such as shops, gyms, restaurants and offices The Circle Mall is rapidly becoming a favourite hangout for residents of the community. Significant apartment developments in the area include Belgravia I,II, & III, Belgravia Heights, Belgravia Square, Zaya Hameni, and FIVE JVC.

Browse Properties In Jumeirah Village Circle
Belgravia Heights

AED 1,957,828

Apartment
2 beds
1,957 sq. ft.

Belgravia Heights 2

AED 859,828

Apartment
1 beds
799 sq. ft.
Similar Areas To Jumeirah Village Circle