Known worldwide for bringing 'curves' in architecture, both in the shape of her building projects as well as carving a name for women in the male-dominated architect's profession, Zaha Hadid was a force to be reckoned with. Being was an architect of extraordinary calibre, the Iraqi-born and raised Hadid was was a personality that basked a creative mind like no other.
Most famous probably for her work on the Guggenheim museum in New York, she has also made her mark in the Arab world. Her numerous contributions to the Middle East in terms of her work and acting as a source of inspiration has not gone undeterred. Here is how she contributed to the emirates of Abu Dhabi and Dubai through her radical projects:
1) Sheikh Zayed Bridge, Abu Dhabi
Named after the founder of the nation, Hadid designed the famous Sheikh Zayed Bridge in Abu Dhabi. The structure took three years to complete in 2010. The two-way four highway bridge linked Abu Dhabi to the northern emirates. With a fluid look, the project resembles the desert sand dunes and is one of several projects commissioned to Hadid.
2) Signature Towers, Dubai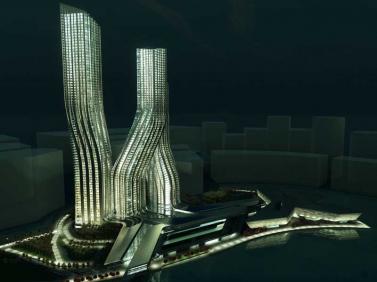 The Signature Towers in Dubai is an amalgamation of three towers that intertwine; for office, hotel and residence functions. This project was set to sit on the gulf of Business Bay, meshing the fluidity of the water and the lines of the building. Hadid provided the project concept to Dubai Properties in 2007, but to date, we have no idea whether the concept has been canned. These towers were later accommodated to provide easy accessibility to the Dubai Financial Market.

3) Dubai Financial Market
There were plans of a Dubai Financial Market attached to Hadid's Signature Towers, but no news have been developed of it since the concept handover in 2007. Shaped like petals on top of water, this project ceased to stay afloat as Hadid would've hoped. The design was set to accommodate broker 'shop fronts' as well as a central floor trading area.

4) Abu Dhabi Performing Arts Centre
The Abu Dhabi Performing Arts Centre is going to be one of the most coveted attractions in the Saadiyat Cultural District of Abu Dhabi. Designed almost like a spaceship, this project pays tribute to the arts with space for five theatres. Hadid described the project as "a sculptural form that emerges from a linear intersection of pedestrian paths within the cultural district, gradually developing into a growing organism that sprouts a network of successive branches. As it winds through the site, the architecture increases in complexity, building up height and depth and achieving multiple summits in the bodies housing the performance spaces, which spring from the structure like fruits on a vine and face westward, toward the water." We couldn't have said it better.

4) The Void