Most luxurious cinema experiences in Dubai
Michelin-star level food, zero distractions, you name it. There's a cinema experience for everyone in Dubai.
Words by Aneesha Rai in The Guides · Aug 28th, 2019
If you're a cinema buff, you'll love going to the movies in Dubai. There are unbeatable VIP experiences available on your doorstep. Here's a round-up of the best & most luxurious movie experiences in Dubai:
1. Vox Private Cinema
Located in the Kempinski Mall of the Emirates, VOX Private Cinema can screen a favourite movie of your choice. With only 15 seats, the entire cinema can be hired for yourself, your family and friends. To hire the entire cinema, it will set you back AED 3,000, with every guest receiving a soft drink & popcorn. You can order in from their fully licensed, gourmet menu and choose to dine in style in the exclusive lounge. You also have personalised butler service and free valet parking. You can book the cinema up to a duration of 4 hours. The schedule is as follows:
Sundays to Wednesdays: 2PM, 6PM and 10PM
Thursdays to Saturdays: 2PM, 6PM, 10PM and 2AM
You can book the tickets through the concierge at the Kempinski or by calling +9715 51 67 39 08
2. Theatre By Rhodes
Pairing both fine dining and film, Theatre by Rhodes features an exquisite menu formulated by Michelin star chef Gary Rhodes. You first visit an exclusive fine dining lounge, where you can make your meal selections & then get served as you watch your movie.
Priced at AED 265, the THEATRE by Rhodes package includes:
One THEATRE by Rhodes ticket for any movie of your choice
Choice of one starter, main and dessert
Choice of one mocktail/beverage
Choice of tea/coffee

Currently, this experience is available at Mall of the Emirates and City Centre Mirdiff.
3. Gold By Rhodes
The GOLD by Rhodes experience is for those who want to indulge in some extra comfort while enjoying their movie. The menu conceptualised by Chef Gary Rhodes includes cinema snacks with a gourmet twist, bigger bites and refreshing mocktails. Cinemagoers can elect to choose between two dishes from the menu in addition to a cold drink, a hot drink, and a blanket. This experience in addition to your cinema ticket can set you back AED 75. The cinema will have plush seating and the option of food being delivered to your seat. This experience is available at Bur Juman and Deira City Centre. You can book your tickets here.
4. 4Dx
If you can't be bothered with food at the cinema, check out the immersive 4DX /MX4D experience. With motion chairs, scent, wind, light and water effects, it offers true entertainment! Available at both VOX Cinemas & Reel Cinemas.
5. Distraction Free
If you can't stand people shuffling in or out during a movie, mobile phone lights and people talking as well as children screaming, then this is the experience for you. The new distraction-free experience announced by VOX Cinemas will take care of all of these issues so you can enjoy your movie experience in peace and quiet. Book your distraction-free experience here.
6. Platinum Suites & Platinum Plus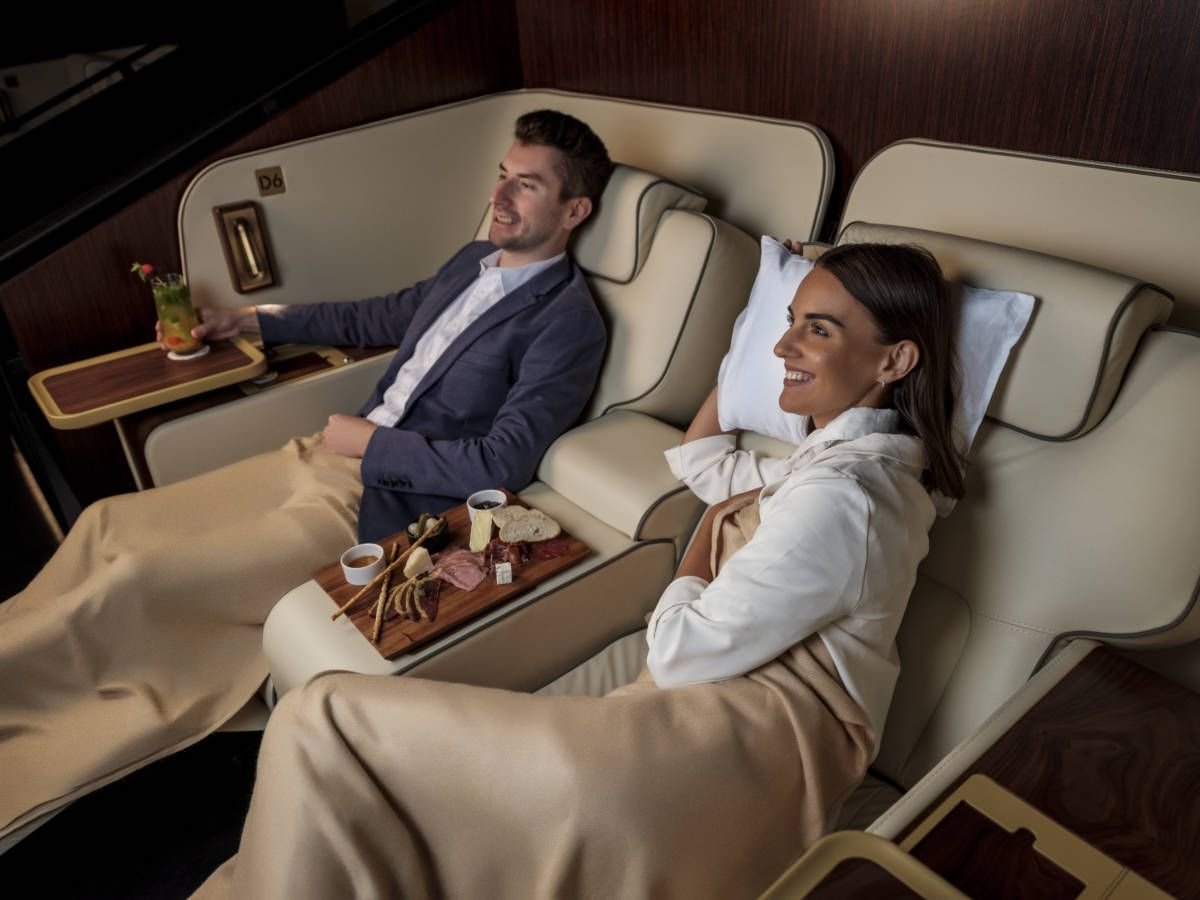 The Platinum Plus Cinema Experience offered by Roxy Cinemas gives you access to a lounge, plush recliner seats & a VIP call button that allows you to order for anything you might need. The Platinum Suites experience by Reel Cinemas offer a similar experience – complete with reclining leather seats with 3 settings, pillow, blanket, a call button, and a personal butler.

7. Outdoor Cinema
If you prefer watching your movies outdoors in the cooler Dubai months, then you must check out the one at ALOFT Deira City Centre. Surrounded by views of the creek besides your cinema screen, you can enjoy spacious & comfy seats with gourmet style food & alcoholic beverages. A VIP couch package for 2 includes a two-person VIP couch and two food and beverage packs with a choice of either nachos or a hot dog, salt or caramel popcorn, a soft drink, an Evian water and a box of Monkey cookies.

8. Screen X
Screen X offered by Reel Cinemas is a 270 degree screen movie experience. Book your tickets here.

9. Reel Boutique
If you like the old-school charm of going to the cinema, head over to Reel Boutique in Downtown Dubai located at Rove Downtown. They have sofa style seats and specialty beverages. Book your tickets here.

10. Cinema Akil
If you love to watch unique, art films, then head over to Cinema Akil. The GCC's first arthouse cinema, it regularly screens unique award-winning films from all across the globe. Book tickets here.

11. Dubai Opera
Occasionally, the Dubai Opera turns into a theatre house for you to enjoy your favourite flicks. They are currently showing some Disney classics, but also have a rare Harry Potter show with a live orchestra. To know more about the schedule, please click here.