Open House: A Mediterranean inspired villa on the Palm
Olivia & Claudia of MWM Studio chat about a tranquil Palm Jumeirah home for sale
Words by Aneesha Rai in Portfolio · Aug 8th, 2022
Soothing tones and modern aesthetics grace this stunning Palm Jumeirah home brought to life by Olivia & Claudia at MWM Studio. In this edition of 'Open House', here is what they have to say about the Mediterranean abode now listed for sale.
Olivia: The client gave us a really interesting brief for the 'look' & 'feel' she wanted for the home; she wanted us to follow the architecture and bring into the interior a modern, Mediterranean, relaxed feel – so that means soft linen drapes, plaster walls, oak flooring, and travertine.
The project for us was a complete refurbishment of the interior, and garden, and limited renovation work to the exterior in line with local regulations. We were commissioned to pull together a team to include contractor, landscape, MEP, and lighting. Our scope started at the concept stage and went through to site supervision with our highly skilled team and we completed the project with our accessorizing and styling service to hand over a beautiful finished product!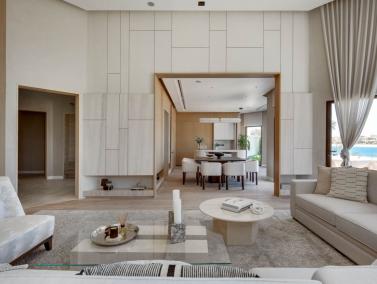 Olivia: I would describe the house style as simplistic and modern, with clean lines and architectural significance. There's a lot of attention to detail, a mix of stone and porcelains, timbers, and minimal accent metal detailing. The walls are polished plaster throughout the house, to link the rooms and give a harmonious feel throughout. Some of the notable brands used were lighting fixtures by Phos, UK Kitchens by Studio 971 (Arrital), and sanitary ware from Bagno Design. The living room rug is by Amini. The master bed is by Meridiani, the brand by Flou. The outdoor furniture is by Harbour and the outdoor entrance rug is custom made by Tribes Dubai. The porch pendant light is by Kevin Reilly.
As with all villa projects, we often have issues resolving MEP, where functionality meets aesthetics! We always try to push the consultants to achieve the airflow required (especially in the rotunda section) whilst using top-end technology and beautiful aesthetics! We didn't come across any other design challenges for this project, the renovation was quite seamless...we were lucky to have been appointed with some fantastic consultants onboard.
Olivia: I personally love the open plan living room/kitchen area and the rotunda. The rotunda is a challenging space - it's the least contemporary part of the villa; however, we stripped back the frills and added touches of sleek detailing to the surround which turned out very well. This area is the core of the house, from here all rooms feed off and so the interior elements had to be strong here – the large pendant is a stunning, custom-made sculptural piece.
This villa would be perfect for a young professional couple; there are limited bedrooms for a family, instead, we even turned one bedroom into an additional stunning walk-in wardrobe with a balcony terrace attached – pure luxury!