Jumeirah Golf Estates: Stay on Course
You'll love life at the latest - and largest - development in the golfing world, says Luxhabitat's Luxury Sales Directors Andrew Cleator and Ian Kirkby
Words by Andrew Cleator and Ian Kirkby in Neighbourhoods · Oct 18th, 2014
Jumeirah Golf Estates has been "something of a sleeping giant", opines Luxhabitat's Luxury Sales Director Andrew Cleator, who has gained expert knowledge of this all-villa community since the launch of the first phase back in 2007. It's a belief born of Cleator's view that people remain largely unaware of Jumeirah Golf Estates' existence, despite it being home to Europe's biggest golf tournament. Yet this is a must see development, one that arguably already ranks among the world's finest golf communities despite its relative infancy.
"There are numerous sub-communities each made up of different style villas," says Cleator, who has found his clients to be particularly impressed with the build quality of the first community to handover, Whispering Pines. "Jumeirah Golf Estates is in a great location less than 15 minutes from Media City, which may come as a surprise to many. It's very close to the heart of the city yet offers a lifestyle which is far removed.
"It also has really good access to the main roads, the city's new airport and what will be Dubai's Expo 2020 site, all of which will only boost the appeal and value of Jumeirah Golf Estates in years to come." Of course, the biggest draw here is the golf courses, of which two of a proposed four are complete and playable. "The community was designed to be built around the golf courses and, as a result, 86 per cent of villas here boast full golf-course views," says Ian Kirkby, Luxury Sales Director at Luxhabitat.

"This is the highest percentage of any golf development in the world. Some communities, like Flame Tree Ridge, are purely on the golf course. You can expect to pay a 20 per cent premium for the views these villas offer, but such vistas are probably why you'd look to buy in a golf community in the first place," he reasons. "However, golf-view properties in Jumeirah Golf Estates are priced much lower than those in places like Emirates Hills."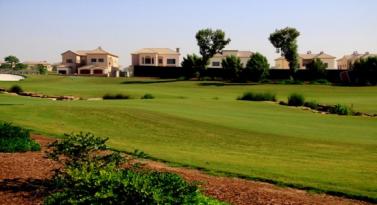 Entry-level prices start at AED5.5 million, while the most exclusive properties can reach AED24 million. A selection of villas in this landscaped community (ranging from three to six bedrooms) come with a swimming pool, golf buggy and Bang & Olufsen televisions and sound systems. "People wanting to buy here will get good value for money and a great quality build," says Kirkby. "But this time next year those AED5.5 million properties for sure will be more expensive."
Kirkby cites factors like the opening of the Estate's clubhouse later this year for this expected price hike. The clubhouse will open in stages from November and become the world's biggest on completion. So, what's his advice? "Come and view Jumeirah Golf Estates now to see a beautiful community that's all but guaranteed to rise in popularity and appeal."