Top 10 areas with highest rental yield in Dubai in 2023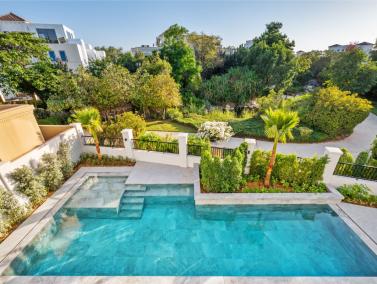 The top 10 luxury residential communities with the highest rental returns in Dubai in 2023
Words by Ankita Bhowmick in The Market · Feb 19th, 2020
Thinking of investing in a property in a prime location in Dubai? Luxhabitat Sotheby's breaks down a list of the best options with an attractive rental yield in 2023. The data supplied is from Property Monitor.

1. Al Barari
Babbling brooks, beautiful greenery, and a plethora of flora and fauna make Al Barari a delightful place to live in. Ranking at the top of the list, the Al Barari area is an oasis of calm and a wellness-focused community of UHNWIs. With a high investment yield, the Al Barari villas are worth the price for both an end-user or investor.
Rental yield: 8.30%

2. Za'abeel
A relatively new area and home to the One Za'abeel, Za'abeel is located in the heart of Dubai and is a vibrant and bustling area known for its diverse cultural heritage and modern developments. This dynamic neighborhood offers a mix of residential, commercial, and recreational options, making it a popular destination for both locals and tourists alike. Za'abeel is known for its iconic landmarks, including the Dubai Frame, a towering architectural marvel that offers panoramic views of the city's skyline, and Zabeel Park, a sprawling green space perfect for outdoor activities and family outings. The area is also home to several renowned educational institutions, healthcare facilities, and shopping centers, making it a well-connected and convenient location for residents.

Rental yield: 7.28%

3. Dubai Marina
Hosting a lot of singles and young couples, the waterfront community of Dubai Marina is known for featuring a cosmopolitan and free-spirited atmosphere. The community also provides a wide range of active nightlife and a range of eateries.

Rental yield: 6.54%
4. Dubai Hills Estate (Villas)
Dubai Hills Estate, located in the heart of Dubai, is a prestigious and sought-after community known for its luxurious villas. These exquisite villas boast modern architecture, elegant designs, and state-of-the-art amenities, offering residents a lavish and comfortable lifestyle. The villas in Dubai Hills Estate range from spacious 3-bedroom homes to expansive 6-bedroom mansions, catering to the needs of families of all sizes. The community is nestled amidst lush greenery, with parks, golf courses, and landscaped gardens, creating a serene and peaceful environment.

Rental yield: 6.04%

5. Jumeirah Golf Estates
Jumeirah Golf Estates, located in Dubai, is a prestigious residential community known for its stunning villas set against the backdrop of two world-class golf courses. These luxurious villas offer residents an exclusive and serene lifestyle in a lush green environment. The villas in Jumeirah Golf Estates are designed with contemporary architecture, spacious layouts, and high-quality finishes, providing residents with a sophisticated and comfortable living experience.
Rental yield: 5.98%

6. Jumeirah Beach Residence
The cosmopolitan beachfront community of Jumeirah Beach Residence (JBR) is known for being one of the liveliest attractions of Dubai. Being the largest single-phase residential and commercial project in the world, the community features40 tall towers, divided into six clusters, overlooking the Arabian Gulf. Offering a year-round beachy and resort lifestyle, JBR is ideal for couples and young families.

Rental yield: 5.82%

7. Business Bay
Dubai's new center for trade and business, Business Bay is located minutes away from Downtown Dubai. The upscale community hosts a new yacht and sailing boat dock on the bank on the new Canal. Business Bay has on offer an array of supermarkets, dining and entertainment outlets along with a number of internationally acclaimed hotels.

Rental yield: 5.72%
8. Downtown Dubai
Downtown Dubai is an urban concept that defines modern city living at its best. The community is home to an array of amazing attractions including Burj Khalifa, The Dubai Mall and The Dubai Fountain. It hosts high-flying residents in the world and complements them with a range of housing, entertainment, dining and retail options.

Rental yield: 5.59%

9. Palm Jumeirah Apartments
With contemporary designs, high-quality finishes, and an array of amenities, the apartments in Palm Jumeirah offer residents a lavish and sophisticated lifestyle. The community features a range of apartment options, from cozy studios to spacious penthouses, catering to different preferences and needs. Residents can enjoy access to private beaches, swimming pools, fitness centers, and a variety of dining and entertainment options, making it a truly exclusive and desirable location to call home in Dubai.

Rental yield: 5.34%
10. City Walk
City Walk, located in the heart of Dubai, is a dynamic and vibrant urban community known for its modern and luxurious apartments. These apartments offer residents a chic and cosmopolitan lifestyle with contemporary designs, high-quality finishes, and an array of amenities.
Rental yield: 5.24%

Editor's note: Updated as of April'23.