Top 10 most expensive handbags in the world
The priciest handbags to have ever been sold
Words by Ankita Bhowmick in The Lifestyle · Mar 3rd, 2019
Gone are the days when handbags were merely considered as carrying pouches. Today, the high-end handbags cost thousands of dollars and are used by their owners as a medium of flaunting wealth and social status.
Here is a list of the top 10 most expensive handbags that cost no less than a fortune.
1. Mouawad 1001 Nights Diamond Purse Usd 3.8 Million
Mouawad 1001 Nights Diamond Purse is currently the most expensive handbag in the world and holds the position in Guinness World Records since 2011. The handcrafted bag is made up of 18-karat gold and features 105 yellow diamonds, 56 pink diamonds, and 4,356 colorless diamonds. It took artisans 8,800 hours to create this masterpiece, which was sold last year at Christie's auction preview in Hong Kong.
2. Hermes Kelly Rose Gold Usd 2 Million
The luxury brand of Hermes collaborated with jeweller Pierce Hardy, in order to create this unique handbag. It has been crafted to resemble crocodile leather and is made up of solid rose gold. The small, luxurious and stunning bag features 1,160 diamonds. Only 12 of such bags were ever created, which adds up to its worth.
3. Hermes Birkin Bag By Ginza Tanaka Usd 1.4 Million
Hermes Birkin Bag has been designed by the Japanese designer Ginza Tanaka and comes with detachable parts that can also be worn by one to accessorise herself. It is made up of platinum and features 2000 diamonds on its outer shell along with a pear-shaped 8-karat stone as a centerpiece, that can be detached and used as a brooch.
4. Hermes Chaine'd Ancre Bag Usd 1.4 Million
Featuring a prison-like design, the Hermes Chaine d' Ancre Bag has its anchor-shaped chain links encrusted with 1,160 pieces of diamonds. What makes it even more expensive is that the fact that it is a Pierre Harddesigneded collectible and only 3 of such bags were ever created.
5. Lana Marks' Cleopatra Clutch Usd 400,000
The Cleopatra Clutch by Lana Marks costs between USD 100,000 and 400,000 and is a favourite among high-profile celebrities. What adds up to its worth is the fact that only a single piece of this bag is produced each year that come with new color and design. The most expensive among the handbags is owned by the Chinese actress and singer Li Bingbing. The bag that the celebrity owns features 1,600 white diamonds that amount to 40 karats, to match her gown. To write Li Bingbing's name, pink diamonds and pink gold were used.
6. Niloticus Crocodile Himalaya Birkin Usd 379,000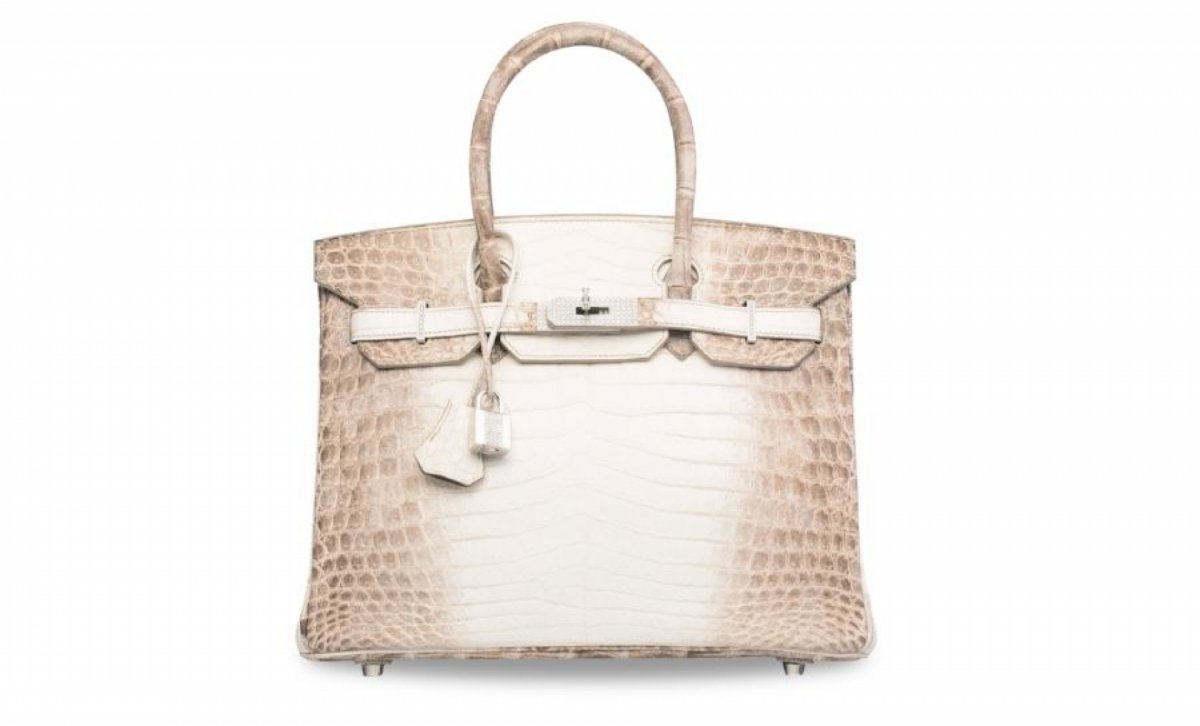 Himalaya Birkin bags are made out of Niloticus crocodiles and its dyeing process takes very long which is done to lighten the hue of the material. The handbag's design evokes images of the Himalayan mountains, featuring the rich brown colours that portray the mountains and white colors, portraying the clouds and snow-capped tops. The most recent Niloticus Crocodile Himalaya Birkin handbag was sold during an auction at Christies in Hong Kong, where it fetched 379,000 dollars. It featured over 240 diamonds that were encrusted on its 18-karat gold shell.
7. Chanel "Diamond Forever" Handbag Usd 261,000
This handbag by none other than Chanel is made of fine crocodile leather and features 334 diamonds that weighs 3.56 carats in white gold. The bag looks simple and elegant which comes with an 18-karat gold chain, that can be used as a strap and is detachable. What adds up to its value is the fact that only 13 pieces of this handbag were ever created.
8. Fuchsia Diamond Studded Hermes Birkin Usd 222,000
As the name suggests, this handbag comes in Fuchsia colour and features eye-catching 18-carat white gold and diamonds. It was sold during an auction of Christie's in Hong Kong in 2015 for 1.72 million Hong Kong dollars.
9. Hermes Exceptional Collection Shiny Rouge H Porosus Crocodile 30 Cm Birkin Bag Usd 203,150
One of the priciest handbags in the world, the Hermes Exceptional Collection Shiny Rouge H Porosus Crocodile 30 cm Birkin Bag features 18-karat White Gold and Diamond Hardware. It was sold as the most expensive handbag, several years ago at a public auction in Heritage Auctions in Dallas, where an anonymous collector won the bidding.
10. Blue Crocodile Hermes Birkin Handbag Usd 150,000
The blue crocodile Hermes Birkin handbag was sold at the first-ever Christie's Auction that was dedicated for handbags at Mayfair, London. It was bought by an anonymous buyer. The handbag features white gold and 18-karat diamonds.