Top 10 most expensive hotels in Dubai
Here are the most exorbitant hotels in Dubai that are worth splurging on.
Words by Ankita Bhowmick in The Lifestyle · Jun 28th, 2018
The glam city of Dubai is known for its gorgeous skyscrapers, high-end shopping options and luxurious lifestyle that it offers its residents with. The city is also known for being home to some of the most expensive and luxurious hotels in the world.
If you have deep pockets and looking out for the best hotels to spend your holidays in, this Luxhabitat guide will help you put your money where your mouth is.
1. Palazzo Versace Dubai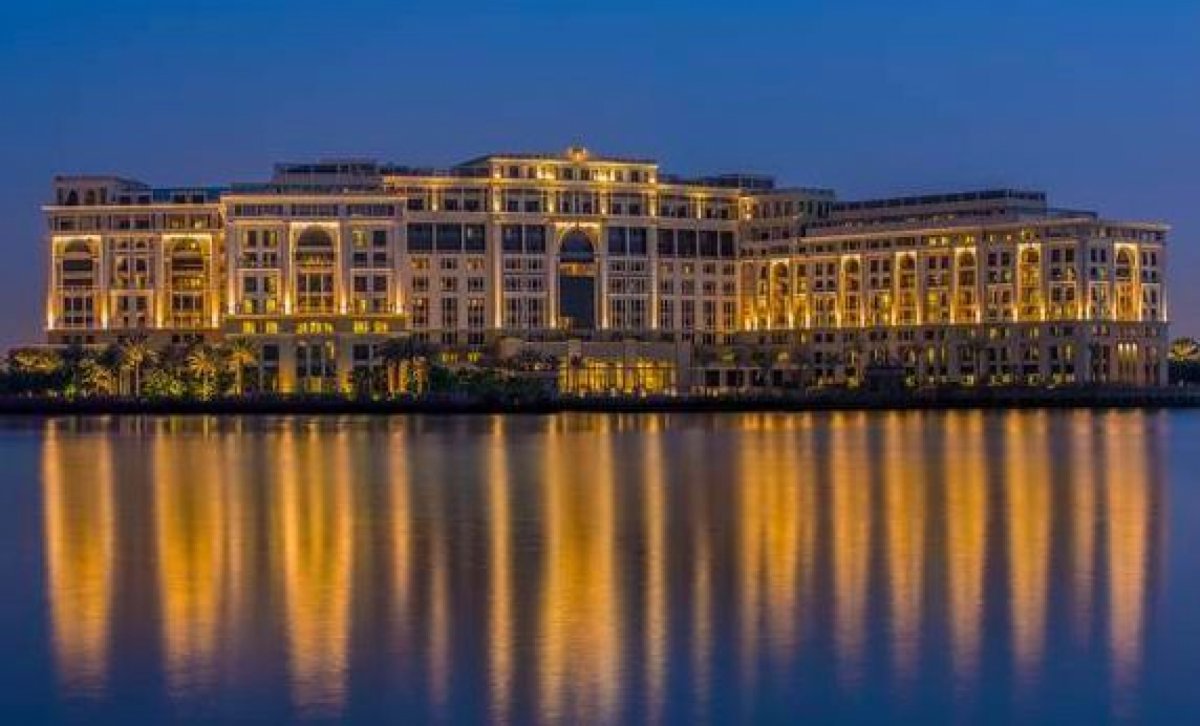 Located in Culture Village, the luxury hotel of Palazzo Versace is reminiscent of a 16th century Italian Palace. It is a Neoclassical masterpiece with subtle traces of Arabian architecture. Offering a range of well-crafted Italian furnishings, the hotel is symbolic of the Versace lifestyle. Every furniture and fabric that the hotel features is designed and tailor-made by Versace exclusively for the Palazzo Versace Hotel in Dubai.
Palazzo Versace hosts 215 hotel rooms and suites, as well as 169 residences. It also offers 8 restaurants and bars that are designed exclusively to reflect the heritage of Palazzos, a place where the internal court was the informal space to meet, dine and enjoy the weather.
Approximate cost per night: AED 77,000 (Imperial Suite)

Contact: 04-556 8888
2. Atlantis The Palm
Located on the crescent of Palm Jumeirah, Atlantis The Palm is a themed hotel based on the underwater lost city of Atlantis. It hosts a gorgeous aquarium that is home to 65,000 marine animals. Atlantis The Palm also offers two pools, a top of the line spa and nearly a mile of man-made beach.
Guests can enjoy complimented and unlimited access to the Aquaventure Waterpark, that is located alongside the hotel. Also on feature are a wide range of restaurants, bars and nightclubs.
Approximate cost per night: AED 63,000 (Royal Bridge Suite)
Contact: 04-426 2000

3. Burj Al Arab
Repeatedly voted as the world's most luxurious hotel (and the first to have seven stars!), Burj Al Arab is best known for offering the most exclusive services to its customers. Optional chauffeur-driven Rolls-Royces, helicopter trips from the hotel's iconic helipad, private beach access and luxury leisure on a breathtaking terrace with pools and cabanas are some of the finest experiences that guests staying in this uber-luxurious hotel can take advantage of.
The hotel features suites that offer discreet check-ins and also come with a host of personal butlers.
Located in the upscale coastal community of Jumeirah, Burj Al Arab also hosts some of the world's best dining venues, including the highly acclaimed Nathan Outlaw at Al Mahara.
Approximate cost per night: AED 40,000 (Royal two bedroom suite)
Contact: 04-301 7777
4. Four Seasons Resort Dubai
Located in Jumeirah, Four Seasons Resort is a beachside resort that has the pristine waters of the Arabian Gulf on one side and the cityscape of Dubai on the other. Guests can choose to dine while enjoying views at the open-air lounge or relax in the poolside cabanas.
Four Seasons hosts 11 restaurants, bars and nightclubs and amenities like water sports and 24-hour fully equipped fitness centre.
Approximate cost per night: AED 35,000 (Royal Suite)
Contact: 04-270 7777
5. W Dubai The Palm
One of the most iconic destinations on Palm Jumeirah, W Dubai hosts 350 guest rooms and suites that offer uninterrupted views. The highlight of this property is its 550 square metres Mega Suite that comes with a living/sitting area, dining area, dining room and living room. The suite also hosts walk-in closet. Guests are complemented with a range of amenities that include complimentary breakfast evening turndown service, touchscreen control in rooms, amongst many others.
Approximate cost per night: AED 27,000 (Mega Suite)
Call: 04-245 5555
6. Jumeirah Al Naseem Madinat Jumeirah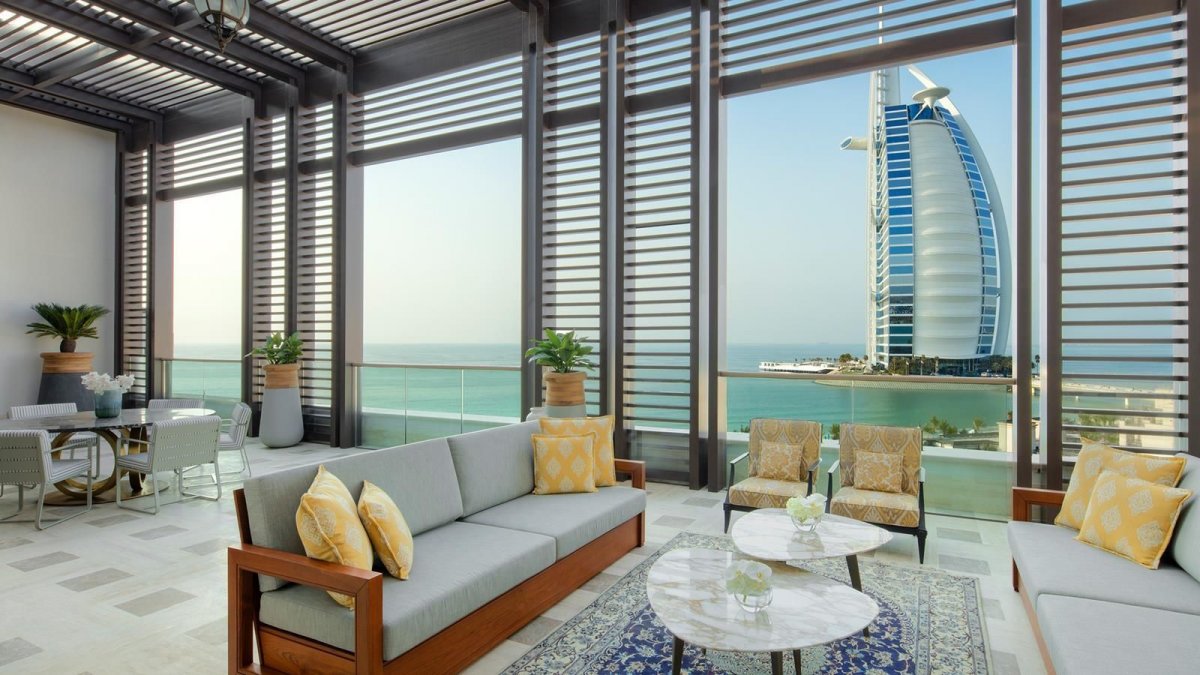 Located in Jumeirah, the latest addition to Madinat Jumeirah, Jumeirah Al Naseem's interiors are inspired by sand dunes, sea breeze and Dubai's heritage of pearl diving and Bedouin traditions. The rooms and suites that the hotel has on offer superb views. The terraces bring the outdoor in and feature views of the lush garden and sandy beach.
Jumeirah Al Naseem hosts 387 rooms, 43 suites and 50 world-class restaurants and bars. The guests can enjoy a range of amenities that include complimentary access to Wild Wadi Water Park and the Kids Club.
Approximate cost per night: AED 19,000 (Royal Suite)
Contact: 04-366 8888
7. Armani Hotel Dubai
The Armani Hotel Dubai is the first hotel in the world that is designed by Giorgio Armani and is located at the Burj Khalifa, the world's tallest tower in the upscale community of Downtown Dubai.
The hotel is best known for its warm and sophisticated Italian style hospitality and personalised service for every guest.
It features 160 guest rooms and suites, offering unparalleled views of Dubai.
Approximate cost per night: AED 14,000 (Armani Dubai Suite)
Contact: 04-888 3888
8. Aspen Ski Chalet By Kempinski
The Kempinski Hotel at The Mall of the Emirates features modern rustic one-bedroom Aspen Ski Chalet that offers its guests with views of the powdery slopes of the gorgeous Ski Dubai.
Situated in Al Barsha, The Ski Chalet is equipped with state-of-the-art in-room technology and features a stone faux fireplace, a spacious marble bathroom, a kitchenette and exclusive access to a dedicated Butler service. The guests are also entitled to complimentary access to the Snow Park of Ski Dubai and the benefits of the Executive Lounge.
The other exclusive amenities that the guests of Aspen Ski Chalet are complemented with include daily breakfast in the Executive Lounge, evening drinks and canapés at Noir Bar from 7 pm to 9 pm, private check-in and check-out and complimentary access to Concierge and Business Center services.
Approximate cost per night: AED 13,000 (Three bedroom Chalet)
Contact: 04-341 0000
9. Jumeirah Dar Al Masyaf Madinat Jumeirah
Jumeirah Dar Al Masyaf is set amidst tranquil gardens, waterways, pools and private beach.
The luxurious hotel is situated in the exclusive seafront community of Jumeirah and offers elegant and spacious guestrooms and courtyards, along with personalised butler service that provides the guests with understated Arabian luxury experience. Each summerhouse hosts nine to eleven guestrooms and one suite.
Guests residing here can also enjoy quick access to as many as 50 restaurants which Madinat Jumeirah has on offer.
Approximate cost per night: AED 12,900 (Royal Malakiya Villa)
Contact: 04-366 8888
10. The Bulgari Resort Dubai
Situated on the man-made Jumeirah Bay island, The Bulgari Resort Dubai has been entirely designed by the renowned Italian architectural firm that has created all the Bvlgari Hotels & Resorts called Antonio Citterio Patricia Viel.
The resort features the feel of a Mediterranean Village and offers 101 rooms and suites, along with 20 Bulgari villas with pool, garden as well as sea-view. Guests are welcome to enjoy the exclusive amenities that the resort has offers, such as a range of restaurants, private beach access, indoor pool, fitness centre, beauty salon and also a private Marina featuring 50 boat berths and the first world's Bulgari Yacht Club with stunning views over the sea.
Approximate cost per night: AED 11,450 (Two bedroom villa)
Contact: 04-777 5555