Top 10 most expensive cigars in the world
Here's a list of the priciest cigars that you can find around the world.
Words by Ankita Bhowmick in The Lifestyle · Feb 6th, 2019
Smoking Cigars is primarily associated with wealth, class and luxury. There is a wide range of cigars that are available and the finest ones are made out of the best tobacco, swathed in exquisite wrappers and hand rolled with the utmost care and precision.
Therefore, let's have a look at the most expensive ones in the world. Keep in mind that the prices of some of them are likely to break the bank.
1. Mayan Sicars Usd 507,000
The most expensive cigar to have ever been purchased is a Mayan Sicar. It costed the buyer USD 507,000 at an auction. The vintage cigar is 600 years old and was found in 2012 in a village in Guatemala. They are well-preserved and can be still smoked.
The cigars are known to have originated from the Maya civilisation. The Mayans were known to have a very good taste in smokes and began making cigars since the 12th century. It was Christopher Columbus who tried them and carried them to Europe.
2. Gran Habano No. 5 "El Gigante" Usd 185,000
This is the world's biggest cigar with a ring gauge of 1,920 and was meant to be displayed during trade shows. The amount of tobacco that was used to make it was 1,600 pounds. Initially, priced at USD 200,000 this cigar can be smoked by 40 people at a time.
A wooden carrying case was specially created for this 19 feet long cigar which has the approximate weight of that of 25,000 normal cigars. Though not meant to be sold, it was bought by a cigar enthusiast at USD 185,000.
3. King Of Denmark Usd 4,500 Per Cigar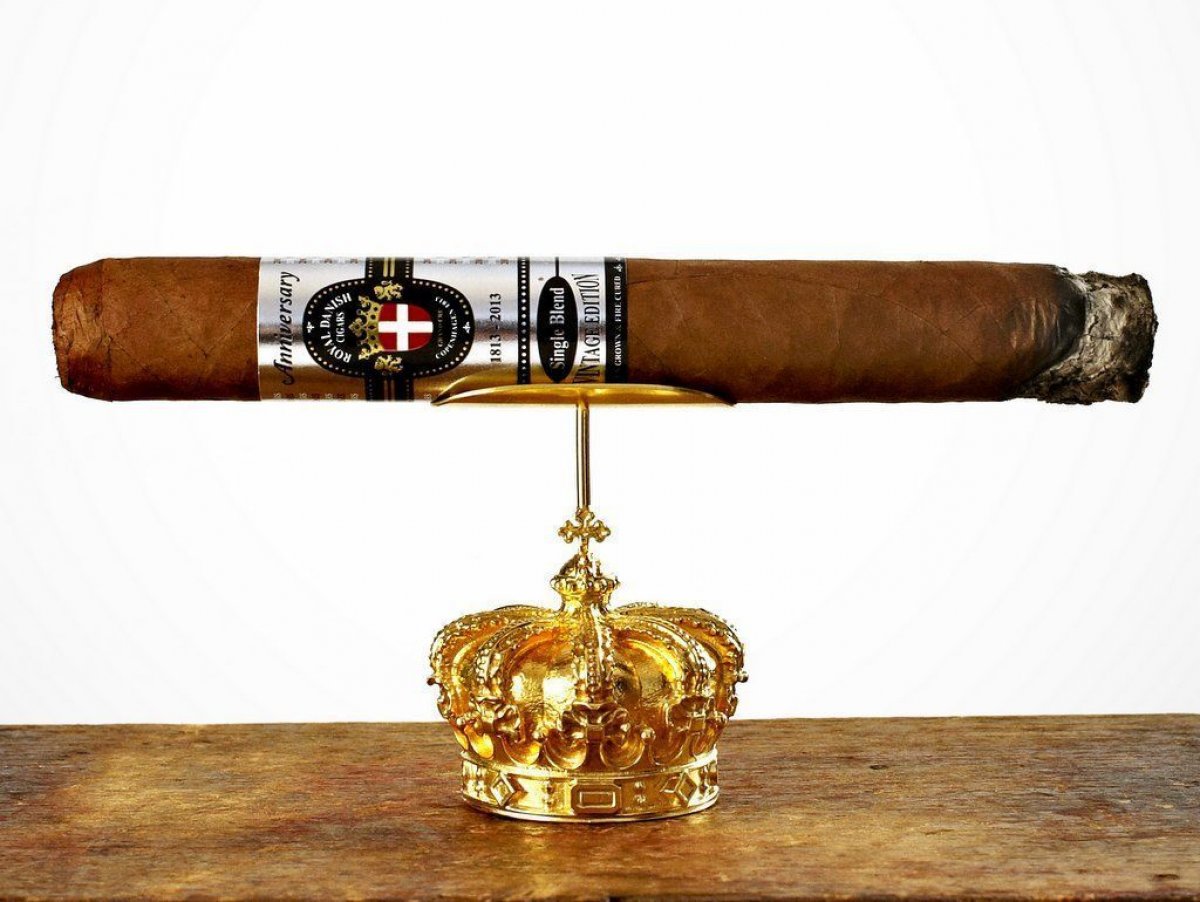 King of Denmark can be customised according to the buyer's liking. They can choose to add a gold foil with their name inscribed on it and can also add precious metals and diamonds on it.
Each smoke features a fancy humidor worth USD 8,500 that comes with a crown made of sterling silver and is plated in 24k gold. The humidor is extra and has a price tag of $8,500.
4. Gurkha Black Dragon Usd 1150 Per Cigar
These cigars were released in 2006 and are of limited edition and therefore are quite rare. Having a size of 52 inches and a length of 8.5 inches, they come in a chest that is carved from camel bone. The wrapper that wraps them is made from Connecticut Broadleaf Maduro. The binder is Cameroon, and the five-year aged filler is Dominican. Each cigar is packed individually in a frosted tube and is then placed in a leather box that has orange velvet layers.
The flavour of each cigar is quite complex that ranges from sour to sweet through its length.
5. Gurkha His Majesty's Reserve Usd 750 Per Cigar
Only a hundred box of Gurkha His Majesty's Reserve are made each year and a cigar enthusiast will need to preorder them few years beforehand so as to get a taste of them. The size of each cigar is 7.5 × 52 inches.
The Connecticut Maduro wrapper that it comes with is 15 years old and the Dominican binder and filler are aged for 12 years. The filler is infused with aromatic Louis XIII cognac, giving it a beautiful aroma.
6. Cohiba Behike Usd 450 Per Cigar
One of the most popular cigar brands in Cuba, Cohiba released this special and limited edition of only 100 boxes featuring 40 cigars each to commemorate their 40th anniversary in 2006. They are grown and blended at El Laguito Cohiba factory and are sized at 52 inches and have a length of 7.5 inches.
The cigar boxes include several varieties coming from the Pinar del Rio and Vuelto regions of Cuba along with a French-made humidor from Elie Blue.

7. Fuente Don Arturo Anniverxario Usd 163
The Arturo Fuente company, in order to celebrate the 100th anniversary in 2001, created this limited edition of cigar boxes, each containing 46 cigars that are naturally wrapped along with 46 of the Maduro wraps. They were however released for the second time again in 2008.

The wrappers of each cigar are from the Chateau de la Fuente, where the company began their business back in 1912. They are aged for 7 years and are available in sun grown and natural variety. The humidors can be selected from an option of ebony, maple, sycamore and walnut.
8. Arturo Fuente Opus X Usd 79
Available in most of the prestigious cigar stores in the world, Arturo Fuente Opus X was released in 2003 as a 10th-anniversary edition cigar. It is the brightest cigar with a size of 9 ¼ x 47 inches. The cigars feature mild jalapeno flavour.
They come with Rosado wrapper which is grown upon the amazing plantation, Chateau de la Fuente. The wrappers, binders and fillers of the cigars are made in the Dominican Republic.
9. Regius Double Corona Usd 52.78 Per Cigar
When a buyer pays this over the top price, it is not only a cigar that he is complemented with but also a once in a lifetime experience, that is worth cherishing. The producer of this special edition cigar is a British company named Regius Cigars that offers its buyers with the experience of flying first class to the Regius headquarters, where they can help in the creation of their own unique blend, and then receive 1,000 of the custom creations.
The last person to have bought these cigars was Callum Jones in 2013.
10. Louixs Usd 50
Louixc is created by Goldwyn Metropolitan Company and each cigar is 6-inches in length with a 6-inch ring. Created in Nicaragua, the cigars have Louis XIV's portrait on them. The cigars are wrapped with Rosado wrappers and are available in boxes and also individually.
In order to ensure the quality of the cigars, they are made to review by veteran reviewers. They are flavoured with cocoa and spice.