The Lifestyle
Top 10 most expensive shoes in the world
The most extravagant pairs of footwear that was ever bought in 2023
Words by Ankita Bhowmick in The Lifestyle · Apr 3rd, 2019
What was primarily invented to protect and provide comfort to the human feet has, over the years become yet another symbol of luxury. The high fashion shoes, designed by top designers are made using expensive materials. Pairs of such shoes normally cost thousands of dollars.
However, there are some shoes, the price of which will surely blow your mind. Let us have a look at the top 10 most expensive shoes in the world in 2023.
1. Moonstar Shoes By Antonio Vietri Usd 19.9 Million
Valued at nearly $20 million, the Moonstar shoes, designed by Antonio Vietri, are a remarkable pair of heels crafted with solid gold, embellished with 30 carats of diamonds, and adorned with a meteorite dating back to 1576. These extravagant shoes made their debut during MIDE Fashion Week in Dubai. Inspired by the iconic Burj Khalifa, these pumps serve as a striking statement piece. The solid gold heels are ingeniously shaped to resemble the skyscraper, while the vamp is lavishly studded with dazzling diamonds. Adding to their exclusivity, these luxurious shoes were delivered to buyers via helicopters.
2. Jada Dubai And Passion Jewellers Passion Diamond Shoes Usd 17 Million
Luxury footwear designer Jada Dubai in collaboration with Passion Jewellers unveiled, what is currently known as the most expensive shoe in the world. Showcased for the first time in the iconic Burj Al Arab in Dubai, the stiletto shoes are made of gold, leather, and silk. They feature as many as 236 diamonds, along with a 15-carat D-flawless diamond near the toes. It took shoemakers 9 months to craft the shoe from pure gold.
3. Debbie Wingham Heels Usd 15.1 Million
These pair of shoes are designed by British designer Debbie Wingham and are the second most expensive pair of footwear in the world. The designer had collaborated with footwear designer Chris Campbell in order to create these shoes for a private client, which was a gift to a family member for her 30th birthday. Precious stones were used from the client's family collection and the entire process of crafting it took over 100 hours. They feature three-carat pink diamonds and one-carat blue diamonds, that are positioned on the front of each of them. The shoe's body is skillfully crafted from platinum, while the plaque adorning it is made of pure gold. The remaining parts of these shoes are fashioned from leather, but they boast a lavish touch with 24-carat gold paint. To assemble this priceless pair, 18-carat gold thread is delicately used for stitching, adding to its opulence and craftsmanship.
4. Shoes Thrown At President George W Bush Usd 10 Million
On December 14, 2008, an Iraqi journalist by the name of Muntadhar al-Zaidi threw the pair of shoes that he was wearing at the then-President of the United States, George W Bush. The shoes were eventually bought for $10 Million. The shoemaker also received a massive order of nearly 300,000 pairs of similar shoes in a week.
5. Harry Winston Ruby Slippers Usd 3 Million
A replica of Dorothy's ruby slippers from the Wizard of Oz were designed by jeweller Harry Winston. They are studded with expensive jewellery and feature art-work, the creation of which takes 2 months, as it features 4,600 rubies worth 1,350 carats and 50 carats of diamonds. The pair of slippers were a tribute to The Wizard of Oz on the eve of the 50th anniversary of the film's release in 1989. It costs as much as $3 million and is the fourth most expensive shoe in the world.
6. Stuart Weitzman Rita Hayworth Heels Usd 3 Million
Actress Rita Hayworth left a mark on fashion history when Stuart Weitzman transformed a pair of her earrings into a remarkable pair of shoes. What makes these heels truly captivating is the exquisite and muted Sienna Satin used in their construction, along with a pair of the actress's earrings that feature diamonds, rubies and sapphires. The earrings take center stage, adorning the shoes beautifully and elevating the entire look to a poetic masterpiece. Valued at a staggering $3 million, these open-toed heels are not available for purchase, as they belong to the esteemed Princess Yasmin Aga Khan, Rita Hayworth's daughter.
7. Michael Jordan's 1998 Nba Finals Sneakers Usd 2.2 Million
In 1998, during Game 2 of his final NBA championship, Michael Jordan sported his iconic black and red Air Jordan 13s, leading the Bulls to victory. Recently, these legendary shoes were auctioned by Sotheby's New York for an astounding US$2.2 million this year.
The period of Jordan's farewell run with the Chicago Bulls is often referred to as "The Last Dance," inspired by the title of an ESPN and Netflix documentary that chronicles the season. In this farewell run, Jordan announced his second retirement a few weeks before the finals, resulting in the historic six-game series against the Utah Jazz, which became the most-watched in NBA history, based on Nielsen TV ratings.
The sports memorabilia worn by Michael Jordan during his games has consistently proved to be the most esteemed and sought-after item in the market. This particular pair of black and red Air Jordan 13s holds great significance, as it is the last design that Jordan ever wore on the court during an NBA game.
8. Stuart Weitzman Cinderella Slippers Usd 2 Million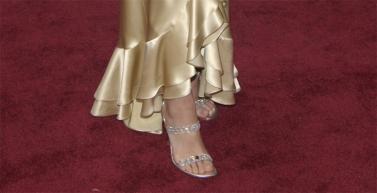 Yet another expensive pair from none other than Stuart Weitzman's expensive collection, the Cinderella slippers are made up of 565 Kwiat diamonds in a platinum setting. The right shoe houses a 5-carat amaretto diamond which costs over a million dollars alone. The 4-inch stilettos were made from Italian leather and were worn by country singer Alison Krauss to the 2004 Oscars.
9. Tanzanite Heels Usd 2 Million
Designed by Stuart Weitzman in collaboration with Eddie Le Vian of Le Vian Jewelry, a pair of Tanzanite Heels was made coated with 185 carats of elegant bright blue tanzanite gemstones along with 28-carat tanzanite that adds to its beauty. The 4.5-inch heel is encrusted with 595 carats of Kwiat diamonds set in platinum.
10. Tom Ford Custom By Jason Arasheben Usd 2 Million
Known to have been worn by Nick Cannon while hosting the final season of America's Got Talent in 2014, these diamond-encrusted Tom Ford shoes were custom-made by Jason Arasheben. The shoes feature more than 14,000 round-cut white diamonds that are set on white gold. The estimated cost of this extravagant pair of footwear is $2 million. A meticulous process involved the careful setting of over 14,000 full-cut round white diamonds onto white gold. The astonishing total carat weight reached an impressive 340 carats. These bedazzled shoes required an extensive amount of effort, taking more than 2,000 man-hours and nearly a year to complete.