The Lifestyle
In The Studio: Mária Čulenová-Hostinová, Lasvit Lighting
Maria discusses her convention-breaking approach to glasswork and lighting design
Words by Laura Cherrie Beaney in The Lifestyle · Jul 11th, 2023
An innovator responsible for striking installations that include the "Cyclops" chandelier in Dubai's Rolex store, Mária Čulenová-Hostinová employs an unorthodox approach to lighting design. With her distinctive and unconventional approach, she seamlessly blends mechanical and biomorphic aesthetics, infusing her creations with a dynamic spectrum of influences. We delve into the world of the Lasvit designer to uncover the profound impact her real-world experiences have on shaping her craft.
Maria: I'm a designer of bespoke lighting installations and sculptures at Lasvit. I've always enjoyed creating with my hands. In fact, during my youth, my favourite times during the holidays were spent inside my dad's workshop. It was a magical place for me where I could dream up spontaneous ideas and my dad always knew how to make them a reality. To this day the smell of wood, paper, and oil stays with me.
My journey in the realm of art began with a focus on fashion design, but as time went on, I yearned to explore new horizons, to delve into diverse materials, forms, and themes that would constantly push me beyond my comfort zone. It was this thirst for creative challenges that led me to the Academy of Arts Architecture and Design in Prague, where I found my true calling in product design.
Building upon this solid foundation, I delved into the realm of fine art, specifically sculpture, which honed my skills in working within three-dimensional spaces and navigating them with finesse.
For a long time, my role models were Charles and Ray Eames, whose influence on design and architecture I deeply admired. Motivated by my fascination with Scandinavian design and architecture, I made the decision to study and live in Finland for a year, immersing myself in the legacy of luminaries like Alvar Aalto, Tapio Wirkkala, and Kaj Franck. Following in their footsteps became a transformative experience.
My approach to product design has always been conceptual, blurring the boundaries between art object and function. For me, it's crucial that the primary use of the design is never compromised. I believe that functional art has the power to enrich others with emotions and thoughts, creating a visual and tangible narrative. It's about telling a story through the design itself.
Light and glass form an incredibly powerful duo. The abstract nature of light intersects with the properties of glass, which serves as its medium. This combination allows for the creation of awe-inspiring objects. When working with these elements, I aim to mix layers and blur boundaries. I explore organic and strict geometric shapes, building vast, airy sensations and ethereal harmonies. It's through this interplay that I seek to evoke a sense of wonder and captivate viewers.
I draw inspiration from various sources. One artist I greatly admire is Alicja Kwade, known for her enigmatic sculptures and installations that explore space, time, science, and philosophy. I also find inspiration in set designs and light festivals, which offer a wealth of creative ideas. When considering design, I look at both global trends and the local context, as it's important to maintain a balance between the two.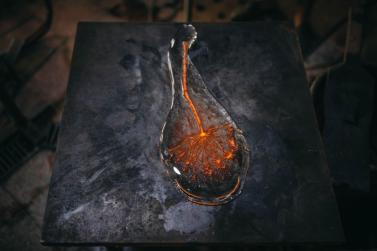 Herbarium is one of my favourite designs because of its simplicity and strong message. It was the result of close teamwork and a deep exploration of glassmaking origins in our region. We discovered that the growth of glassmaking in the north of the Czech Republic was made possible by the trees and wood used for heating the furnaces. To pay homage to nature, we created components that are casts of dry, lifeless plants in glass—a kind of plant fossil with a second life. Each component is uniquely organic, and by arranging them in compositions and clusters, we can create an illuminated crystal forest and meadow in space.
Designing for Rolex in Dubai was a remarkable experience. The theme I was given was "Time," and I had complete freedom to explore it. I wanted to create something unconventional, so I focused on the lenses of the watch and aimed for a design that provided a unique visual impression from every angle. The result is an installation that is most striking when you stand directly under its centre, creating an immersive experience.
Sustainability has become an essential aspect of production. As designers, even small changes in our approach can have a significant impact. When designing, I ask myself if the materials are precious and if the elements can be manufactured efficiently. I aim for a timeless approach to design, rather than getting influenced by fleeting trends. It's heartening to see that sculptural design has become a global favourite, as it allows for both visual appeal and sustainability. I believe that designers have the power to shape the industry and contribute to a more sustainable future.
Interdisciplinary overlap and collaboration are essential, and it's inspiring to witness the increasing trend of merging different fields. Scientists working with fashion designers, architects branching out into various domains, and musicians becoming directors of fashion brands—all these connections bring fresh perspectives and contribute to society in enriching ways. By looking at a subject with a new set of eyes, we can push boundaries and create innovative solutions that have a positive impact.
All images are courtesy of Lasvit