The Lifestyle
In The Studio: Almaha Jaralla
The Emirati artist discusses getting to know herself by remediating her family's visual archives
Words by Laura Cherrie Beaney in The Lifestyle · Jun 7th, 2023
As Seham, her solo exhibition at Tabari Artspace Dubai debuts, we step into the studio of Emirati mixed media artist, Almaha Jaralla. Her works on canvas often depart from photographs taken by family members, which serve as portals to explore profound inquiries about her own past. While a previous body of work honoured her grandmother, Shadia, Almaha's latest series pays tribute to her aunt, Seham, indicating her art's homage to the influential women in her life.
Almaha's gestural paintings relay scenes of family gatherings and journeys and explorations in the deserts of Abu Dhabi during the 1970s and 80s. By immersing herself in these moments, she endeavours to deepen her understanding of herself and the generations preceding her. She processes these snapshots through her artistic gaze, establishing a sense of universality about the characters and tinging her canvas with a redish filter that she suggests reflects the dust of the Abu Dhabi sky and the tone of her aunt Seham's Fiji camera. Now, we speak to the artist reimagining the region's lesser-known past through her compositions.
Almaha: I'm an Emirati artist based in Abu Dhabi. I grew up during the 1990s in downtown Abu Dhabi. The city was already complete as I arrived so I grew up in a really crowded environment - I'm such a city girl. I missed the transformation of the UAE that people always like to talk about. I was fascinated to discover the archives of the region through family members, materials that later informed my artwork. Through these archives, I can experience the city and the changes that people tell me about that I missed in person.
Long drives are a regular source of inspiration for me. I take my car and cruise around the residential areas. I observe how people are existing and reacting to their surroundings. I spend time looking at them and what they're doing. Sometimes I stop my car and talk to them. Some people sit and talk to me others freak out.
I'm always looking up at the architecture and the skyscrapers that characterise the city. My childhood was spent in an apartment on the 17th floor. People always told me 'Oh, this building is new' but I grew up in it. This sense of disconnect has been generative for me - the backdrop of this rapid change that's always spoken about but I never witnessed.
It was always really hard for me to visualise the land before the city. My grandma would tell me 'This whole city didn't exist when we were here in the 60s'. A desire to discover this transformation on my own terms has motivated my work.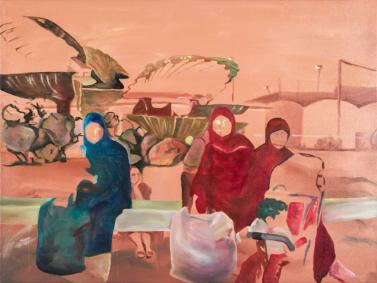 Through my art, I'm trying to establish a conversation with previous generations. I'm trying to go back and immerse myself in a moment through their words and images. I want to learn about my family and subsequently myself. I use my art as an excuse to get to know them. I want to ask them the hard questions, and they're going to answer me. It's a personal journey for me.
By exploring the archives and discussing them with family members I discovered fascinating insights into their experiences. They once took their Land Cruiser SUV and drove to Kurdistan, for example. Borders weren't like the borders that we know today. I discovered that my grandma also studied in Russia for nine years.
These images have taught me a lot about the social and familial dynamics that characterised the region decades ago. Back then inhabitants were innovative in creating their own entertainment. Families would just take their car and drive together to find a cool spot - a beach or a garden. They would arrive, put a carpet down and set up camp. The location didn't matter to them as much as the chance to spend time with their family.
Today, because of social media, it's different. We know about what's happening to our relatives mainly through Insta Stories.
My current exhibition Seham is on view at Tabari Artspace Gallery in DIFC, Dubai. When you step into the exhibition space you'll notice the retro pink wallpaper and soft textile couch. I wanted to create the sense that visitors were stepping into a retro majlis.
When the viewer enters the space I want to spark a sense of curiosity about their own story and an understanding of Gulf history through my paintings and the archives on display. I feel like the best way to talk about history is through stories.
The colours of my environment imprint upon my art practice. My eyes are used to the muted tones of the region. In this series, my palette is inspired by the Fuji camera filter as well as the dusty nature of Abu Dhabi. The city has a kind of dustiness about it that I wanted to capture. Through my show I want us to live inside that filter.
People often ask why the characters in my compositions are devoid of features. When someone paints a portrait it's usually about that individual. I'm not trying to foreground an individual. I want to capture the zeitgeist and dynamics of Abu Dhabi in the 80s for everyone, if I paint people with their distinctive features and made it about that person the work would lose its meaning.
One work, Al Maqta'a Bridge zones in upon the bridge that was built in 1968 to connect Abu Dhabi island with the mainland. At this time the bridge was the only way to leave the island otherwise residents would have to wait until low tide to cross. It's a very important bridge. In my interviews, family members would tell me: 'Oh, if you reach the Al Maqta'a Bridge, you're out of Abu Dhabi. It's the end of Abu Dhabi'. Now I cross it daily. I think everyone has a personal story about the bridge. My story is that when we moved to the suburbs, we left downtown Abu Dhabi and as I crossed that bridge I had a moment of realisation. I remember thinking: 'I live on an island but I live in a desert'.
In another two-part work, Old Corniche I and II, I reflect upon the social scenes that played out along the Old Abu Dhabi Corniche. The corniche was a social hub where families would gather, eat, converse, and let their children play next to the fountains that captured my imagination with their quirky designs.
I have a project coming up that is part of the Beyond Emerging Artists programme (Abu Dhabi Art). My grandma and her brothers earned a scholarship so that they could study for their master's abroad in the Soviet Union. Recently, I found an article about other men and women that shared this experience. I plan to travel to Aden in Yemen to find these people and discover what they're doing now. I want to see their archives, learn about their journeys between Yemen and the Soviet Union, and interview them.
Image credits: Almaha Jaralla