Chic and spacious apartment in luxury JVC residence
Chic and spacious apartment in luxury JVC residence
Jumeirah Village Circle Apartment
Belgravia Square in Jumeirah Village Circle is a stylish and elegant new residential development with a host of exclusive apartment options. The entire residence is shaped by majestic design and dynamic lighting, with a bold and contemporary colour scheme. The impressive...
Lifestyles
Development
Belgravia Square
Located in Jumeirah Village Circle, Belgravia Square is all set to become an icon of contemporary architecture. The development features two smartly designed 'L-shaped' blocks that host 225 spacious residential units. It is home to 26 studios that range in size from 473 sqft to 539 sqft. The 138...
Explore Belgravia Square
Neighborhood
Jumeirah Village Circle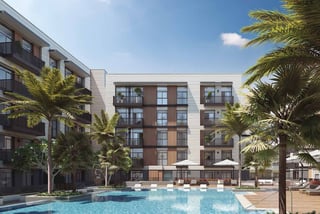 Previously one of Dubai's best kept secrets, Jumeirah Village Circle is fast becoming one of the hottest residential communities in Dubai. This cleverly designed development features 2,000 sprawling luxury villas and exclusive townhouses in a peaceful village setting. But it is the quality of the...
Explore Jumeirah Village Circle