Al Barari
Dubai's lush green enclave
Al Barari is a secluded paradise that will offer a unique living experience in Dubai. Space, tranquillity and exclusivity are the hallmarks of this project. The biggest attractions are the lush botanical gardens and lakes with a low density of villas excellently arranged into leaves. The whole development is placed on over one million square meters of land and only 40% of it is constructed leaving 60% to be landscaped.
There are 260 villas built within 6 landscaped gardens host different styles including Renaissance, Balinese, Mediterranean, Woodland, Water and Contemporary, in addition to The Nest villas and the upcoming Chorisia project. A large lake as well as many streams form part of the water features. The area also hosts 500 plant types from 20 countries on 6 continents. The plants are maintained in the development's private nursery. The development will also feature a boutique hotel, a Cultural Island including libraries and theatres and a Grand Mosque. 5.4km of rivers with waterfalls, ponds and lakes meander throughout. There are also now apartments available in the area. Here, the spirit of life is enriched by the exquisitely landscaped gardens, parks and waterways that stand as the hallmarks of this truly remarkable community.

On The Map
Located adjacent to the royal enclave of Nad Al Sheba and close to Arabian Ranches
Dubai Airport: 25 minutes by car
Dubai International Financial Centre (DIFC): 10 minutes by car
Closest Shopping Area: 10 minutes by car
Closest School: 10 minutes by car
The Neighbours
Al Barari is home to several UHNWI families living in mainly the villa communities. There are also a few residential buildings in the area which also attract smaller families and well-earning corporate professionals. Those who love to live in an area with lush greenery will really enjoy living in this area.
What To Expect
Babbling Brooks And Desert Flora Surround You
The area with its luscious green surroundings and water features has now become a benchmark for sustainability across the UAE. This private gated community hosts everything from babbling brooks to vibrant foliage. At the heart of Al Barari lies its signature botanical gardens, a marvel of landscaping that captivates with its abundance of exotic plants, flora, and fauna. The gardens are carefully curated to offer a captivating symphony of colors and scents, creating a sense of tranquility and connection with nature that is unparalleled in the city. Strolling through the garden's meandering paths, residents can escape the hustle and bustle of urban life and find solace in the embrace of Mother Nature.
A Health Centered Community
Al Barari offers a plethora of recreational amenities for its residents to indulge in a vibrant and active lifestyle. The state-of-the-art gymnasium caters to fitness enthusiasts, while the yoga studio and meditation gardens invite residents to find inner peace and harmony. The community also features cycling and jogging tracks, encouraging a healthy and active lifestyle for all ages. The popular organic restaurant, The Farm at Al Barari is another invention by the Zaal family, who conceptualised and developed the Al Barari area. Nestled within the botanical gardens, The Farm offers farm-to-table organic dining, providing an unforgettable experience amidst nature's splendor. The restaurant's outdoor seating, under the canopy of trees, creates a magical ambiance that complements the delectable dishes served.

Between lush landscape and pristine waterways, the Heart & Soul spa exudes health and well-being. With a soothing and relaxing environment amidst the greenery, the spa offers several traditional and innovative treatments to bring balance and wile away all the stress. The Mediterranean-inspired space is replete with warm wood and natural stone elements. It hosts separate sections for men and women, exclusive treatment rooms, private suites, a dedicated children's space, designated nail and hair care section, and an infrared sauna, hammam and steam room.
The Body Language health and fitness club situated within the community features sunken tennis courts, group exercises classes, a well-equipped gym, qualified personal trainers, sport massage services, a Fresh Start juice bar, and an outdoor temperature-controlled pool.
The neighbourhood local is Zaya Hideout, a lovely community bar in the Seventh Heaven project. It has a breathtaking view of the Dubai skyline.
What Not To Expect
An Urban Cityscape
Al Barari is a secluded community that offers great accessibility to Dubai roads, but there is nothing much surrounding the community. It has a far more laidback living style, built for those who look for home as a tranquil, rejuvenating escape. It's definitely not a spot for lively nightlife and lacks the excitement one can get from a bustling community.
Architecture
Al Barari boasts an exquisite collection of luxurious residences, each an architectural masterpiece blending seamlessly with the surrounding greenery. Villas and apartments are designed to reflect contemporary elegance, with spacious interiors and large windows that invite natural light and scenic views into every corner. Residents can choose from an array of designs and layouts, each crafted to cater to the discerning tastes of modern living. There are various villa types available in Al Barari, with different architecture and layouts.
Acacia Villas
Encompassing light, grace and harmony, Acacia villas are one of the most expansive of the Al Barari Residences. The six bedroomed home features two private, cooled courtyards, delightful gardens, a swimming pool, spa and plunge-pool.
Bromellia Villas
The Bromellia villas feature a swimming pool with spa, plunge pool and adjacent pool pavilion, stunning gardens and terraces and massive bedroom suites.
Camellia Villas
Beautifully created, the Camillia villa is perfect for families with its relaxed living areas, six massive bedroom suites and two internal courtyards.
Dahlia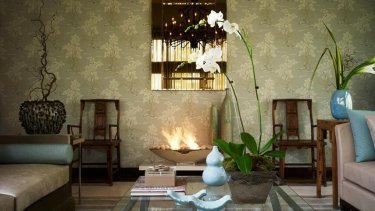 Spanning 12,700 square feet, this villa type features five superb bedroom suites plus maid's quarters as well as spacious light-filled living areas finished with finesse.
The Reserve
The Reserve comprises of comprises of 14 freehold plots designed to accommodate high-end bespoke freehold villas with 4 or more bedrooms. You can design your very own custom-designed home built to exemplary standards. The plot size ranges from 14,000 to 75,000 square feet and gross floor area from 13,000 to 25,000 square feet.
Explore Similar Areas