Company News
'1 RESIDENCES' AT WASL1 OPENS SALES AT EAST TOWER
With handover in two months, the East Tower is a great ready to move in solution for end-users & investors alike
Words by Aneesha Rai in Company News · Oct 7th, 2022
LUXHABITAT Sotheby's International Realty is appointed by wasl Asset Management Group to exclusively manage the sales for the development project of 1 Residences Tower East in Za'abeel 1. The second tower, Tower East at 1 Residences, a luxury residential complex located in the wasl1 master development has just been launched. This development is set for handover in October 2022 and is conveniently located at Za'abeel 1, offering impressive views of Dubai's modern skyline and the charming Old Dubai through the Dubai Frame. The one, two and three-bedroom apartments start from a price point of AED 1.32 million. The release of sales in Tower East follows the success of Tower West(1), where the majority of the apartments are already sold. Tower West of the luxury residential complex in the wasl1 master development has already sold the majority of apartments since its launch in June 2022.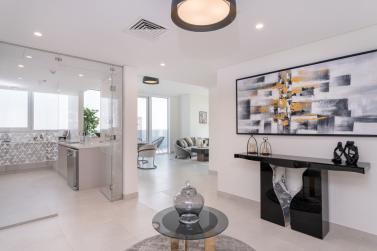 "From overseas investors looking for healthy returns on their investment to skilled workers moving to Dubai, the real estate sector is showing signs of sustained momentum and demand. Last quarter the most popular property type sold within the luxury segment was ready-to-move-in projects, continuing to outperform the off-plan market. As the biggest luxury real estate platform in the region, our focus remains to be associated with projects such as 1 Residences that will deliver investors continued capital appreciation apart from convenient, world-class community living. From an investor perspective, these residences that are customizable and ready to be handed over ahead of the new year also offer prospective yields," said George Azar, CEO of LUXHABITAT Sotheby's International Realty.
Located opposite Za'abeel Park, the mixed-use project features 753 ready-to-move-in apartments while the residents will also enjoy access to exceptional dining, leisure, and entertainment facilities within the master development. The building itself includes an impressive 340-meter glassed-walled jogging track on the terrace, two swimming pools, two state-of-art gymnasiums, a podium courtyard, kids play areas, BBQ pits and more.
The twin towers are connected at top and podium levels, while seamlessly incorporating green spaces including landscaped gardens and lawns. Each residence is complemented with smart access control systems and are available in two distinct finishes for both towers.
Dubai International Airport, the Trade Centre District, Downtown Dubai, Business Bay, Dubai Design District, Jumeirah 1, Dubai Canal and Dubai Mall are all within a 10-to-20-minute drive from 1 Residences. The location also provides easy pedestrian access to the metro station and transport lines, as well Sheikh Zayed Road.