Design & Architecture
An interview with: Sneha Divias
We discuss Sneha's design approach at her home in Mohammed bin Rashid city.
Words by Aneesha Rai in Design & Architecture · Jul 7th, 2021
We step into Sneha Divias' stunning home in District One to discuss her approach to design. Prior to founding her eponymous interior design studio, Sneha Divias Atelier, Sneha has worked on projects globally with renowned architecture and design consultants in Lisbon and Dubai. Our personal favorite Sneha Divias Atelier project is the Banyan Tree Residences at Hillside, but you might have stumbled into the 'White and the Bear', a charming cafe or even taken your kids to 'Oli Oli' (as recommended by Monica Arango) for a unique playtime experience.
Q: How would you describe your design approach?
Sneha: I don't stick to any one approach. To me, each project is different and I approach each one with a free and open mind. There are no pre conceptions or assumptions. This gives me a chance to keep all doors open for every possibility with a project.
I usually develop my personal interpretation to each new briefing and adhere to these key principles that serve as a solid and open-minded basis for my work. Geometry for me is of prime importance. Space planning and creating scale and proportion is key for guaranteeing continuous flow. You will only have balance from seamless integration of elements from the architecture, interior and furniture. This helps you produce layers that develop a common language that contributes to improving the quality of life.
Aspects of the design process that are non-negotiable are understanding and trust with all the people you work with. The chemistry has to be there. Being a transparent and honest communicator is important - this is a relationship that you will need to have with your clients, suppliers, as well as other consultants. You need to manage expectations and deliver the unexpected. This makes the design process smooth and enjoyable.
Q: How would you describe your personal home design style?
Sneha: My personal home style has comfort and practicality at the forefront. With a baby and a toddler, all the spaces are envisioned with them in mine and play areas were created in different parts of the villa. The atmosphere is relaxed, casual and portrays our way of living as a family.
Q: What's your view on the architecture and design landscape in Dubai, especially as your business has been such an integral part of shaping the way everyone views the city?
Sneha: When I came to Dubai after living in Lisbon, the scale and range of projects being developed here gripped me. That's why I immediately decided to move here for a long period. Inspirations and challenges tend to come as a package, and so, this was marked by the scale, level of ambition and the brilliant innovation. In Dubai, the conceptual context necessitates more depth to ground the projects. Despite all that, it is also mind-blowing, impressive, and unique – it has generated some of the most daring and groundbreaking engineering and architectural achievements to date. There is no doubt that the architecture and design landscape in Dubai has incredible vision, ingenious feats and is home to amazing structures.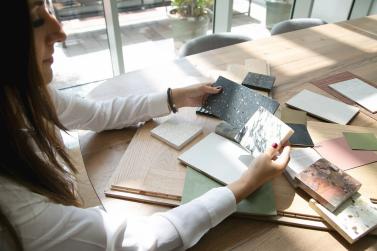 Q: What makes the city of Dubai home to you?
Sneha: It's the energy and the people. My children were born here and this is where I started my own interior architecture practice so this is home. Dubai never fails to impress, with its vibrant culture and opportunities for professional and personal growth.
Q: What are your favorite design spots in the city?
Sneha: At an urban scale, I really like Alserkal Avenue. Regarding interiors there are so many spaces that it is hard to pinpoint.
Q. Name three favorite local designers/architects whose work you admire
Sneha: Sumaya Dabagh, the founder of Dabbagh architects. She has completed the Mleiha archaeological centre project, which is an impressive building and very well rooted in context. Next is Ahmed Bukhash, an Emirati architect founder of Archidentity . I have worked with him on a residential project and his architectural philosophy is something I relate to a lot. Lastly, Hani Fallaha, the founder of Loci Architecture – I find their work very interesting and refreshing.