Design & Architecture
In The Studio: The Courtyard
Founder Dariush Zandi celebrates 25 years of The Courtyard
Words by Laura Cherrie Beaney in Design & Architecture · Aug 30th, 2023
An artist and architect responsible for shaping the UAE's built environment, Dariush Zandi has also transformed the way culture and community coexist in the Emirates.
The Courtyard started out as Dariush's personal studio, but it evolved into a sanctuary that attracts like-minded individuals seeking artistic expression. Today, it stands as a cultural hub and community centre where people can attend classes, watch plays, enjoy artisanal coffee, explore pop-up markets, and experience exhibitions. In 2023, The Courtyard celebrated its 25th year; its enduring significance can perhaps be attributed to its organic evolution in alignment with the city's ever-shifting social fabric.
We sit down with Dariush to discover his journey from architect to preservationist to passionate community builder.
Dariush: In 1971 I was studying architecture and working in Soho, New York. I graduated in 1977 and went on to travel through Europe and the Middle East before arriving in Jordan in 1978. I began work for an architectural firm, Jafar Tukan and Partners. My first project was designing a part of old Dubai facing the Creek as part of an urban design competition.
I travelled to the UAE, visited the site, and returned once again towards the end of 1980. I was hired to work with the government at the Dubai Municipality's Planning Department. That's how I became a town planner for the city of Dubai. One of my first assignments was putting together a 20-year comprehensive development program for the city and Emirate of Dubai.
I wore many hats, and one of them was historical building preservation. I began with the old Ruler's house, the place where HH Sheikh Mohammad Bin Rashid the Ruler of Dubai was born and lived till he was 20 years old, it's where his father lived and his grandfather before him. It later transformed into the Al Maktoum Family Museum in early 2023. I also worked on restorations and projects, including the Dubai Museum and parks like Al Safa Park and Mushrif Park.
In 1992, I requested land so that I could construct my own building. I wanted a space for my studio because, in addition to being an architect, I'm also a photographer. At that point, I intended to use the space for my activities and not necessarily share it with anyone else.
Financially, the construction was a challenge. Initially, the space looked like every other building in the area, but I aimed to make it uniquely mine. I utilised found objects. Even back in the 1990s, I prioritised sustainable approaches to design.
Recycling and upcycling were central to the evolution of the space. I salvaged things that held significance to me during my time in Dubai. I collected discarded pieces from demolished homes; to me, they were treasures. I stored them in my apartment as I didn't have a warehouse. My house was filled with doors, windows, and fragments of buildings. There were pieces that I salvaged from the Zabeel Palace neighbourhood while they were under renovation, items from the shipyard in the Creek that featured pulleys and other unexpected details, and even components from ship engines integrated into the environment. It was like solving a jigsaw puzzle.
Items came from people I knew, from their old homes that were often over 100 years old. It was wonderful for friends to visit and see their belongings reimagined in new ways when The Courtyard opened to the public.
Nowadays, when anyone wants to dispose of anything, they call me. They know I have a place for their belongings. At the entrance to The Courtyard, there's a large, beautifully carved Syrian table. Someone gave it to me; I renovated, restored, and varnished it. The same goes for plants. I transformed The Courtyard into a miniature oasis that has been flourishing since day one. Today, it's like a greenhouse that I like to refer to as 'sacred green' or 'sacred life'.
We had the opening of the Courtyard on the 21st of March 1998. Together with some of our friends and neighbours, we organised a fashion show featuring a presentation by designer Bruce Oldfield OBE from London and hosted an amazing dinner for 300 guests. We raised funds for a children's cancer hospital in Dubai and hosted our first exhibition with original artworks by significant European masters, including Picasso, Miró, and Magritte, organised by the Courtyard Gallery.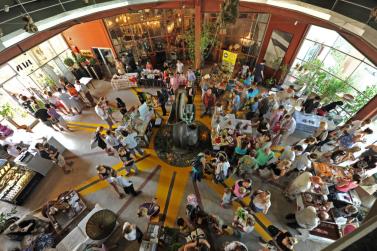 That was the start. Immediately, people started saying, 'Hey, that's a nice place, I want to be there.' And I would tell them jokingly, 'No, I built this for myself.'
I later realised that the space was too big for me. Plus, the people that wanted to be part of the space were genuinely interested in pursuing their creative activities there. It was in the middle of nowhere, but we were pretty full from the start. Today, we're opposite creative complexes such as Alserkal Avenue. It's been meaningful to be part of the cultural evolution of this area and Dubai as a whole.
People started coming to The Courtyard, and we offered our spaces to entities such as The Courtyard Playhouse, which hosts classes for children in addition to plays. We have an incubator for start-ups and our gallery, Total Arts. We have artist studios, music, and classes that span interior design, art, photography, and fashion, in addition to the coffee shops and boutiques.
One of our longest-running events is the Ripe Market which started around 2010 with just a few tables and grew to 30!
Over the last 25 years, my wife Shaqayeq and I have supported many women-owned businesses. It's been enriching to see these creatives, fashion designers, authors, and lecturers playing significant roles in Dubai's society.
If someone wants to show a film, we'll show it here. For the most part, cultural and artistic events have been free of charge at The Courtyard; the space is considered our contribution to the community.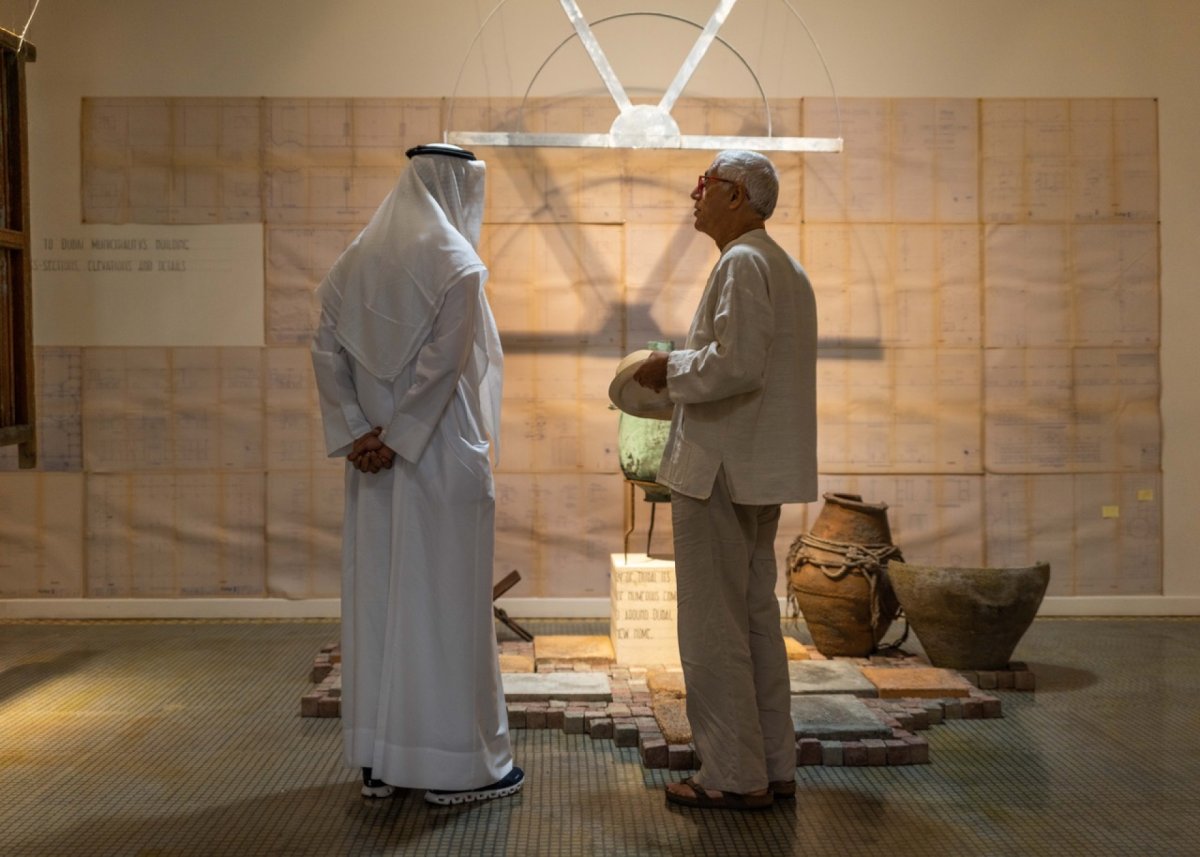 For the 25th anniversary of The Courtyard, we're exhibiting my initial drawings and the building model for the construction of the building. In November, we have programs revolving around sustainability during the upcoming COP28. It makes sense for us as we embody a sustainable attitude in everything we do, from the pieces we preserve to our aesthetic and ethos.
I've noticed that in recent years, people in Dubai have started to appreciate smaller, greener things that have a soul. I think this is part of the ongoing appeal of The Courtyard. People come here and make a mental and physical connection to the space. More and more wellness activities have sprung up in Dubai, and here we offer yoga, breath work sessions, tai-chi, and sound healing. It's amazing.
The Courtyard is home. Shaqayeq and I go there in the morning and start our day by watering the plants and meeting our friends. It's been interesting for me, as an urban designer, to see people intentionally walk through The Courtyard on their way to other buildings. I think they're drawn in by the coolness, the unexpected aesthetic, the greenery, and the opportunity to grab a coffee on their way to work.
Images credit unless specified courtesy of: Dariush Zandi
Cover image courtesy: Elias Daaboul