Design House: Jewellery Designer Meher Iqbal
Ornaments and accent details illuminate the Jeweller's Al Barsha South address
Words by Laura Beaney in Design & Architecture · Aug 22nd, 2021
Interior designer turned jeweller, Meher Iqbal, is drawn to the painstaking details that set sublime design apart. Having lived in London, Pakistan and currently in Dubai for the last 14 years, Iqbal draws upon her experiences in varied communities yet her output is always invested with her self-proclaimed taste for "the finer things in life". Above all, she appreciates quality and thoughtfulness and these standards manifest in both her home environment and her eponymous jewellery brand 'Meher'.
Following a decade leading her own interior design firm in Dubai, Meher's personal connections summoned her to establish a career in customised jewellery. As friends reached significant milestones in their lives she would gift them pieces of individualised jewellery to mark the occasion. Bearing witness to their reactions Meher understood that we, as humans, need love, strength and support. These are the priorities that inform the intimate nature of her personalised jewellery designs and brand ethos. Icons such as the circle signify infinity, strength and faith, while the Dream Catcher necklace, made in 18k gold punctuated with diamonds, takes its roots in the notion that the dream catcher is the 'sacred hoop' - a protector from bad dreams and nightmares. Other pieces are designed especially for 'layering' so that the wearer can always exhibit a sense of their authentic self. Now, the jeweller offers a glimpse into her Al Barsha south family abode, an address where she creates, entertains, grows vegetables and forges memories with her family.
Meher: I have to confess that the main drawing factor to our family home was a mundane and pragmatic one. It was close to my children's school! Although the fact that it is a contemporary four-bedroom villa with incredible lighting, designed with efficient use of space and quality finishings definitely spoke to my interior designer sensibilities. Upon first encounter, I knew it was the blank canvas that I could transform in accordance with my personality and the way my family and I choose to live.
Meher: Our furniture is sourced from anywhere and everywhere. Pieces by Ralph Lauren, Lladro, and Baccarat conflate with homegrown UAE furniture designers and secondhand gems discovered on Dubbizzle. I always remember being aware of and appreciating the finer things in life. Not because of a label, but due to the love, emotion and thought that goes into the process of creation.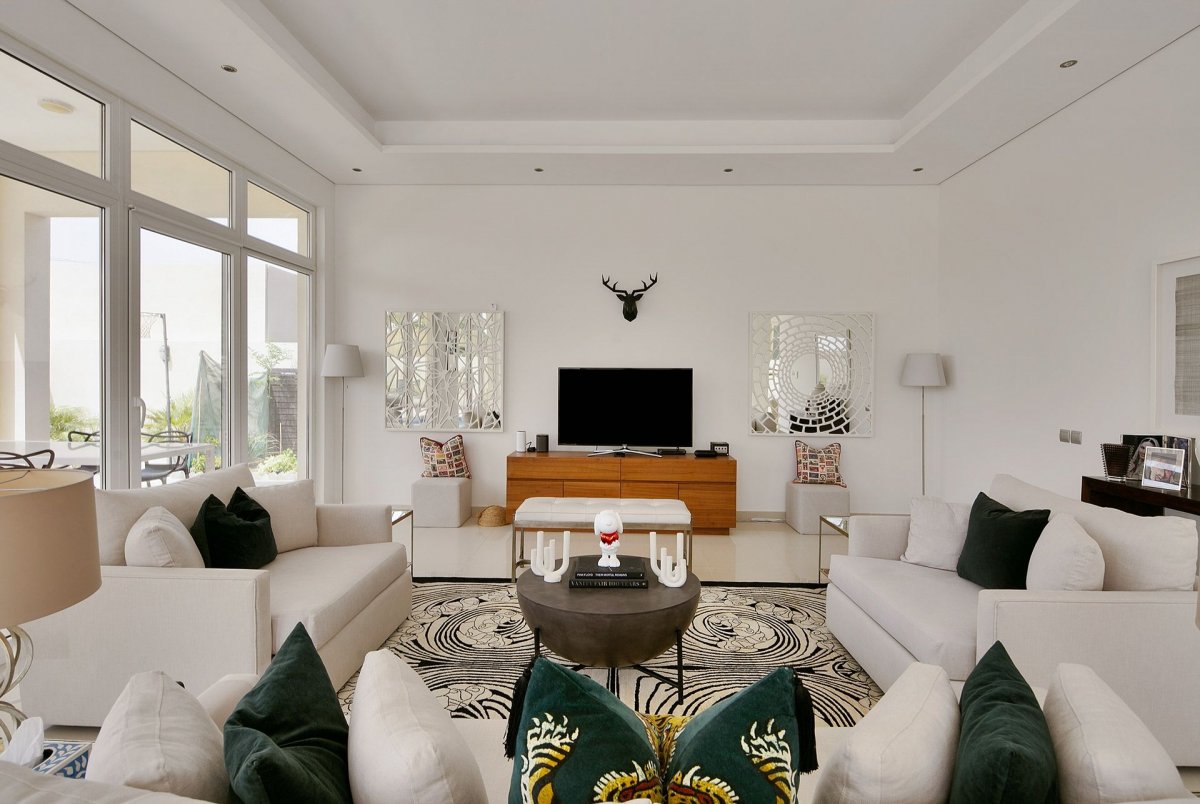 Meher: I'd summarise my sense of style as 'classic contemporary with a twist'. The twist comes in my decorative pieces and I have a preference for symmetry. I keep the necessities in the house simple and muted as I understand the identity of our environment as flowing out from the decor and definitive details. The flowers, artworks and ornaments are like jewellery for the home! I've collected pieces over the years that spoke to me, everything I buy has a reason, whether it's my love for animals or the emotion that it stimulates. My favourite pieces? Lladro the guest, a porcelain figurine painted by Jaime Hayon. My transparent speakers from Conran, wooden dolls by Alexander Girad and Jonathan Adler Giant Dora Maar vase also have special places in our home. You'll find chess boards scattered everywhere as my son and I play a game of chess every day.
Meher: My home is all about us. 'Us' and this includes my husband, teenage son and daughter and our five four-legged feline and canine companions. Home is the place that we feel safe, peaceful and happy in. Importantly, it is also a place where our friends and family always feel welcome; where they can come and hopefully imbibe the sense of serenity we have if and when they need to. As a family, we entertain a lot! My children both love to cook (I don't, I love to eat). We have friends over all the time. The way we entertain both casually and formally is always to the same standard. Candles are lit, fresh flowers sourced every week, mood lighting and music illuminate the space and good food completes the ambience and experience of course. I love laying and decorating a table. I have a soft spot for fine China and glassware and hosting dinners gives me a chance to make use of my collection.

Meher: The walls are the backdrop as such I've kept them a soft, off-white and with neutral tiling. Elements such as glass tables and mosaic mirrors enlarge the space and reflect light around the room. I've offset these airy additions with black accent details - Saber cushions by House of Hackney and low-slung Andrew Martin armchairs - to create a juxtaposition. The flow of natural light throughout the home and fresh flowers that I buy weekly from Florette - roses, tulips and lilies - keep living spaces alive. I have evergreen plants that work year-round in the Dubai climate and we cultivate a seasonal vegetable patch in the garden where we grow all kinds of herbs, tomatoes, chillies, eggplant, lemongrass, lemons and some salad leaves.
Meher: Our art collection punctuates the walls and centres around the impressive creatives from my native Pakistan. My favourite piece is by Madiha Hyder. I also have prints by Adeel Uz Zafar and Unver Shafi that I adore. In Pakistan, art, poetry, and music are at the very core of the country's soul. Having had the privilege of growing up and being educated in Pakistan, I was able to draw strong inspiration from Pakistani craft and culture - this has informed both my jewellery designs and preferences when it comes to art.
Meher: In life and in design I'm inspired by quirkiness, uniqueness, imperfection. I see beauty in flaws. The Japanese concept of Kintsugi ('golden joinery') is something that resonates deeply with me. In Kintsugi, broken pottery is fixed with lacquer laced with gold dust. The philosophy behind this is that a piece that is broken and subsequently repaired is the more beautiful for this since it adds to the flavour and story of that piece. The repair is highlighted in gold, rather than being hidden. This also appeals to me metaphorically in terms of people who emerge more beautiful and powerful from their individual journeys through life.
Meher: My brand's ethos is one of personal strength, allowing oneself to be flexible and take whatever life brings to you. Therefore, it's no surprise that I mainly choose to work in 18k gold – a very malleable yet strong material. It's timeless, never cast away, can be passed on, and forever holds its value. I love what I do because I love the idea of a woman being able to express herself, physically and emotionally as and when she sees fit. It interests me how fashion, aesthetics, emotion and material (in this case, gold) go hand-in-hand to empower the women I work with – and supports how she chooses to represent herself.
Meher: My dream Dubai residence? This Palm Jumeirah residence called out to me, its straight lines and application of natural materials is what I find most attractive. One can add their personality to the property, whatever it may be, without any limitations. Its sophistication, serene ambience and use of outdoor space would make one feel like they are living in a constant state of zen. And, of course, anything close to the sea is where I would want to be.