Design & Architecture
Design House: Saya Studio's Bluewaters Island Penthouse
Saya Studio founders Shakti Gupta and Yana Polunovskaya take us inside a coastal-chic penthouse on Bluewaters Island
Words by Sarah Gamboni in Design & Architecture · Jun 5th, 2023
The owners of a statement-making penthouse on Bluewaters Island enlisted Shakti Gupta and Yana Polunovskaya of Saya Studio to create a contemporary coastal sanctuary with seamless entertaining at its heart. Here, Shakti and Yana open the doors to this stunning sea-view residence.
Shakti & Yana: One of only four penthouses on Bluewaters Island, this home is owned by a high-profile couple with older children who occasionally stay with them during holidays. This family dynamic influenced our designs, as we considered their need for flexible spaces that cater to their ever-evolving lifestyle. Hosting friends and family is a significant part of our client's lives, so we created exceptional, free-flowing spaces that leave a lasting impression, dedicating most of the floor space on the main level to entertaining.
Upon entering the penthouse, you're immediately greeted by mesmerising views of the bright blue Arabian Sea through full-length windows, a detail that greatly influenced our vision for the interior design. To maximise this captivating view, a bench and prominent bonsai tree strategically frame the window without distracting from the scene beyond, while marble-style tiling on the feature wall lends a polished allure to the entrance way.
Inspired by this postcard-perfect outlook, we incorporated chic coastal elements into the contemporary style our clients love. The overarching colour palette creates a harmonious and serene atmosphere while embracing the Bluewaters influence. We predominantly chose earthy neutrals for the soft furnishings, with aquatic accents in soothing shades of blue and green that invoke a sense of tranquility and a connection to the surrounding environment.
Natural materials such as wood, rattan, linen, and marble ground the space and add a touch of organic elegance, while the inclusion of ceramics, seashells, and coral accents further enhance the nautical aesthetic. To capture the essence of a beach house, we chose durable indoor/outdoor fabrics for the custom seating, which will retain their vibrant colours and preserve the beachy vibe.
Just beyond the entrance, the first space you encounter is a television area. Ordinarily, this would be quite a casual room, but due to its prominent location in this home we wanted to create a beautiful, adaptable space that could also function as a formal living room. To achieve this, we designed a stunning television unit with sliding doors as a centerpiece. The doors are adorned with brass bird sculptures and a textured wallpaper that evokes a sense of tactile luxury, allowing the television to be hidden away gracefully when not in use, and giving the space a more elevated atmosphere when entertaining.
Driven by our clients' love of entertaining, we also built out separate formal and family dining zones to cater to different occasions. Overlooking the family dining table, an open show kitchen with a deep marble counter and black velvet bar stools has created a convivial space for their guests to gather.
To construct another entertaining zone, we designed an intimate bar area just beyond the kitchen. Bathed in sunlight, this airy space opens directly onto the balcony, allowing for a seamless indoor-outdoor experience. This bright, breezy area truly embraces the coastal style. The curvaceous bar features a white fluted design with a green Corian quartz top. A stunning tree root has been repurposed as a coffee table, and monochromatic outdoor armchairs create a welcoming and relaxed atmosphere. Above the seating, a Tahitian fan adds a chic tropical touch that's also functional.
In keeping with the client's brief to create a harmonious home for hosting family and friends while maintaining a sense of privacy, we designed two master bedrooms with distinct personalities – one with a striking palette of black and grey, and another more feminine space with creams, taupe and a hint of lavender. A third bedroom for guests is grounded in the coastal aesthetic, with soft neutral tones, natural fibres, and a statement macrame wall hanging. On the lower level, we integrated two spaces to create a spacious home office.
In designing the home and interiors, we prioritised several key considerations. Firstly, we paid careful attention to the comfort of the residents and their guests, particularly the elderly. All of the custom-made sofa heights are set at 45cm, specifically chosen for comfort and ease of use.
We also recognised the importance of ample storage throughout the house, integrating as much storage as possible into various areas. For instance, in the family dining area, we designed a bench with pull-out drawers to conveniently stow everyday items, such as plates and placemats.
As lead designers, we took full control of every aspect of the interiors. From the furnishings, lighting choices, and thoughtfully crafted built-ins to the selection of window and wall treatments, we ensured a harmonious blend of functionality and aesthetics. Throughout the project, our collaboration with the contractor ensured that our designs seamlessly integrated into the space.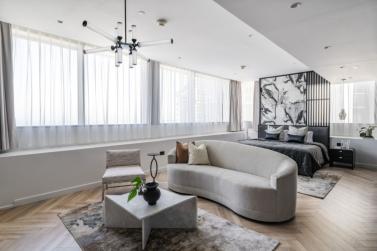 Shakti: The most captivating aspect of the project for me was the entrance and entertainment area on the main floor. I was really proud of how we kept all the spaces separate with distinct functions, yet relatable to one another. Within this entire entertainment space, two particular elements stood out as personal favourites. The first was the television unit, which required careful thought and consideration to seamlessly transform the room from an informal space to a formal area. The second was the breathtaking bar area, as it is just so stunning to look at and it makes you feel like it's an outdoor space when the windows open up.
Yana: The guest bedroom held a special significance for me as it allowed us to bring the clients' vision to life and create an immersive holiday-like experience. Through thorough research and meticulous selection of elements, we carefully curated a design that captures the essence of a luxurious coastal getaway. Every detail was thoughtfully considered to evoke a sense of relaxation and comfort, ensuring that their guests feel pampered and transported to a blissful retreat.