Design & Architecture
In the studio: Andrea Larsson
We speak to the founder of Reflections Copenhagen prior to their launch at Bloomingdale's Dubai
Words by Aneesha Rai in Design & Architecture · Feb 10th, 2023
In this edition of 'In the studio', we speak to Andrea Larsson, founder of Reflections Copenhagen. We discuss playing with light, shapes, colours, and crystals, and get an insight into her design process & daily inspirations.
Q: Tell us about your design process.
Andrea: Design processes varies a lot for me. I think a lot about the designs before I even start to draw or collect ideas for shapes and colours. Ideas are created in many ways, but mostly to start with - in my mind. I do a lot of sketching and I take a lot of pictures for inspiration and then research through different channels - exhibitions, online browsing, Pinterest, magazines, architecture, travel etc.
I create colour schemes and mood boards and can be super prepared but also, I try and embrace spontaneity and quick decisions for some designs - because if objects seem to be overthought it can become too expected in a way.
Q. What are your key inspirations for this collection?
Andrea: We have created a sleeker, clear-toned collection of glassware with a 70's vibe. With this collection, we celebrate some of our key products and shapes by adding new colours and combinations. I have taken the colours out of the Chelsea glasses to emphasize the strong character of the shape of the base and then used calm colours such as milky white, brown and a Reflections classic, azure colour to match it with. I cannot wait to see this in the Bloomingdales Dubai store, I know it will be a huge success with the Bloomingdales customer and complement the further assortment amazingly.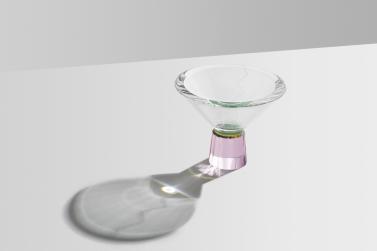 Q: What are your design inspirations?
Andrea: I get inspiration from many things. Colours and shapes and their combinations is something I'm always drawn to. Architecture and Art and earlier eras as Art Deco, Bauhaus, 70's interior and I Love Memphis style - Wallpaper patterns, small details , fashion, vintage furniture, everything with coloured glass... the list goes on as my mind races thinking about this now.
I'm always taking notes, pictures, and sketching and I think it's a matter of keeping your eyes open and noticing what is going on around you that not everyone pays attention to. And, to use all your senses - this is what I try at least. Expand my senses, smell, listen, feel...
Another thing that I am always get fascinated by is shadows - we have many shadows with Scandinavian light. Try to see shadows - shadows are important . It's the "in-between line" the important thing in life and one of the most beautiful things and creations I know. They are here for a short moment - so enjoy these moments and catch them. So, with the crystal - I'm trying to create shadows and reflections of light and colours, so we can enjoy them for a longer period of time.
Q: What are some of the trends in lighting design that you see coming up this year?
Andrea: More sculptural, decorative and colourful prices - not only just functional.
Q: Your website says you 'challenge 'mass' perception and production in all our design with a sustainable mindset' - how do you achieve this through your designs?
Andrea: I don't like to overproduce; everything is specially made and it's important that the design is 100% good quality and well made. We also always sell everything - even the chipped products and the products used on fairs, out loans, etc. - nothing goes to waste. I don't like to oversell, and I don't like to keep too much stock, unless I'm sure that it will be used. We all must learn to think about what we buy and be aware of the good qualities that will last for generations. If we do this, we will also learn to take care of the things we have.
Q: Could you name different materials you work with?
Andrea: I love crystal, obviously. The clearness of the glass, and the way the colour has a direct impact on the light and the shape. I love to work with glass and crystal - it's an amazing solid material. And the heaviness of it, is cool and distinctive. Overall, I work with crystal because of the high quality and how the light reflections against each angle. It's fun being able to play around with the colours, yet a challenging material to work with. Every single piece is handmade, which is very special. I initially started the brand through designing crystal mirrors, and we have now started to expand by working with a Portuguese company on tableware. It's always fantastic to start to explore a new material; find ways of working with it and try and push the boundaries a bit.
Q: To which audience would your pieces appeal to?
Andrea: I would say that we fundamentally attract women in a certain age - around 24 - 55 ish. However, t its lovely to see that we expand our audience more and more, and this is amazing for us.
Q:Why choose Dubai to expand to?
Andrea: Well Dubai is the place to be for us to be at the moment. The Middle East is an exciting destination with so many possibilities and so much going on. I feel that our brand is a good match because of the style it represents to an audience that love to use colours and good materials - and also an audience that are not afraid to go over the top.
Q: Tell us about one iconic piece in your collection at Bloomingdale's Dubai
Andrea: We have our iconic tables there - the Louisiana for example is a sofa table or a side table with heavy crystal legs.
All images are courtesy of Reflections Copenhagen & Bloomingdale's