In The Studio: Fadi Sarieddine Design Studio
The Lebanese architect suggests that good design should both amuse and confuse
Words by Laura Cherrie Beaney in Design & Architecture · Jul 12th, 2022
A childhood spent in Lebanon during the civil war came to inform Lebanese architect, Fadi Sarieddine's approach to aesthetics. During this period notions of form/function were upturned as tyres became roadblocks and stadiums, refugee camps. Decades later, the reimagining and repurposing of materials and products remain central to Fadi's design process. Through his Dubai-based atelier, Fadi channels his lived experience into architecture and design projects that delight and defy conventions. His furniture designs often draw upon the codes of modernism - clean-lined, practical and multi-purpose; the 'Mainframe table' for example is a canvas which one can 'plug in' interchangeable cells that contribute to an endlessly adaptive coffee table.
His architectural accomplishments span residential, retail, restaurants and office spaces. The workshop of l'ecole Van Cleef Arpels in D3 has been a high point. The studio space formed a bridge between the Maison's heritage and that of the UAE, referencing the region's pearl diving legacy through its material palette. We sit down with the designer to discover the guiding forces that contribute to his universe of design.
Fadi: I was born in Beirut, Lebanon in 1971 and spent my childhood there. My childhood which coincided with the war in Lebanon and the disruption of my surrounding environment deeply shaped my interest in design and subsequent approach to aesthetics. This was further enriched by extensive readings in philosophy, politics, history and literature.
I studied architecture at the American University of Beirut and practised as an architect there for around three years before setting off to London to enroll in the Bartlett School. There I pursued my Master's degree in Advanced Architectural Design.
Upon graduation, I returned to Beirut to work as an architect once more and teach at American University in Beirut. In 2004 I moved with my family to Dubai to work at an international firm until I established my own studio in 2013.
I have been influenced by Jean Nouvel whose timeless work I greatly admire. I also was affected by the playfulness of Phillippe Starck. Among the cities and places that inspire me are Beirut, Paris, Lisbon and Tuscany.
I consider the Modern Design movement as the most defining turning point in design history which represented a strong break from what preceded it, I feel that we are still experiencing its effects and traces. I also appreciate it as it has, in a way, strong links to primitive vernacular design.
Fadi: Fadi Sarieddine Design Studio is a comprehensive multi-disciplinary firm with works ranging from architecture to interior design as well as furniture and industrial design. We derive our aesthetics from a process-based approach involving research and storytelling. In such a process we tend to use materials that are borrowed from other disciplines; in addition to conventional materials like wood and steel one can find concrete, pulleys, gears and even grass combined within our furniture designs.
Our clientele range from individuals to companies as well as restaurateurs. My love for design is derived from evoking desire between the end-user and the piece or the space. Mainframe and Damascus Revisited are two collections that tick the boxes mentioned; they were both derived from thorough research with end-products that tell intriguing stories along with their aesthetic offering.
The common thread that ties my work together is an aspect of interaction between the piece or space and the end-user. This is often achieved through a process of transformation or adaptability and customisation.
HIVE Coliv is one of my favourite projects - I designed the architecture, the interior as well as special furniture pieces. One Life also is close to my heart because of the synergy with the client, its popularity and the fact that it's a live project into which we keep introducing elements. L'ecole by Van Cleef & Arpels is also a great achievement.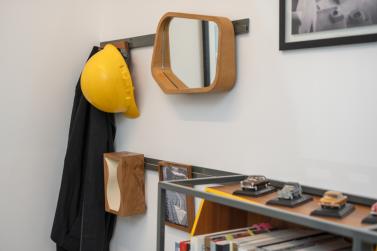 Fadi: I tend to use furniture from my collections in most projects, but I always need to complement them with other pieces such as an Eames Lounge Chair and Flos's Toio Light. I mainly look for timelessness and shy away from trends. In terms of carpets, my favourite is a piece that I designed which is basically an engraved map of Beirut. There's also an Iwan Maktabi carpet designed by Michelle Maria that I truly love.
I derive my utmost satisfaction when my pieces trigger a smile, a sense of amusement and sometimes confusion; I was really pleased when I was asked: "when will the table be finished?" in reference to my "Work-in-Progress" table with legs made from industrial clamps. When it comes to architecture, I get tremendous gratification when I hear the regular feedback that my spaces are both comfortable and invested with positive energy. For those looking to invest in design my advice is to embrace experimental contemporary creators and encourage local talent.
The best piece of advice I ever received in design was not to settle for premature solutions and push the design towards its very end. I'm currently working on an exciting Lebanese restaurant in Dubai, a hotel project in Portugal, a luxury trailer, a work pod, one industrial design piece and, as always, a couple of self-assigned furniture pieces that are connected to Beirut.
Credits: Creative direction by Aneesha Rai