Design & Architecture
In The Studio: Nina Parvaresh
The Dubai-based architect, designer and founder of Concept Me discusses an existence absorbed by visual culture
Words by Laura Beaney in Design & Architecture · Jan 24th, 2023
From sketching statues and collecting all the museum passes in Paris to teaching the first cohort of female architecture students in Jeddah, Nina Parvaresh has led an existence enriched by a love for aesthetics. We step into the studio of the Concept Me founder to unpack her passions and disciplinary-bending approach to design.
Nina: I was born and raised in a charming town an hour away from Paris and I have Persian heritage. A childhood surrounded by beautiful architecture and landscapes and family trips across Europe and Asia contributed to my love for design. From the Hausmann-ian buildings that surrounded me in Paris where I graduated from the École d'Architecture de Paris-Malaquais at Les Beaux-Arts to the modern designs of New York, interiors and architecture have informed my hobbies and inspirations!
I think any creative individual has their life filled with art; through art, we truly get to experience inspiration, an exploration of the imagination, and discover how tangible items, stories, and ideas can impact emotions. I developed an obsession with art from a very young age. My favourite weekend pastime as a kid was walking around the Louvre, taking a seat, and sketching the Renaissance statues. By the age of 12, I had collected nearly every museum pass in Paris. I am a lover of classic and contemporary art. These interests informed the way that I judge creative executions and visions.
My mum signed me up for an art school after-class program at age 12 even though the minimum age was 15 - the result of my mum's persuasive abilities and my own nagging skills! My perception of art as something that extends all the way across the very intangible foundations of our culture led me to write my Master's thesis on the ways in which we can convert industrial spaces into cultural spaces.
Nina: I know this may sound like your typical, disappointing answer from most architects who studied the classical way, but I have to tell my truth! Modernism is the most appealing design movement to me. I fell in love with Mies van der Rohe and Corbusier which left a big impact on my approach and the way I apply my work and style of design. Even though Modernism started off in the late 19th century, I still recognise the timelessness of its elements. The idea of less is more, the importance of open-plan spaces and the focus on statement items are still integral design elements that have worked their way into many other design movements because of the impact they have on spaces regardless of the overall design scheme.
I love Modernism because it fits with my design mantra - it's a marriage of functionality with contemporary aesthetics. I appreciate the way in which Modernism guides that marriage and composite integrations in the space in a way that is sleek and neat. The beauty of the movement is its rejection of unnecessary ornaments and stuffy living. I love its openness and its focus on indoor and outdoor living. The Barcelona Pavilion and the Unité d'habitation are great examples of how Modernism really situates itself. Modernism has inspired some of the most iconic furniture pieces that we still use in our own spaces to this day like the Barcelona Chair, the Eames Lounge Chair, and the Panton Chair. This is a movement that will never lose its presence in all design movements to come because something about it just feels ageless and always, always feels like a statement.
Nina: Discovering cities is another great inspiration of mine - their hustle, bustle and effervescent life. As a teenager, my mum told me that she would not buy me any branded clothes but instead spend money on my travelling. Cities like New York, Bangkok and Istanbul have such a dichotomous duality to them in the sense that they can present themselves in the fanciest of wraps but at the same time have such a buzzing street life and so much character. I am inspired by the ways these cities were formed, how they adopted their style of living and how they are fit for the human scale inhabiting them.
After I graduated, I got an opportunity to go teach the first batch of female architecture students in Jeddah, Saudi Arabia and I started my company, Concept Me, as soon as I got there as a fresh grad – it was difficult but worth it. We are a boutique scale firm that specialises in high-end residential projects and the occasional commercial ones.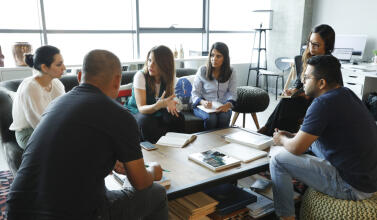 Nina: A project assessment departs from a nuanced understanding of the client's vision. Clients usually do not have the right terminology to articulate their visions, so we begin by listening and mapping out what they want. This allows us to generate projects based on trends. We draw detailed and visionary mood boards and show them to our clients until we get to the point where they recognise which trend they are looking for. This approach was the inspiration for one of our most successful video content series, Nina on Trends, where we describe a design trend from Modern to Mediterranean in five minutes.
My approach to work is holistic. There are boundaries between the divisions of the field from lighting to structural design to FF&E, etc. This developed a desire in me to build something that can carry the project through fully and completely without jeopardising or compromising on the thread that ties the whole characteristic narrative of the project together. My curiosity led me to learn from so many different fields that I did not specialise in. I learned how to become an interior designer, and a lighting designer, I even learned a lot about fields that I thought I disliked such as plumbing or automation systems (they still give me anxiety attacks!)
I love the approach because it allows us to be curators and creators. We are not limited to what architects should normally do. We get to work on every detail from the façade, architectural details, and external volumes all the way to the cushion fabrics and wallpaper selection inside.
Nina: There are few things I love more than seeing peoples' reactions to and interactions with the spaces that we build. Whether we are designing an office space or a residential villa, I get excited to create a space that can give people peace, that can impact their feelings and their daily living practice. There is an undying love in me for creating compositions, matching ideas and colours, and slowly constructing a vision.
The last two years have been really exciting and a rollercoaster ride! We are working on an exceptional project right now at Dubai's Bvlgari Residences. It's exceptional in the quality of the design and in the narrative that we are relating to the space. Our large-scale residential projects in Saudi Arabia are ongoing with most of them pending handover, almost ready to be lived in! And the most exciting new projects that we have commenced are two beautiful, historic residences in Milan that we will be adding our touch to. 2023 will be pretty busy for Concept Me!
Images courtesy Nina Parvaresh