Portfolio
Open House: Three spectacular villas in Al Wasl
Bruno Guelaff and Khalid Kaluti talk about the exquisite design of a boutique villa project
Words by Aneesha Rai in Portfolio · May 22nd, 2023
In this edition of 'Open House,' we interview Bruno Guelaff and Khalid Kaluti, who talk about the design and construction of a stunning boutique villa project comprised of three minimalistic style villas in Al Wasl, Jumeirah. As co-founders of the award-winning firm BG Villas, they bring over 16 years of expertise in the region to construct and develop these villas with views of the Burj Khalifa and Downtown Dubai.
Bruno: The boutique villas being built are on side-by-side plots. It draws inspiration from a villa we built on Pearl Jumeira, which won Design Middle East's Residential Project of the Year in 2020. The only change we made was flipping the layout to maximize the views of the Burj Khalifa and Downtown Dubai. We are currently four months ahead of schedule.
Instead of approaching this villa in a typical high-end way, we aimed to create a serene space that envelops you. The reaction of people walking into the model home was amazing because they all feel very relaxed. The ceiling heights and natural light are ample, making them feel super comfortable. The home doesn't adhere to the typical guidelines for a house of this size. The design approach is clean and contemporary, with a strong focus on lighting and space usability. The architecture is very connected to the interiors, promoting a modern lifestyle.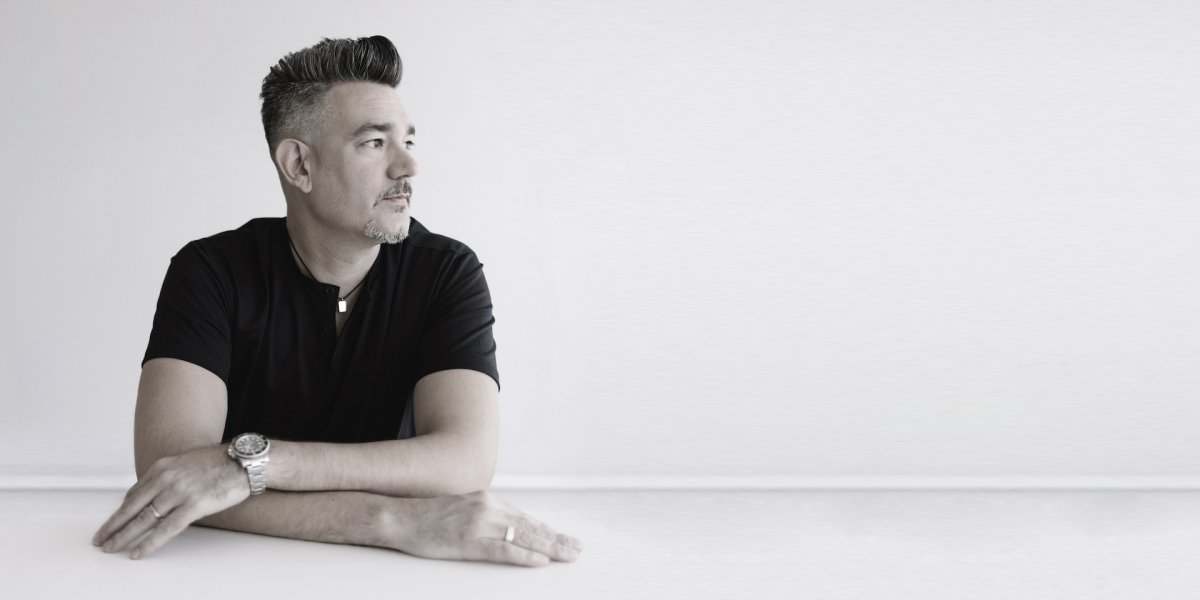 We began much of our process from the interior, analyzing how the family will live in the home, how they will navigate through it, and how they interact with media, culture, family, food, and the exterior. The aim of this house's design is to appeal to a wide range of people while also challenging some design norms. The reaction from those who have seen the space is that they love it. People are tired of closed spaces and not being able to see outside. They want to enjoy the outdoor spaces and the garden, so our approach mainly focuses on openness and usability.

We have used a lot of high gloss Calacatta finish in the home environment due to its reflective quality, which adds to the space by reflecting natural light. In the bathrooms, we have opted for a honed finish of the same material for a nice transition. By the pool, we have created an environment with a wet room that also serves as a spa, featuring a steam room, sauna, and showers. This allows family and friends to move in and out of the pool spaces without passing formal areas. The ceilings are made of simple white gypsum with custom-integrated lighting. The Pedini kitchens have a warm oak finish to create a cozy atmosphere. The closet systems are made of whitewashed wood that is light and fresh. We have installed VRF systems, meaning the air conditioning can be condensed in one area of the rooftop, allowing you to use the area all year round.
When designing a house, many people place it in the center of the plot and surround it with landscaping, resulting in a lot of unused space. We made sure not to make that mistake with this home. We have incorporated usable space throughout the home in an open-plan format and landscaping on all levels. We have had the chance to enjoy the initial model home with our family and friends. Due to the home's design, throughout the day, you will find yourself moving from floor to floor with your relatives, instead of being confined to the ground floor. This house has been designed in a minimalist way, providing as much space as possible for personal use, and the exterior has been carefully considered and incorporated into the project.
The ground floor was intentionally designed not to be too massive, unlike most homes of this size. The social spaces are not restricted to the ground floor and backyard but are spread throughout the levels. One amazing aspect of this home is the unobstructed view of the Burj Khalifa.

The villa boasts an excellent location on a freehold plot that is not part of a gated community, which really makes you feel like you're living in the heart of Dubai. Situated near Central Park and City Walk, it has approximately 22,000-23,000 square feet of sellable area. Its unique features include high-gloss flooring, a floor-to-ceiling fireplace sculpture, glass paneling, Pedini kitchen, and smart home automation, sustainable lighting and air conditioning systems.
Great care has been taken to incorporate light and sustainable materials in the property's construction. Retro spotlights incorporated into cove systems, LED lights, and color temperature gradients have been employed to create a calming environment that complements the intended purpose of each space. Moreover, the villa's design features cutting-edge elements that enhance its environmental sustainability, such as solar power systems, water purification, eco-friendly exterior glazing, energy-efficient LED lighting, and sustainable American wood.
The bedrooms are spread over different floors, with four on the first floor, including a master suite with a spacious en-suite bathroom and private terraces offering views of the Burj Khalifa and downtown skyline.

On the lower level, you will find two guest rooms with their own en-suite bathrooms and private terraces. The basement can be accessed through an elevator or Silestone staircase. It houses a gym, billiards area, family lounge, bar, media room, and a sunken Japanese-style garden with a Banzai olive tree. There are also maid's and driver's rooms on this level. Natural light flows down to this level through light wells, creating an open and bright ambiance due to the open courtyards and glass bridge.
The rooftop features an office/lounge and a stunning exterior roof terrace furnished with Talenti furniture. It includes an outdoor cooking area and a separate and isolated MEP area, providing breathtaking views of the Burj Khalifa abd Downtown Dubai skyline. We have added decking on the roof with non-slip ceramic tiles with automatic decking planters. The pool on the ground floor has a honed Calacatta finish, giving it a beautiful Maldivian blue water color. It's a saltwater pool that overflows, eliminating the chlorine smell surrounding a multitude of olive trees set within the pool area. The pool is 25 meters long, equivalent to half an Olympic-sized pool.
Khalid: We at BG Villas are extremely excited to offer such a vibrant product in such a stunning location and look forward to completing more projects like this in the future.
Images and Renders Courtesy: BG Villas W: bg.ae