Open House: A light & airy penthouse in Downtown Dubai
Vannesa Bilbao walks us through a penthouse she designed at the 118.
Words by Aneesha Rai in Portfolio · Dec 8th, 2020
Located a stone's throw away from Dubai Mall, this penthouse for sale in The 118 has a modern meets contemporary furnishing. We sit down with the designer, Vannesa Bilbao - Creative Director of VB Design on her approach to the home and designing the penthouse to meet client expectations. The 'Open House' series sees us meet the owners and designers of some of our most extraordinary houses ahead of their sale.
Vannesa: This is a duplex penthouse, so it runs over two floors and has private access directly from the lift to a private lobby. It's the only penthouse on this floor. The client brief that was given specified that they needed a penthouse that is lighter, brighter and more contemporary. Right from the entrance, we changed the original walnut doors to a white matte finish. We also painted the home 'soya milk white' throughout. Changing this along with ambient lighting helped create a lighter space to work with.
The living area has double-heighted ceilings, which creates an additional illusion of space. We added sheer motorised curtains to make it seamless. The outdoors space is easily accessible. In our brief, they wanted a lot of seating areas with a focal bar unit. We created a formal meets informal sort of area that you can have different gatherings of people and you still can enjoy. We worked with different textures and colors for the furniture. We wanted a subtle and soft feel. The coffee tables are from Casa Lusso. We also added a standing art light in the corner. The last area at the back is the family room along with a pool table. The TV unit has a little fireplace below it. The main tile is a Neolith porcelain tile. We also added brass finishes and create a back-painted glass on the drawers as everything else is quite matte in style.
Vannesa: The bar is very neutral, as we don't know the profile of the future buyer. We've added various storage options for entertainment. The bar allows you to have accessories and show pieces displayed as well. We've used European materials throughout. We wanted something practical, so the bar slab was brought from Spain - it is resistant to any spills and has a hidden prep area. We also added similar lighting and lots of brass elements. We added a very comfortable bar stool from Marina Home.
Vanessa: The original kitchen design had a smaller kitchen island placed to the side, but we changed the layout to have a kitchen island across and made it with a quartz material and added an extra sink here. We also stained the walnut cabinets to a lighter colour to create an airy feel. The kitchen island is very functional for prep as well as for dining around - we added the chairs from Marina Home. We also added a chandelier-style modern pendant light, keeping consistent the metallic touch throughout the apartment. The kitchen is full of Miele appliances. One of the things we wanted to do was to create an apartment that's easily adaptable and neutral in nature.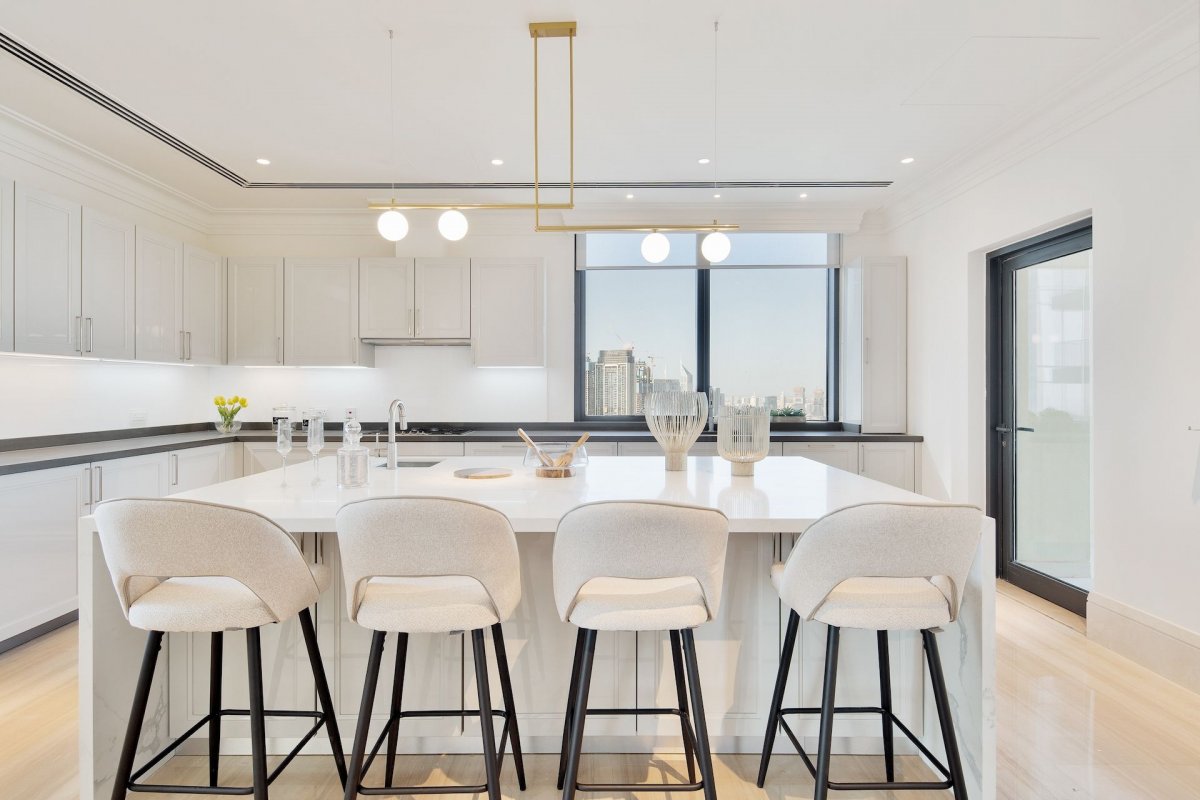 Vannesa: We wanted a contemporary look for the dining area. We closed off one of the windows with a polycarbon material and a marble slab in the centre to create a feature wall along with a brass finish. We tried to find a material that actually allows the light through, but without disturbing the privacy. In some of the units they add curtains or drapes, but I wanted to keep the light and airy feel. The material works well and creates a modern and elegant feel. We have used some contemporary furniture in grey. I wanted to play with a lot of different whites and grays with a splash of color. The carpets are all custom-made with the same tones. The console is from Ebarza. The chairs are leather and quite comfortable from Casa Lusso.
Vanessa: The apartment didn't have stairs, so we put that in. They had a huge metallic structure here. It was a massive structure that was quite difficult to do because not everything was level and we could not remove it, so we had to build around it. We created the cladding in white so it blends with the walls, so it hides the big structure that it was. We also added a channel for the glass, creating enough support and then combining a walnut element on the sides. We also added indirect lighting as well.
Vannesa: We also worked on two bedrooms on the upper floor - the master bedroom and a second master bedroom. This room has an amazing view - we added a seating area and table. We also added a chandelier - most of the furniture is from Cavalli. We kept the brass elements here too.
As for the master, we had a lot of conflict on how to use it. What we did were separate his and her wardrobes. The her-wardrobe has plenty of closet space, including one for shoes. We made it all bespoke with metal frames and handles made in brass. We added a nice feature wall above the bed, along with Calacatta marble. We used a lot of indirect lighting here, to create a mood. We added seating to create softness to the room. The apartment has a little bit of a retro feel, yet neutral.
Follow Vannesa's design journey on Instagram.
Update (May 2022): The penthouse has been sold.