Located near Marrakesh, the Amanjena offers a tranquil retreat
Words by Aneesha Rai in The Lifestyle · Jul 22nd, 2022
Inspired by the Red city, Marrakesh, the Amanjena with its expansive gardens, rippling waters and rose-hued buildings offer you a dreamy getaway just a few hours flight away from Dubai.
Walk through the shaded courtyard, offering you a much-needed summer retreat. This wonderful summer getaway holds a strong focus on health and wellbeing. On the edge of the Amelkis desert, Amanjena is a luxurious country retreat for secluded getaways. The resort's architecture is inspired by the textile-dyeing techniques of Morocco, with haded courtyards and fountains leading to the central basin that nourishes the gardens in which spacious standalone guest pavilions and maisons rest, all with private gardens and many with private pools. Enjoy your time relaxing by one of Amanjena's clay courts, take to the 27-hole Amelkis Golf Course which sits next door, or visit the otherworldly landscape of Agafay dunes deep in the desert.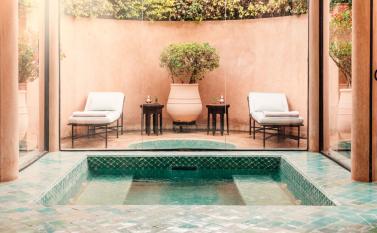 Both the pavillions and maisons are designed in an enchanting and timeless style - Amanjena's exceptionally appointed Pavilions and Maisons are cool, elegant dwellings with Berber carpets scattered over zellij-tiled floors and high ceilings for an opulent feel. The sound of running water in fountains soothes while chaise longues and candle lanterns lend a classic Moroccan ambiance. Whether it be a private heated pool, or simply a little peace away from the city. The largest estate sleeps up to 16 people and is set in its own private garden. Each residence has its own private heated pool with views over the Atlas Mountains.
Dining options include a traditional Moroccan restaurant, a pizzeria, and a Japanese restaurant called Nama, serving up UNESCO-protected washoku cuisine with artfully plated sushi and sashimi at the heart of its menu.
Leisure-wise, there is plenty on offer including the LUX Tennis Academy to brush up on your skills. The resort also provides a bunch of experiences ranging from e-bike adventures in the dunes to golf in the desert. The spa allows you to curate half or full day itineraries complete with treatments, yoga and facials.
Images courtesy: Amanjena