The Lifestyle
The Escape: Provence
Live amongst the perfumed lavender fields at Les Andéols
Words by Aneesha Rai in The Lifestyle · Aug 4th, 2023
Located off-the-beaten track, in charming Saint-Saturnin-lès-Apt in Provence, France, lies Les Andéols. Choose from 19 unique villas with its own unique character and let your senses indulge in nature.
Les Andeols is a serene retreat nestled in the heart of Provence, boasting 8 Nature Suites and 11 independent Villas. Each dwelling is a unique gem, offering guests an exquisite piece of untouched nature along with its own private swimming pool. Here, silence, space, and everlasting time invite you to unwind and reconnect with nature's embrace. While the resort exudes intimacy and seclusion, it is also a place where the spirit of sharing thrives.

As you explore the landscape, you'll discover the beauty of a Provencal hamlet adorned with large trees, a fragrant orchard, and a vibrant vegetable garden. Nature's perfumes and flavors enchant you at every turn. And if you wish to venture a little further, you'll find yourself amidst a plethora of cultural delights – from grand festivals to captivating museums and artistic foundations.
Prepare to be enthralled by the tasteful interior design, featuring furniture by Florence Knoll, art by Isamu Noguchi, and French cuisine fit for the gods. Patrizia Massart & Olivier Massart have worked their magic, infusing each structure with a kaleidoscope of cultural expressions. Klieg lights add an artistic touch, turning the resort into both a showcase gallery and a welcoming home for guests from around the world. Saarinen tulip chairs, ostrich-leather walls, Beroya red armchairs, Starck mirrors, and Breuer chairs add to the visual delight.
Immerse yourself in the splendor where pure lines, bespoke spaces, and sublime art and furniture celebrate the essence of Provence. Each of the 19 villas has its own distinct character, reflecting the vision of Maison Toujours with delicate pastels and art celebrating femininity or the concrete gray walls of Maison Amoureux, harmonizing perfectly with Bertoia's vibrant red 1952 Diamond chairs.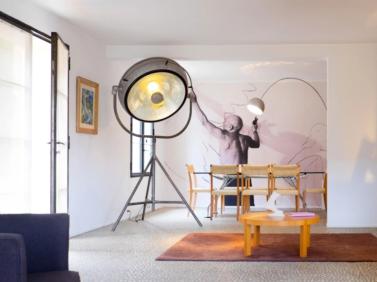 Le Platane, the signature dining experience at Les Andéols, epitomizes the resort's nutritional and preventive culinary philosophy. Indulge in healthy and seasonal dishes sourced from the property's farm, where bold combinations like smoked potato hay and vegetable truffle butter await you. The chef's "from seed to fork" culinary approach ensures a unique and unforgettable dining experience.
As you wander through the resort, you'll find yourself surrounded by an art gallery of over 250 paintings, photographs, and furniture pieces, thoughtfully curated to complement the overall ambiance. Exhibitions in collaboration with the Parisian gallery Kammel Mennour showcase the works of renowned photographers such as Nobuyoshi Araki, Ellen Von Unwerth, and Daido Moriyama, enriching your cultural experience.
At Les Andeols, the balance between art and nature is harmonious. The estate's essence lies in its simplicity and authenticity – from the multi-centenary plane tree and perched terrace to the palm grove, ponds, vegetable garden, olive trees, and vines. Patrizia and Olivier Massart, with their passion for hospitality and celebration of beauty, have masterfully created a haven of tranquility and natural charm. Olivier's deep connection to this land blends effortlessly with Patrizia's Italian way of life, resulting in a truly enchanting experience.
Images courtesy: Design Hotels