Top 10 most expensive hotels in the world
Would you stay at one of these hotels if money was no object? Let's find out:
Words by Aneesha Rai in The Lifestyle · Mar 20th, 2019
How do you define the ultimate luxury while selecting a hotel? Is it the availability of your very own private butler, chef, or even a private pool? How about unlimited caviar served regular on the menus along with some of the most expensive grape around? How far will you be willing to go to get the ultimate luxury? A private island or under the sea? These 10 most expensive hotels in the world offer you these services and more :
1. Lover's Deep Submarine, St. Lucia Us$195,000 Per Night
Test the depths of your love (and pockets) at this unique submarine hotel in St. Lucia for a cool US$231,000 per night. Expect ultimate privacy under the deep blue sea surrounded by aquatic flora and fauna. The moving submarine allows you glorious views of the ocean, shipwrecks and coral. This package include helicopter transfers to and fro. On board, you will be treated to fully catered meals, including lashes of caviar, chocolate and oysters. You will also have your own personal butler & captain. There's even a petal-scattering service and a champagne breakfast in bed to add to its list of luxuries under the sea.
2. President Wilson Hotel, Geneva, Switzerland Us$80,000 Per Night
The "Royal Penthouse" suite at President Wilson Hotel in Geneva, Switzerland costs a cool $80,000 per night. The penthouse spans a whole floor with 12 luxury bedrooms and hosts among other things, a Steinway grand piano in the living room, billiards, and rare book collection, a bathroom fitted out with Hermès toiletries and facing Lake Geneva, and a Jacuzzi overlooking Lake Geneva. It additionally has a state-of-the-art security system, with cameras, bulletproof windows, and a panic button. You will have a personal chef, butler and fitness facilities within the suite. The list of leisure activities you can partake in while at the hotel is long, it includes: casino, spa & wellness centre ,sauna, indoor & outdoor swimming pool, fitness centre, jacuzzi, skiing, boating, water skiing,sailing, Turkish baths, tennis, golf, hiking , pedal boating, and a hot spring bath.
3. The Mark, New York, U.s. Us$75,000 Per Night
New York was always famous for its expensive hotels, but the one that rules this roost is the Mark Hotel's five bedroom terrace suite. Located on Madison Avenue, this suite has 2 king sized bedrooms, 2 queen-sized bedrooms, and a full bedroom. The suite includes a living room, kitchen and terrace and spans 4,788 sq ft. Furnishings are chiefly made of ebony and sycamore wood, with Italian linens and bedding by Quagliotti. Toiletries are custom-made for the hotel. Even the kitchen is designed by top-end designer Lissoni. The main bath is made of marble with polished nickel fittings by Lefroy Brooks and hosts heated towel racks and a mirrored flat-screen television.
4. The Raj Palace, Jaipur, India Us$60,000 Per Night
Located in a real palace, the Maharaja suite at the Raj Palace in Jaipur, India spans a whole 16,000 sqft over four floors. This suite has 4 bedrooms. The first floor of the pavilion has a private lounge, an extra luggage storage area, and a large luxurious private lounge with a bar. The second floor of the pavilion was the historical private floor used by the ruler himself while he addressed. the inner courts of the palaces, and the Charbagh gardens. It combines a double-height reception room with vaulted apartments intended for private use. It was a sleeping chamber for the Thakur Sahib and its luxurious ornamentation includes Gold leafed painted walls , Stucco and mirror work. The furniture is in gold and silver. It has a private passage connecting the different pavilions and the Zenana. The highlight of the suite is a private museum displaying the old throne and bolsters of The Thakur Sahib (King or Maharajah).
The third floor of the pavilion has got a library , a lavish dining room connected to a kitchen, and the second accommodation. The fourth floor of the pavilion was the pleasure pavilion in past and now has a private rooftop terrace with a panoramic view of the city and a small Jacuzzi and swimming pool. This spacious part of the pavilion also hosts a large soft seating lounge, private bar, library, study area and an elegant dining areacomplete with a separate Butler entrance as well as a private spa adjoining the pleasure pavilion. The bedroom is laid with rich ivory and gold furniture empanelling and two luxurious bathrooms.
5. Hotel Martinez, Cannes, France Us$ 53,200 Per Night
A preferred suite amongst celebrities, especially for attending the Cannes International Film Festival, the 17,975 sqft penthouse suite at the Hotel Martinez in Cannes looks over the Bay of Cannes, the hotel's private beach, and the Boulevard de la Croisette through its 5,000 sqft terrace complete with sunloungers.
6. Grand Resort Lagonissi, Athens, Greece, Us$50,000 Per Night
This Royal Villa at Grand Resort Lagonissi, Athens, Greece also features on our top 10 most expensive resorts in the world. It costs a hefty US$50,000 per night. Located by the seaside, it's popular amongst royalty. Besides your VIP check in and out, your villa will have two master bedrooms with king size beds, a spacious living room with a fireplace and dining table, a fully equipped business centre, a fully fitted kitchen and grill as well as outdoor BBQ facilities, a hairdresser.
The villa comes complete with an indoor and an outdoor heated pool (heated on request), a fully equipped gym and steam bath, sea level private deck, wooden terrace with garden, a private massage area with a massage-table, two oversized marble-lined bathrooms and a guest bath.
7. Faena Hotel Miami Beach, Miami, U.s. $50,000 Per Night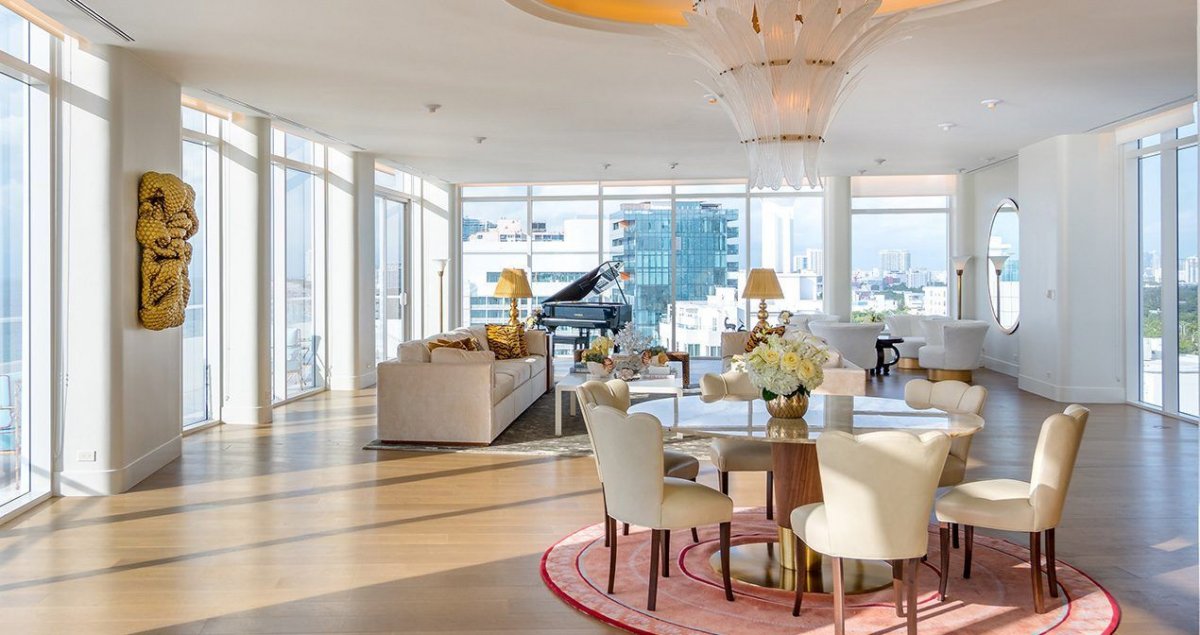 The Penthouse suite at Faena Hotel Miami Beach is reportedly designed in a 'Great Gatsby' style by Hollywood director Baz Luhrmann and his wife, set designer Catherine Martin. Spread over two stories, this colourful five bedroom penthouse comes complete with animal print decor and custom furnishings by Frank Pollaro. Butler service is included.
8. Four Seasons New York, U.s. $50,000 Per Night
The Ty Warner penthouse in the Four Seasons New York took seven years to design and furnish. Celebrity architect I.M. Pei, Peter Marino and visionary hotel owner Ty Warner both worked together to create this unique penthouse at a US$50 million investment. Spanning the entire 52nd floor of the hotel, it has four glass balconies. Warner's vision was to create the four balconies on the diagonal of the north-south, east-west grid of Manhattan to capture unique 45-degree diagonal views of the city.
The living room is clad in hand-lacquered walls with mother-of-pearl inlay, meticulously handcrafted by American artist Nancy Lorenz. A dramatic 4-foot chandelier of cut glass, nested at the peak of the sculpted ceiling, was custom designed by British artist Deborah Thomas and specially lit with 120 different fibre-optic lights for varied glow. Throw pillows with 18th century Japanese green silk-brocaded fabric, as well as stamped-turquoise Venetian fabric, are used. A pair of Podenco dog-shaped andirons, designed by British artist Grillo Demo, rest beside the living room's working fireplace.
The 700-square-foot library features a 26-foot cathedral ceiling and a diamond-shaped skylight. The 25-foot bronze-clad bay windows, which are flanked by two French doors opening to glass balustrades, display unending views of Manhattan. Renowned for his botanical-inspired decorative art, French sculptor Claude Lalanne framed four ceiling-to-floor bookcases in an elaborate bronze-and-vine-leaf motif. The cases house innumerable volumes on art and culture.
9. Hilltop Villa, Fuji Us$44,000 Per Night
Located in Laucala island in Fiji, this hilltop resort apparently does a pre-approval for its guests. Owned by Redbull's co-founder, it has panoramic views of the sea and island and over 120,000 square feet of bedroom space. You and your family can expect to be pampered by the private cook, chauffeur and nanny. There are many activities on the island besides the sea activities, from going to a golf course, hiking to waterfalls and more. You need to book a minimum 4 night stay at this resort, but feel free to use the private airstrip to land your plane. There are only 25 villas in total at this estate.
10. The Royal Mansour, Marrakech, Morocco Us$43,480 Per Night
The Grand 'Riad', or a large traditional house built around a central courtyard located at the Royal Mansour Hotel in Marrakech hosts its own butler service, hammam, landscaped garden & pool with a private entrance. There's also a home cinema, personal bar and gym, and a spa room. The interiors host Zelliges tiles combined with crystal suspensions, silky fabrics with stucco lace & carved cedar wood with modern artwork. It hosts views of the Atlas Mountains, bettered only by that of the Koutoubia Mosque, right in front of you.