Top 10 most expensive resorts in the world
If you're looking for the best of the best, you need to have a look at these luxury resorts. Even though they're pretty heavy on the pocket, some of these resorts provide an experience like no other.
1. Grand Resort Lagonissi, Athens, Greece, Us$50,000 Per Night
The Royal Villa at Grand Resort Lagonissi, Athens, Greece costs a hefty US$50,000 per night. Located by the seaside, it's popular amongst royalty. Besides your VIP check in and out, your villa will have two master bedrooms with king size beds, a spacious living room with a fireplace and dining table, a fully equipped business centre, a fully fitted kitchen and grill as well as outdoor BBQ facilities, a hairdresser.
The villa comes complete with an indoor and an outdoor heated pool (heated on request), a fully equipped gym and steam bath, sea level private deck, wooden terrace with garden, a private massage area with a massage-table, two oversized marble lined bathrooms and a guest bath.
2. Necker Island, Us$44,000 Per Night
Owned by Richard Branson and located on the British Virgin Islands, Necker Island tops the list with a whole private island resort with limited villas for you to enjoy. This particular resort enjoys 'barefoot luxury'. If you can fork up $40,000, you can opt to use the island privately with up to 21 friends. Besides the usual luxuries both on land and water such as sailing, yoga and more; the island is also home to the most beautiful wildlife. In the evenings, you can enjoy some great parties with your friends.
You would need to arrive to the island via boat after flying in to Beef Island and Virgin Gorda through a private jet. Another option would be to land via a helicopter or by yacht.
3. Hilltop Villa, Fiji, Us$44,000 Per Night
Located in Laucala island in Fiji, this hilltop resort apparently does a pre-approval for its guests. Clearly money can only take you so far. Owned by Redbull's co-founder, it has panoramic views of the sea and island and over 120,000 square feet of bedroom space. You and your family can expect to be pampered by the private cook, chauffeur and nanny. There are many activities on the island besides the sea activities, from going to a golf course, hiking to waterfalls and more. You need to book a minimum 4 night stay at this resort, but feel free to use the private airstrip to land your plane. There are only 25 villas in total at this estate.
4. Maharajah Pavilion, Raj Palace, Jaipur, India Us$44,000 Per Night
This suite is an apartment that spans 16,000 sqft in a heritage palace turned hotel. That's a whole 4 floors connected by a private elevator. Some of the facilities include a private lounge/lobby, a double-height reception room with vaulted apartments, library with a lavish dining room connected to a kitchen, a "pleasure pavilion" complete with private roof top terrace with a panoramic view of the city as well as a small Jacuzzi. There is also a swimming pool. This area also has a large soft seating lounge, a private bar, library, study area and an elegant dining complete with a separate Butler entrance, and a private spa adjoining it. A lot of the furniture is laid with gold and silver, with the walls painted gold. The suite hosts four bedrooms in total. If you're looking for something truly luxurious and with a strong history dating back to the 16th century. It doesn't get more royal than this.
5. Penthouse Suite, Hotel Cala Di Volpe, Sardinia, Italy $41.7K Per Night
This charming hotel is located in Costa Esmeralda in Sardinia, Italy. Its penthouse suite has a solarium, wide rooftop terrace with dining room, private wine cellar, a large private saltwater swimming pool as well as local crafts and hand painted furnishings. There is also butler service available. It spans 2,690 sq ft and is tastefully designed, without tarnishing the overall old world charm.
6. Sultan Suite Ciragan Palace Kempinski, Istanbul, Turkey $41,500 Per Night
Also located in a palace, this Sultan Suite is located on the second floor of the Ciragan Palace in Istanbul, Turkey. It offers panoramic views of the Bosphorus river that essentially separates the European and Asian sides of the city. After you enter the suite through a large hall, there is a fancy living room with a dining area for 12, a kitchenette and a guest bathroom; two additional unique designed bedrooms are placed on either side. There is a 24 hour butler service and jacuzzi included.
7. Alang Alang Chateau, Cannes, France Us$ 41,000 Per Night
With the gorgeous sea beckoning and surrounding mountains, this lovely chateau in France is slightly quirky and exotic. It has eight suite-style bedrooms and your own private staff to service you during your stay. It had 1,600 sqm of living space which is complimented by the 13,000 sqm of manicured gardens. The master bedroom has an emperor sized bed, separate living room, B&O TV, multiple terraces with panoramic sea views, desk, large walk-in wardrobe, luxurious bathroom with Italian "rain" shower and private deck with American style hot tub and massage table.
It also has a wine cellar, bar, library, fitness room with a full size boxing ring as well as free weights and techno gym machines, and billiards room.
8. Royal Bridge Suite At Atlantis The Palm, Us$38,000 Per Night
Every popular celebrity you know, from the late Michael Jackson to Kim Kardashian has stayed in this gorgeous bridge suite at Atlantis The Palm. Located on the crescent of the Palm Jumeirah, this suite spans 924 square metres and has its very own security detail. Offering panoramic views throughout, it has three lavish bedrooms. The suite comes complete with a private library, games and media centre, majlis and massage room.
Guests can enjoy two complimentary head, neck and shoulder massages in their suite, two complimentary 30 minute personal training sessions, and full access to the steam, sauna and jet pool facilities at ShuiQi Spa.
9. Live Exquisite At St. Regis Maldives Vommuli Us$ 37,500 Per Night
Located on azure shores in the Maldives, the St. Regis Maldives Vommuli offers a unique experience called the Live Exquisite Package with Norma. The entire package runs over four nights and is worth US$150,000, which makes this experience cost a cool US$37,500 per night.
As part of the hotel's newly launched 'Live Exquisite' package, patrons can check-in for four nights at the John Jacob Astor Estate villa, one of the largest overwater villas in the Maldives, and enjoy an overnight stay on board the stunning Azimut Flybridge 66 yacht, Norma. The villa in question spans 1,540 sqm and has 3 bedrooms, an olympic sized swimming pool, home theatre, private wellness centre, and a personal butler.
10. Royal Residence At Jumeirah Vittaveli Maldives Us$35,000 Per Night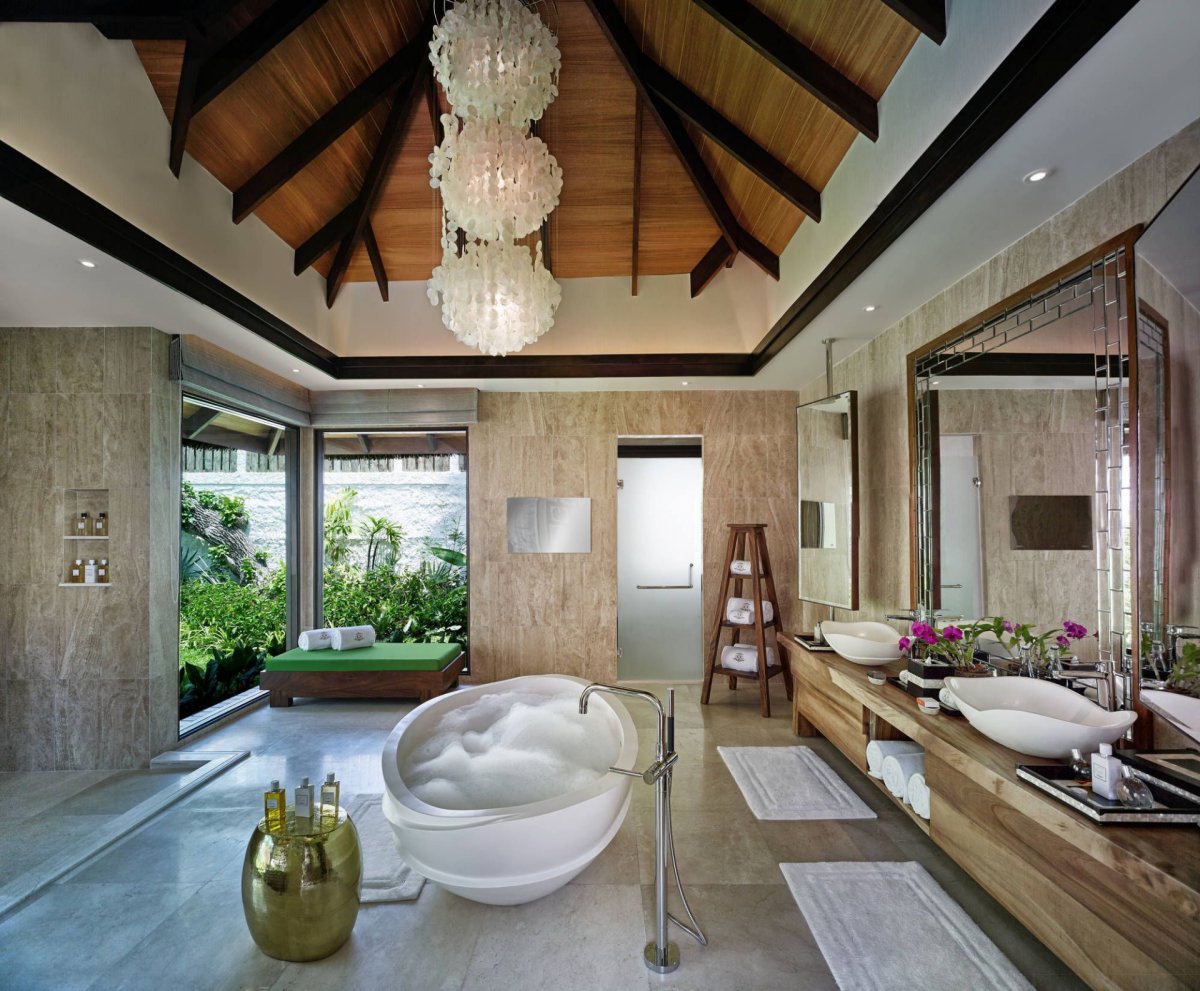 The Royal Residence villa at Jumeirah Vittaveli hosts five bedrooms extending across 3,500 square meters of pure tranquility. This villa acts like a resort in itself as it is complete with two private swimming pools overlooking the private residence beach, as well as a dedicated island grill restaurant offers live cooking and teppanyaki style cuisine set atop a Dhoni shaped deck. This villa is perfect for families as it can accommodate up to 14 guests.
Guests can also dine in the opulent dining room or relax in the sunken lounge which is surrounded by a fragrant lily pond and has its own overwater bar and sundeck. They also have personalised concierge service - including private butlers, dedicated Royal Residence golf buggies and chauffeurs. There's also a celebrity photographer to document the guests' journey as well a personal astronomer. All water sports and excursion activities are offered directly from the private beach at the Royal Residence, thereby allowing guests to enjoy their vacation in complete privacy.