Portfolio
Top 10 Most Expensive Homes in Dubai
Ready to splurge on an exclusive property in Dubai this year?
Words by Aneesha Rai in Portfolio · Jan 20th, 2015
Here's Luxhabitat's list of the top 10 most expensive properties for sale in Dubai. From opulent mansions to budding bachelor pads, we have it all:
1. Emirates Hills, L Sector (AED 175 million, $47.64 million)

With an area spanning over 30,000 square feet, this gilded mansion is inlaid with classy Italian furnishings, crystal chandeliers and cold cathode cove lighting with full lake, skyline and golf course views.
2. MAG 214, Jumeirah Lake Towers (AED 80 million, $21.78 million)

Live the life of a "Haute Boheme" in this eclectic penthouse in the buzzing Jumeirah Lake Towers area. With its ample space and grand piano, it is perfect for any artist at heart.
3. Le Rêve, Dubai Marina (AED 72 million, $19.2 million)
With six walk-in closets, this penthouse is perfect for the urban jet-setter, the reclusive celebrity or a VIP at Le Rêve, which is one of the few exclusive locations for the A-list crowd in Dubai.
4. Burj Khalifa, Downtown Dubai (AED 69.85 million, $19 million)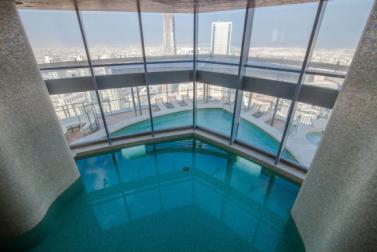 Want to live in the tallest building in the world? Luxhabitat is offering a WHOLE FLOOR with 15 bedrooms to whoever wants it for approximately $19 million. You would be living in the heart of the city in one of the most popular buildings in the world. That's an enviable address to live at!
5. Emirates Hills, HT Sector (AED 68 million, $18.51 million)
Among the many things that make this contemporary villa a memorable one, some of its most notable features include a home cinema, games room, private gym and spa. Perfect for families, as it offers you every opportunity for entertaining.
6. Emirates Hills, V Sector (AED 65 million, $17.7 million)
Boasting a near 40,000 square foot garden, this two-floor house has the top floor reserved just for entertainment, which you can access by your own in-house elevator or through the floating stairwell.
7. Emirates Hills, H Sector (AED 59 million, $16 million)
One of Luxhabitat's latest listings, this villa located in Emirates Hills has some of the most uninterrupted views of the massive golf course that spans the locality. If you're begging for a little R&R, this place offers you just that. Whether you choose to recline in its massive jacuzzi that has views of the golf course, or recline on your pool chair, this villa has it all.
8. Bromellia Villa, Al Barari (AED 55 million, $14.97 million)
Tasteful and tantalizing, this property located at Al Barari is bound to evoke your senses. Besides its massive master suite (yes, we used the word suite, not bedroom), it appeals to all motorheads with its air-conditioned garage with space for seven cars. Once you're done touring Dubai in your new hot wheels, you can choose to recline in your private infinity pool, bathe in your own home spa or work-out in your very own gym!
9. Elite Residence, Dubai Marina (AED 55 million, $14.97 million)
Imagine having floor to ceiling views of Dubai and a whole floor all to yourself. This apartment at Dubai Marina has that and a whole lot more to offer with its massive four walk-in closets.
10. Signature Villa, Palm Jumeirah (AED 50 million, $13.61 million)
You can be a beach bum at this spectacular villa and its private beach. The USP? ALL of its five bedrooms, bathrooms and balconies overlook the beach with the Marina and Burj Al Arab in full view. Now that's beachfront living at its best.