B3 by Bulthaup serves as an integral design element of the house without compromising utility.
Words by Aneesha Rai in Design & Architecture · May 10th, 2015
Bringing limitless design freedom to the workspace, the B3 kitchen hosts a state of the art design that forms an intrinsic part of the house's architecture. Seamlessly designed, the kitchen innovated by Bulthaup helps hide the eyesore of electricity and gas pipes without compromising its functionality. The versatility of the design enables it to work well as both a fully-equipped kitchen and as a social kitchen. Planned, designed and built with the kitchen workflow process in mind, this kitchen solution is on the forefront of modern kitchen design.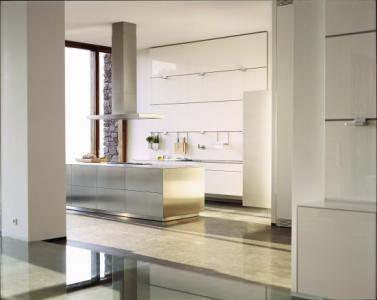 Through opening up the multi-function wall, even the space between the panels or louvers and room walls are utilised. The panels have been further divided into four sections that can be opened to create compartments for chopping boards, cookbooks, towels and utensils. Located within an arms reach, this provides convenience while cooking and preparing food and allows your work surface clear - something extremely useful in keeping your new kitchen spotless or adding extra utility to an otherwise crowded small kitchen. The uppermost louver features integrated lighting. When opened out horizontally, it illuminates the countertop and simultaneously acts as a shelf where you can place your containers for easy access to condiments and utensils while cooking. A perfect blend of functionality and convenience, this space allows you to display some of your favourite items to retain that kitchen feel with spruce of a decorative element.
Depending on the room design, the new shutter unit blends in seamlessly with other kitchen fronts or is a striking feature on its own. Available in a range of b3 materials and colors, the flat shutter slats form a flush surface when the unit is closed or half open. With a robust, easy-to-clean stainless steel base, it is perfect for storing coffee machines, food processors and other small appliances which can be easily accessed without an open door getting in the way, as the doors sink into the wall, thereby creating an angle of space. Interior lighting and a leather handle round out this functional and chic piece. Making walls come to life, this model is a sight to behold.
Blending purist elements, this kitchen solution blend seamlessly into the household. Even the fridge has been equipped with an "e-touch" technology which can be opened with a simple push. The door closes automatically within three seconds if unattended, thereby completely eliminating handles from this design. The storage containers are designed to incline towards the user. The kitchen roll holder is removable and can be carried easily. Succeeding in achieving a timeless design for the kitchen, B3's look is contemporary to the last finish.
B3 by Bulthaup is available at Obegi Home, Umm Al Sheif Road Angle Jumeirah Beach Road Umm Suquiem 1; +9714 394 8162.