Design & Architecture
Design House: Maya Toron Al Omary's Kaleidoscopic Abode
The third culture girl and Maison Mishmashi founder channels the flavours of the world into her Jebel Ali home-studio.
Words by Laura Beaney in Design & Architecture · Aug 29th, 2021
Maya Toron Al Omary, the founder of Maison Mishmashi is what the world labels a 'third culture girl'. Coming from a culturally-fuelled family, she was born and raised in NYC to Syrian parents, both of whom are established painters; one sister is a vocal coach and composer while the other is a film producer. Both her father and step-father were diplomats and under their influence, Maya became accustomed to the nuances of far-flung cultures, absorbing visual output, customs and rituals. Paris was her home for 12 years and the city where she received her education before moving to Dubai 22 years ago with her husband and four children. These eclectic experiences sewed together the threads of what Maya's lifestyle design brand, Maison Mishmashi, represents: her global journey and essence as a sum of all the parts she encountered on the way. Now we open the doors to her artful Dubai Waterfront abode where she lives and creates.
Maya: My home is my living laboratory – a canvas on which I express my passion and personal style. So many things have shaped my design sensibilities. It's in my blood coming from a line of creatives. I grew up appreciating the experimental process through witnessing my mother create her art while juggling life and family, I'm convinced that this made me very tolerant, flexible, compassionate and open to change. I have always been drawn to different elements of various interior styles that ultimately shaped my personality, home and brand. I always think and act outside the box, I have no issues with mixing and layering several stylistic elements but I am always about functionality and harmony. I bring forward the same attitude to my designs - modern, industrial, classical, urban - I love it all and it all works! The smell of turpentine in the morning as I made my way to the kitchen growing up, that's where my mother would set up so she could be around us as she painted- watching her turn a blank canvas into a work of art was a thrill each and every time.
Maya: I'm totally inspired by my beloved Dubai, the melting pot of all things wonderful, where this all happened and couldn't have happened otherwise, this is my home which embodies so much love, uniqueness and blessings - it has allowed me to continue to discover myself in the most meaningful way.
Maya: I have always had a deep appreciation for design but only gained the courage to make it my work when my life reached a turning point eight years ago when I took the plunge and established Maison Mishmashi. I had no formal training and was equipped only with my passion and the support of my family and friends. "Finding myself' remains an ongoing journey - my creative process has given me love and understanding as well as a solidifying belief that with patience and perseverance - dreams do come true. The word 'MISHMASHI' has meanings in both English and Arabic, transliteration at its best! It honours and represents my multicultural background - commonly meaning "a collection or mixture of unrelated things" and in Arabic translates to "does not go together' - this is a good thing! The brand is a reflection of who I am, where I come from, and my dreams for the future. We are in the art of mixing fabrics together that one might think would not work- that's precisely where the magic is. My time living in varied cultural contexts gave me early exposure to the amazing ways that classical design and modern functionality, fashion and interior design fuse, they can coexist beautifully. Now I share that through my home and work.
Maya: Maison Mishmashi gave my passion and style a tangible identity that I dreamt could evolve and expand through my own creations. I have developed everything I have done through observing and following what I found interesting - essentially following my gut. A big part of my creative process is being unafraid to experiment and to work out how to do things in my own way. My influence and inspiration can come from anything and anyone at any given time, I am deeply emotional about my surroundings. I love travelling and that manifests in my work.
My favourite artist is my mother. I have used her art on my design pieces and the latest collaboration of limited edition prints that debuted at 'That Concept' Store and Ounass. It's a celebration of women! My favourite piece from our collection is the 'Queen Pouf' chair, simply because it creates so much emotion and has proven to show how using different patterns and textures tells a unique story. I have witnessed so many people describe it in ways that are so inspiring, it represents their personal style and also serves as a conversation starter, what more could I ask for! We like to think that we create luxury in a thoughtful way, never wasting materials. The birth of our limited edition patchwork Queen is the result. I sourced my very first fabrics for Maison Mishmashi from a distributor in the Fashion District of NYC and at the time added fabrics from local vendors in Dubai - that has always stayed with me as my scavenger hunts transcended over the years to all corners of the world – all we want is to have something unique and one-of-a-kind to mix together - the only way we know how!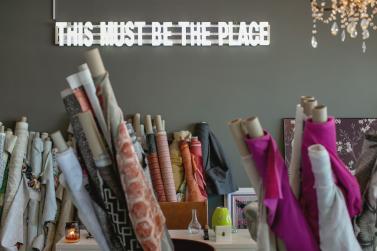 Maya: Four years ago I found myself crying for weeks in my Atelier in Al Quoz having faced the all too familiar reality of hiked up rent and nowhere to go. I really thought I would have to put everything on hold and it was petrifying. Then I met someone in Abu Dhabi who told me about this amazing community by Nakheel where you could live and work under the same roof – meaning I could transfer my license to a new location and live in the same place. The minute I walked into the space, I knew it was the one! I was fortunate that my family agreed to the move because it's tucked away in the Dubai Waterfront area of Jebel Ali, but now we love it here! The energy is contagious.
Maya: I'm always making changes to my home! I dream about things like that all the time. I wake up and go straight at it, a habit my husband still scratches his head about 30 years on. I feel even the smallest of changes - shifting furniture, adding a vase or hanging a painting can do wonders for the soul. My other favourite addition to this home are my plants and trees- unique to this space. We have a courtyard situated in the middle of the house - our little jungle oasis.
Maya: I truly believe a piece of furniture comes along and changes everything around us. For me, it can come from anywhere. You may find me in a marketplace in the Hamptons, Zara Home, ABC Home in NYC or at a street art vendor, Bloomingdale's and lately; I've become very good at online shopping. Anything that makes my heart skip a beat - if I can afford it and have a place for it, it comes home with me! Each find adds a new chapter to my story. I remember the story and cherish each piece. I collect what I love. The theme throughout our home is love. People say they feel like they're in a New York loft (my secret obsession) when they step in. I hope to achieve a vibe that's positive and cultivates good energy. I love the oversized photos of my children, each representing their individuality. I also love my own Queen Pouf Chairs and 4-meter sofa which we commissioned. My favourite purchase is my coffee table from Marina Home Interiors from around a decade ago. It's a beautiful piece made from railway wood with stainless steel legs - a juxtaposition that I cherish. Every morning when I walk into my living room - I smile at my table. Ceramic works such as a favoured piece that encompasses Persian pomegranates emboldened in blue and yellow, glass vases filled with fresh flowers and candles are the jewellery on top.
Maya: It's no secret that the minute I hear the word "loft" my heart skips a beat! I love this Downtown Dubai loft space on so many levels. It has everything I adore from high ceilings to exposed brickwork and huge windows. There's a real authentic charm and the bricolage of urban, bohemian, eclectic and romantic elements work together in symphony. The mixing of wood, industrial finishes and clean walls is so unexpected yet perfect - I would move into this space (with all my furniture) in a heartbeat if the owner promises to keep the gorgeous olive tree!