Design & Architecture
Design House: Index Tower
Chapter Studio were tasked with transforming a dated space into a modern and luxurious rental
Words by Laura Beaney in Design & Architecture · May 8th, 2023
Chapter Studio founder, Shima Samaei, takes us on a tour of her latest renovation, an Index Tower apartment destined to become an elite rental. Her brief was to cultivate an environment that whispered luxury while retaining functionality. We speak to Shima to discover her ultimate space-saving solutions and the way that the Bauhaus and minimalist movements have contributed to her vision for the space.
Shima: Index Tower is a striking 80-story tower building located in Dubai's DIFC area. The building has been designed by Foster + Partners, and constructed with the region's climate in mind.
Our clients are a dynamic couple with a shared passion for design and real estate. They approached us with the idea of transforming their Index Tower apartment into a luxurious rental space for high-end guests.
Their vision was to offer comfort, luxury, and functionality to their guests as such Chapter's meticulous approach was the perfect fit. We provided creative solutions by incorporating high-quality materials and design elements to establish a hotel-like atmosphere in the unit.
We were responsible for renovating a one-bedroom apartment which was one of the most desirable units in the building. The space reveals stunning views of the Museum of the Future, DIFC, and the Dubai Frame. Index's location is within walking distance from some of the most popular restaurants and art galleries in the town, making it a really enticing place to inhabit.
The apartment hadn't been updated since the building's completion in 2010 so our goal was to introduce a luxurious edge to the apartment while honouring the building's aesthetic and style.

The opportunity to lead this renovation was really exciting for me as it allowed me to infuse my passion for design with my love for luxury. We wanted to establish an ambience that was distinct from the other units in the building by incorporating earthy tones and dark hues that exude a sense of sophistication. We upgraded the bathrooms, kitchen, changed the ceiling, and up-cycled materials where we could along the way.
We drew inspiration from two design movements - minimalism and Bauhaus. We were captivated by the beauty in the simplicity and functionality that these movements embody. The slowness of materials and clean, simple tones allowed us to create a serene and calming space that exuded sophistication.
In addition to these design movements, we also looked to the work of Batiik Studio in Paris for inspiration. Their expertise in creating storage spaces in small apartment units provided us with valuable insight into how to maximise the limited space available in the Index apartment. With the help of their innovative ideas, we were able to create a functional and comfortable living space that our clients and their tenants would love.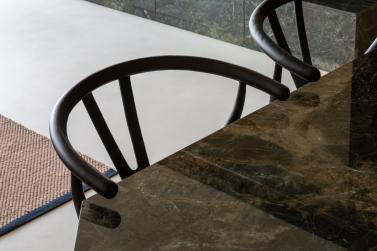 As touched upon, a major challenge for us was the limited space. We countered this by creating a seamless flow between rooms that established a sense of openness. We removed unnecessary elements like the centrally located fridge and opted for hidden cabinets and a large counter in the kitchen that doubles as a dining area.
We designed a television unit that drew inspiration from architectural accents and detailing. We also incorporated a Murphy desk wall that was seamlessly integrated into the overall design this was a great way to save space and achieve additional storage space. The bathrooms have a hotel-like feel established through indirect lighting, hidden cabinets and chic stone vanities.
The floors are micro-topped which creates a seamless connection from the floor to the ceiling while touches of wood tones and velvet fabric emit warmth.
The other challenge we faced was finding high-end finishes and materials that aligned with our vision. We persevered and were able to source some incredibly beautiful antique-brushed sockets and plugs from Corsten architectural detail in the UK. Their expertise in architectural detailing and the use of Buster + Punch for some of the lock systems made them the perfect choice for our project.
We incorporated a material palette that included stainless steel metal, mirror, and brushed finishes as well as walnut wood, and stone. The colours were a mix of earthy tones and dark hints that contributed a sense of calming elegance to the space.
We also drew inspiration from the works of Monir Shahroudy Farmanfarmaian, an incredible artist known for her use of mirrors in her creations. Her work inspired us to incorporate mirrors into the Index apartment to make the space feel larger and more expansive. By channelling these various design approaches, we were able to create a beautiful and functional living space that seamlessly integrates luxury, comfort, and practicality.