Dubai's Top 5 Luxurious Spas
With temperatures reaching impossibly high levels this summer, you're probably itching to leave your office chair and spend the rest of the day at a rejuvenating spa, treated like royalty. As much as we'd like to join you, we scoured the archives and carefully crafted a list of spas, recommended by our agents, where you can take a time out.
1. Talise Ottoman Spa, Jumeirah Zabeel Saray
Based on the ancient Turkish culture of the Ottomans, the Talise Ottoman Spa pays a magnificent tribute to the royal palaces of Turkey. Complete with hushed spa walkways infused with the scent of exotic oils and elaborate interiors crafted with marble, the spa takes you through a sensory journey that will instantly de-stress and relax your body and mind. A three-time recipient of the The World Travel Awards in the category, 'UAE's Leading Spa Resort', the Talise Ottoman Spa is like no other.

What we Recommend -
The World's Most Luxurious Spa Experience - This day-long treatment will bathe you in a 24-carat gold mask and also includes a lavish champagne and caviar lunch in the privacy of your very own spa suite.
Location - Jumeirah Zabeel Saray
Timings - 9.00 am to 9.00 pm

Phone - +971 4 453 0456
2. Satori Spa, Bab Al Shams
Set in a beautiful oasis, in the middle of the desert, a few kilometres from Al Qudra, Bab Al Shams is the realistic rendition of the Cave of Wonders from Aladdin. The Satori Spa is just one of the treasures you'll find here. The Spa incorporates the calm and serenity of the desert to create a soothing experience that will make your worries fade away.
What we recommend -
The Blissful Desert Rose Experience - This 3-hour long exfoliation refines your pores and reveals fresh new skin, after which your therapist will use carefully applied pressures to stimulate the nervous system.
Location - Bab Al Shams Desert Resort and Spa
Timings - 9.00am to 8.00pm
Phone - +971 4 809 6232

3. So Spa, Sofitel The Palm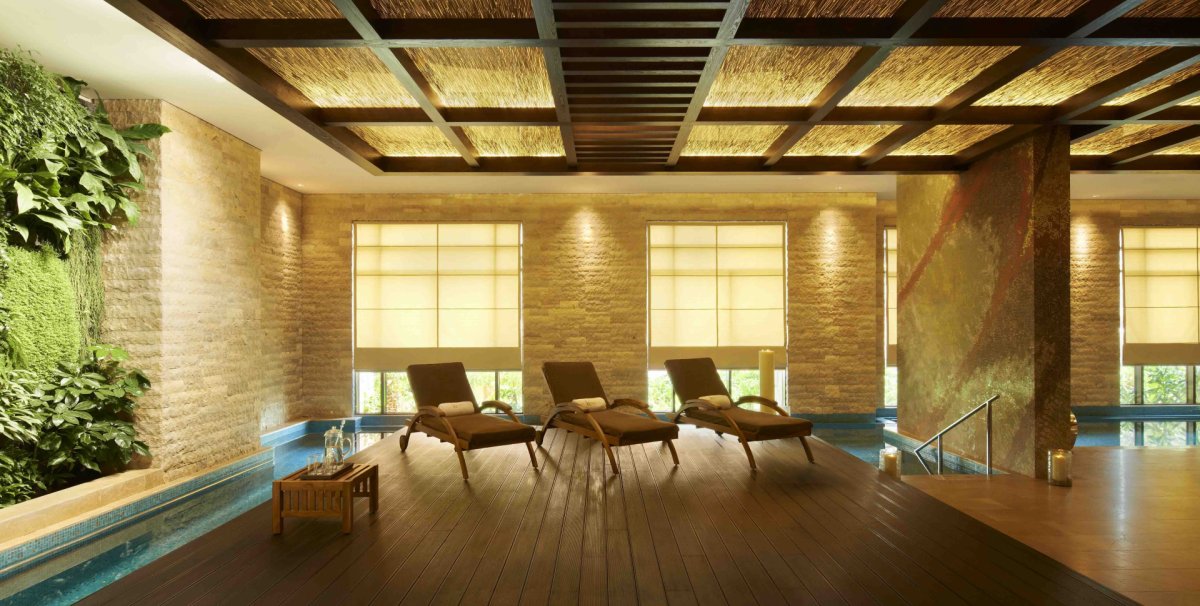 So Spa, at Sofitel the Palm, combines avant-garde French cosmetology and ancient traditions to create poetic treatments you'll never forget. Their gastronomy-inspired menu combines the richness of natural ingredients and the healing benefits of tea to create personalised spa experiences. After three hours with them, you'll wake up feeling re-energised and exhilarated.
What we recommend -
Under the Rain Experience - A unique experience of body cleansing and exfoliation whilst under a summer shower, with the benefits of color therapy and detoxification during an incorporated steam and body mask.
Location -Sofitel, The Palm
Timings - 9:00 am to 10:00 pm
Phone - +971 4 455 6677
4. Guerlain Spa, One And Only The Palm
Designed in partnership with the prestigious House of Guerlain, a high-end French perfume and skincare brand, the Guerlain Spa promises to take you on an oriental journey to a world of luxury indulgence and relaxation. Their signature treatment, "Desert d'Orient", introduces guests to a dedicated suite, where each treatment unfolds step-by-step, ensuring that toxins are eliminated and muscles are soothed. This is the only spa to make signature Guerlain treatments available to the most discerning of wellness aficionados in Dubai.
What we recommend -
Dubai Harmony - True to its name, this 90-minute signature experience is the perfect balance between treatment and massage and creates an incredible feeling of well-being and lightness.
Location - One and Only, The Palm
Timings - 9.30 am to 9.00 pm
Phone - + 971 4 440 1010
5. ShuiQi Spa & Fitness, Atlantis the Palm
Situated at the tip of the Palm Jumeirah, the Shuiqi Spa is the ideal escape from the stress and strains of everyday life. With the concept of fusing water and energy into their treatments, the spa is designed in partnership with Shiseido, one of the oldest skincare companies in the world. The treatments have been exclusively crafted based on three core tenants of Shiseido; Rich, Human Science and Omotenashi. Head over to Shuiqi Spa if you're an aficionado of ancient Japanese culture.

What we recommend -
Dubai Glamour Ritual - A unique ritual designed for the most glamorous, the treatment wraps its guests in seaweed wrap, followed by a full body massage that invigorates and stimulates the senses with the scent of orange and lemongrass.
Location - Atlantis, The Palm

Timings - 10.00 am to 10.00 pm
Phone - +971 4 426 1020