In The Studio: Aimée Ann Lou
Aimée Homer brings an engineer's mindset to resolve sartorial limitations.
Words by Laura Beaney in Design & Architecture · Feb 16th, 2022
Through her international career in investment banking, Aimée Homer traversed the world from Dubai to DC all the while retaining a sense of style and an enduring appreciation for quality. Her personal and professional experiences have informed her eponymous brand, Aimée Ann Lou, footwear that exudes luxury while championing comfort, playfulness and sustainable principles. Her designs straddle classic and contemporary codes, retaining a sense of femininity while redefining what that might be.
Handmade by artisans in Tuscany, Italy Aimée Ann Lou collections challenge standards in luxury by investing conscious values into every step of the process from production to packaging. Ahead of the GCC launch, we speak to the brand's founder at her home/studio in City Walk to discover how Aimée Ann Lou came into fruition as well as the myriad inspirations from deep space to Da Vinci's design principles that inform her output.
Aimée: Aimée Ann Lou evolved from both practical and personal motivations - I identified a gap in luxury footwear that needed filling and I was driven to create. Creativity and culture have informed my world from an early age. I balanced my love for art and fashion with an analytical mindset which led me to delve into the sciences and a degree in biochemical engineering from UCL. Upon graduation, I went on to study law before finally settling into a career in investment banking.
Aimée: In my youth, I was led to believe that creative and analytical worlds are disparate but this is not the case. Creativity and problem solving go hand-in-hand as demonstrated in the 'whole brain thinking' that one of my icons, Leonardo Da Vinci, is known for. Da Vinci supposedly had the perfect right-left brain balance! My work gave me the lightbulb moment that stimulated my brand. Rushing between meetings my heel got caught in the pavement. After the wave of embarrassment had lifted I realised that there was a significant lack of fashion-forward, comfortable footwear options for professional women that lead a fast-paced life. Why should I compromise the way I look or the number of things that I can do in a day? I couldn't accept that I would have to remain either immobilised by impractical high heels or disillusioned by unremarkable flats.
Aimée: I took on the challenge of creating a shoe that uplifts the life of the contemporary woman. Informed by sustainable principles that cultivate a positive approach to fashion I wanted the Aimée Ann Lou collection to turn heads for the right reasons. There are many fabulous luxury shoes out there but I wanted my designs to go beyond looking good. Aimée Ann Lou shoes boost confidence, take you on a journey from day to night and free the wearer from exhausted feet. In short, they are dream shoes at the axis of form and function.
Aimée: Aimée Ann Lou shoes navigate multiple spaces - the feminine and the comfortable, the professional and the individual, the luxurious and the conscious.
Aimée: Existing offerings may look good but they tend to fail to meet other standards, particularly function and sustainability. We propose a multi-dimensional approach to footwear. We tap into the psychology of the wearer and determine their needs from comfort to multipurpose designs that transcend social settings and ultimately the wearer's desire to look good while also absorbing conscious values into their fashion choices.

Aimée: As an engineer, I've always been absorbed by the way that things are constructed. I bring this fixation to the way that I approach my designs. While many suggest that it's impossible to flatter the form with a low heel I disagree. My designs draw upon perfect proportion theories and improvement. Da Vinci's Vitruvian Man (originally by the Roman Architect Vitruvius) and the golden ratio (as we've come to know it) have contributed to my journey in design. When designing our signature shoe, the Iris, for example, the design is informed by the shape of the Oxford however we have reimagined it cutting it close to the start of the toes and up towards the ankle to elongate the leg. Our dimensions follow the golden ratio.
Aimée: The art of femininity and sensuality is still very much appreciated by some women, I think that this desire and the dominance of the male gaze in the past have accounted for the widespread endurance of high heels over the decades. In the contemporary moment, we (women) realise that femininity is not monolithic, there is a multitude of ways to express the self while also maintaining comfort and individuality. The heel may be one icon of femininity, but it is impractical, uncomfortable and limiting. Our shoes are made for movement and intrinsically linked to the curve of the foot and the shape of the body!
Aimée: The Aimée Ann Lou woman is a global citizen, an appreciator of fine living and fine quality that strives for elegance, exceptionality and independence. Our wearers might be any age but they are united in their appreciation of luxury and desire for freedom, self-expression and improvement.
Aimée: As a new brand, we've been able to enter the market with industry-leading innovation and best practices. We propose a combination of technical and time-honoured techniques. We take a slow approach, our designs embody a lot of hand-finishing so we produce in small batches and work with materials that will last. I am working towards fulfilling my responsibility as a designer, but I remain conscious of innovation and maintain a desire to improve.
Aimée: Our collections are handcrafted in Tuscany, just outside Florence. We have developed innovative design components such as the four-colour recycled unicorn trim and the signature crystal heel which functions in the same way as a bezel secures a diamond in a piece of jewellery. This means that, unlike many other brands, we do not use strong toxic glues to keep components in place. We only work with Italian artisans who operate under environmentally conscious standards and guarantee safe working conditions for the employees.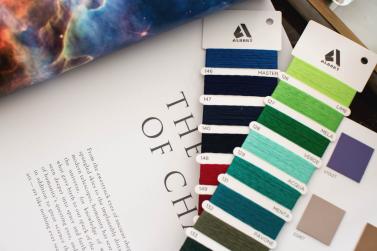 Aimée: Materials make the greatest impact. Our selection is sourced entirely from Italian mills and tanneries and is either certified sustainable at the highest grade or made from responsibly sourced bio-components or recycled materials. We use a lot of chrome-free sustainable leather which comes from one of the best tanneries worldwide, known for quality and improved processes and a member of the Leather Working Group, awarded the Gold Standard. Our satins and velvets are FSC certified with bio conscious raw silk. Other components such as trims, laces and grosgrain bindings are comprised of recycled yarns.
Aimée: We are currently finalising our Spring/Summer '23 samples and securing even more progressive sustainable materials and applications. We are applying high frequency to emboss our signature buckle shape with a material made from cornstarch. I fell in love with the finishing - similar to patent leather, bio-based and with more complex geometry. In collaboration with our sustainable leather partner, Gruppo Dani, we are developing a product passport. This means each pair of leather shoes will be labelled with a QR code that will certify that the leather meets the criteria for ecologically responsible leather production as well as confirm the origin of the leather. Through collaborations like these, we are able to make meaningful progress.
Credits: Creative direction by Aneesha Rai