This brand lies at the East x West axis
Words by Laura Cherrie Beaney in Design & Architecture · Apr 25th, 2022
CHI-KA extends garments from the rails towards a space that connects cultures and communities. Artful abayas and elegant artisan-made kimonos combine historic cultural codes from the founders' favourite places. More than just an atelier, CHI-KA pioneers cultural programming that unites multiple disciplines; exploring the meeting points between art, design, food, craft, robotics and performance. CHI-KA is a marriage between Middle-Eastern sensibilities and Japanese aesthetics, tradition and future thinking. We stepped into their Alserkal retail space and gallery to catch up with one half of the team behind the brand, co-founder Nina Valjarevic.
Nina: I moved to Dubai with my parents in 1993. My father was a structural engineer working on major high-rise projects in the UAE. I grew up between Kuwait, Canada and Dubai. I completed high school in Dubai and then went on to pursue a double-major undergrad in French and Mass Communications at York Univerisity in Toronto before further education in art at the Sotheby's Institute of Art, and MoMa in New York.
Nina: My mother had impeccable taste and a very keen, critical eye for design detail which rubbed off on me. Growing up, we travelled a lot - visiting museums and galleries was always part of the repertoire. Our house was full of art, purchased, gifted, and even made by my parents, from painting and photography to ceramics.
Nina: When I was around 11, I was gifted a big, heavy coffee-table book entitled: La Mode: Au Siecle Des Createurs 1900-1999; a history of fashion, which certainly opened my eyes to the world of fashion and its evolution through time. There was no internet at the time - our references came through life and books! I was also an avid magazine reader from early on absorbing everything from Vogue to Architectural Digest. I loved magazines and would cut them up and make collages to tell my own story.
Nina: While still in high school I became inspired by Paris and nostalgic references to the city's Belle Epoque era when Paris flourished in architecture, innovation, the arts and fashion. I studied French at university - I was certain I'd live there one day, and spent several magical summers there, taking courses at Alliance Francaise and enjoying the city by day, and night.
Nina: In my early 30s, Japan took over. My husband and I went there on a trip in 2013, its contemporary design aesthetic imprinted upon us. It was beyond inspiring. Japan became a lifestyle for us and informed what we do for a living.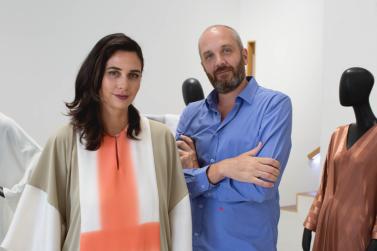 Nina: When my husband and I returned from Japan we brought back a few kimonos, which some of my friends snapped up and began wearing as abayas. This is how the idea for CHI-KA was born. I established CHI-KA the same year in 2013 with my husband, Nemanja Valjarevic. It was clear that Dubai was home and where we wanted to live, but at the same time, we wanted to incorporate a slice of the Japanese aesthetic that we were so drawn to.
Nina: We saw that there were so many unexplored opportunities between the two cultures - Japan and the Middle East - we wanted to establish new ways for creative collaboration.
Nina: We describe our brand as a creative encounter between Middle Eastern sensibilities and Japanese aesthetics. Our designs have a timeless quality. Crafted with love and attention to detail, they favour the creative process over seasonal trends. As a brand we are passionate about exploring cultural links between Japan and the Middle East through fashion, art and experiences that bring our world a little closer together.
Nina: The collection consists of contemporary abayas, luxurious artisan-made silk kimonos, and kaftans. The hand-painted, hand-embroidered Japanese kimonos are seen as works of art and regarded as timeless collector pieces. The brand also carries a range of chic, laid-back silhouettes, that explore innovative applications, textiles and cuts.
Nina: Some of the inspiring names that have influenced me in design are: Tadao Ando, James Turrell, Hiroshi Sugimoto, Dan Flavin, Geoffrey Bawa, Ayako Suwa (Foodcreations), Isamu Noguchi, Makoto Azuma (floral designer), Dieter Rams. Locally, founder and director of Traffic, Rami Farook has been a powerful source of inspiration.
Nina: One of my favourite pieces, which was the starting point for our fashion line, is the 'Hybrid Abaya'. Its silhouette is half kimono and half abaya. It really was the beginning of what is now a fashion line that is slowly expanding its regional and global reach.
Nina: Our clients are worldly and cultured with refined taste and a keen eye for detail. They appreciate innovative design and discovering something new. Many of them are independent women, working in senior-level positions for government bodies or are entrepreneurs with their own successful businesses. They are intelligent ladies, with a positive outlook, and an appreciation for meaningful experiences and interesting products.
Nina: CHI-KA is not just a fashion brand, but rather a cultural project, and our space certainly reflects that. The offering goes beyond clothing on racks. There is a yearly program of activations that educate, enrich and inspire our community.
Nina: In 2016, we extended CHI-KA as a concept towards a retail space and gallery from where we would showcase the fashion line but also run a cultural programme, bridging the gap between Japan and the Middle East through fashion, art, design, food, and performance. We designed the space together with Dubai-based architect Takeshi Murayama and designer Manabu Ozawa.
Nina: The fashion line continues to evolve with its range of contemporary abayas, kimonos, and kaftans, yet the embodiment of Japanese elements remains consistent. Japanese design sensibilities are pronounced in detailing, form, or fabric choices while honouring the sophistication and modesty of the Middle East.
Nina: Right now we're launching our summer collection, which will feature a lot of lighter weight, neutral and pastel-tone abayas, and kimono-inspired garments. We are also always looking into new activations as part of CHI-KA's cultural program.
Credits: Creative direction by Aneesha Rai