In The Studio: Mara Firetti's New Alserkal Gallery
Her space comprises an international roster of emerging and established artists
Words by Laura Beaney in Design & Architecture · Sep 5th, 2021
Moments of both vibrance and violence shaped the early years of Mara Firetti, an Italian national who was raised in Kaduna, Nigeria. Artists, both family members and acquaintances, have imprinted upon her life, inspiring her tastes and stimulating a desire to acquire and exhibit art that articulates and advances the nuances of the human experience. After several years as an entrepreneur, establishing successful entities in both Nigeria and Dubai, Mara took a leap of faith and opened her eponymous gallery, Firetti Contemporary, in Dubai's cultural centre, Alserkal Avenue. As we step into the new art season, Mara reflects upon how her gallery came into being and gives us a glimpse into its future.
Mara: My journey to gallerist was not a linear one! My life started in Cremona, Italy followed by a move to Kaduna, Nigeria, when I was just 5 years old - my father had a construction company there. Kaduna was a real adventure and school of life; I witnessed extreme poverty and violence which made me truly appreciate the value of all that I had. Following my father's wishes, I returned to Italy to study accounting. While there I maintained my ties with Africa, returning twice a year to visit my family, before moving back to Nigeria to contribute to the family business.
I married and moved to the city of Jos, where I brought my two children into the world all while working to establish my own importation and distribution company.
Mara: I witnessed, first-hand, the intense riots and clashes of September 7th 2001; turmoil that shook our community to its core. Thousands of Jos's citizens lost their lives. In fear for the safety of our family, we made the decision to move to Dubai.
This shift opened up new opportunities for me professionally. I worked in real estate and art investment for some time until an encounter with Albanian sculptor Helidon Xhixha 15 years ago. His powerful practice that lies at the meeting point between steel and light, the physical and the intangible; whilst simultaneously unpacking powerful philosophical concepts captivated me. My meeting with him proved to be transformative for us both. Helidon was at the start of his career and I was deeply enamoured by his practice. I committed myself to managing and propelling his artistic career and acquired a piece by him that still holds much significance entitled Incomplete, 2006. I witnessed the evolution of this piece on a daily basis - Helidon's passion emitted into sculptural form.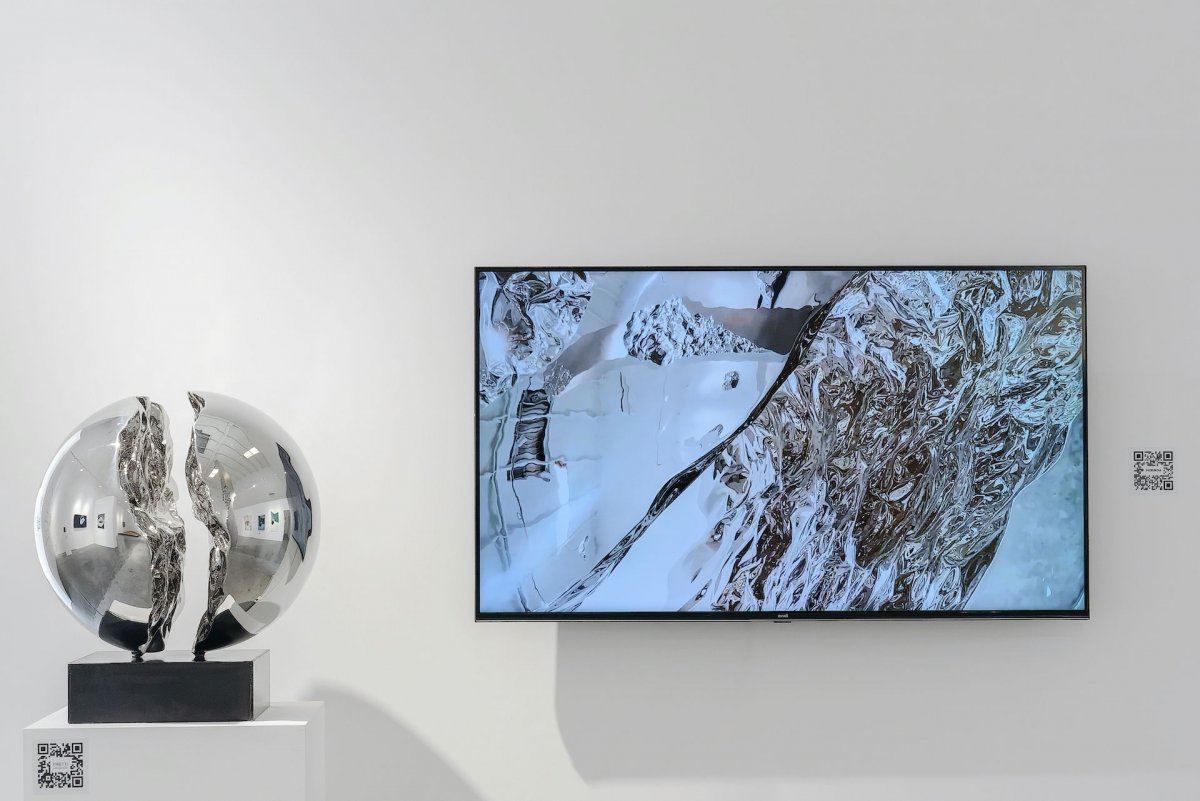 Mara: Art has been a continuous thread throughout my life. Both my parents loved to paint and often took me to exhibitions and museums. I have never witnessed such joy as that of my mother working on her canvas. It resonated with me, from an early age, that art can stir up intense emotions - a truly eye-opening realisation. She would spend hours painting and playing with colour, forming her own interpretations of the day-to-day happenings that she encountered.
Travels to historically rich cities like Rome and Florence also propelled my love for art, in these spaces every corner turned unleashed new beauty. The poetry of Gabriele D'annunzio, particularly La Pioggia nel Pineto, holds a special place in my heart. It's a symphonic composition, where words and lines form musical sound patterns. The tone and descriptive language, recounting the falling of raindrops on vegetation, is so beautifully composed, immersing the reader deeply into D'annunzio's universe.
Mara: Along my journey in the art world I began to build my own personal collection. It all started with a visit to the MiArt art fair in 2003 where I acquired several pieces that remain dear to me. I have sculptures by Helidon Xhixha, Robert Indiana, Alberto Giacometti and paintings by Alberto Biasi, Lucio Fontana, Mimmo Paladino, Mario Schifano, and Alighiero Boetti.
Mara: My fascination with Helidon's art and driving desire to place his works in the hands of the right collectors and institutions led me to the key international art hubs, art fairs and biennials. I started to organise exhibitions of my own and collaborate with renowned institutions including La Biennale di Venezia, London Design Biennale and the Uffizi Gallery Museum in Florence. It was during this period of immersion that I really found my passion. I met several inspiring figures from artists to their dealers and representatives along the way. It was such a formative and inspiring time that has enriched and broadened my perspectives and knowledge of the art market in countless ways.
Mara: We opened our gallery, Firetti Contemporary, in March 2021. Through a prism of artistic perspectives drawn together from across the globe, our central aim is to shed light upon humanitarian issues. We represent well-established artists as well as emerging ones and through our programming, we strive to spark conversations and new ways of thinking about topics such as cultural inclusion, globalisation, and gender equality. We aim to encourage global engagement through the building of meaningful and sustainable collections. Our focus falls upon contemporary and emerging artists because they chronicle our times and the rapidly changing world.
Mara: What's important to me is that the values presented by our gallery are constructive and beneficial to our local and global communities. The beauty and power of art are such that art is capable of influencing society by changing opinions and initiating thoughts, reflections and feelings. It allows people from different backgrounds, cultures and places in time to communicate with each other and share experiences. My gallery, in this scenario, becomes the podium where all these emotions are shared and received by the viewers.
Mara: We selected Alserkal as our base. The Al Quoz area emerged as an art hub in 2008 after the area's transformation from a warehouse district to one of the most popular and dynamic creative spaces in the region, taking inspiration from the vitality of cultural centres such as the Miami Arts District. Alserkal Avenue facilitates the sharing of ideas and talent and also caters to the cultural and social needs of the community.
Mara: Our first exhibition was Helidon Xhixha's, solo. The curation placed monumental sculptures: Iceberg, 2015 and Earth, 2019 in dialogue to form an astounding manifesto against global warming and the melting of polar glaciers. The works are now installed in Jumeirah Golf Estates, where the messages of the art continue and are absorbed by the community.
During summer we launched an ongoing exhibition of NFT art - an educational experience that sheds light on the NFT concept with the digital works showcased next to their physical counterparts. This September we will open a group exhibition of nine artists, united by their exploration of environmental conservation. Our December group show will focus on the function of language and information as well as the aesthetic intricacies of calligraphy. Through the art of Josh Rowel the show will explore emerging patterns in human behaviour, ushered in by the birth of the internet, while works by Saudi Arabian artist Lulwah AlHomoud will articulate the complexities of linguistic, mathematical and visual systems of communication.
Mara: On the subject of collecting. Personally, I invest in our emerging represented artists as I support and believe in their potential. I have pieces by Josh Rowell, Laura Lappi, Jacques Vertabedian, who I appreciate for their social involvement as well as the quality of their work. I'm also passionate about African art - the continent is home to many talented and creative minds. Kadara Enyeasy from Nigeria and Collin Sekajugo from Uganda are part of our carefully selected represented artists. At the moment, with all the turmoil in the world particularly in the Middle East I would encourage collectors to look to and support artists from affected countries. As a gallery, we emphasise the importance of art in public spaces with a focus on sculpture. Most of our collectors invest in art pieces that are placed within the landscapes of their properties or act as statement pieces at the entrance of their business establishments. For us, art is the highest statement of cultural proficiency.