Product designer Nada Debs discusses her Japanese & Arab influences as well as the importance of local craftsmanship.
Words by Aneesha Rai in Design & Architecture · Jul 8th, 2021
In this edition of 'In the studio', we feature Nada Debs, a Lebanese designer based in Beirut who often travels to Dubai for work. Being brought up in Japan and having studied in the U.S. at the Rhode Island School of Design, Nada brings a fresh touch to her approach while designing contemporary objects with local flavor & craftsmanship. Her work spans from product and furniture design to one-off commissions across craft, art, fashion and interiors with a strong focus on culture and craftsmanship to create pieces of emotional resonance.
Q: Tell us about your process and your approach to designing a piece.
Nada: I grew up in Japan, studied in the U.S., lived in the U.K. and moved to Beirut 20 years ago. My educational process living around the world led me to understand the value of craftsmanship. When I arrived to Lebanon, craft was something that was used in just tourist gifts; like little backgammon boxes and games - it wasn't valued then. And so what I decided to do is try to elevate that in this part of the world and give it a luxury feel like in the U.K., France or anywhere else in the world. The way I work is that I go to a craftsman and I look at the work that they do, and then come up with a new technique for a sample using their traditional craft to create a new item by trying a new inlay or new material amongst various other techniques. Once completed, I place the sample on my desk and then try to come up with a new collection that brings out the best in the craft. I don't work with a particular form and work backwards, as opposed to creating an object with a particular function in mind.
Q: How has growing up in Japan impacted your design process?
Nada: In terms of the aesthetics in Japan, it's all about keeping things down to its essence. So everything is pretty minimalistic; without any extra frills - they see beauty this way, which is now part of my subconscious. When I came to the Arab world, it was the complete opposite - the pieces are made of repetitive patterns and are overtly decorative. I wanted to preserve the craft and make it stand out and apply the philosophy of less is more. When I lived in the UK, I realized that when something is handmade and crafted, it goes up in value.
Q: How would you describe your 'house style'?
Nada: My home is very eclectic, it's completely different from my showroom, which represents the Nada Debs brand in an old 1930's apartment. My home is more contemporary in style, filled with either a piece of furniture I made in the wrong size or some prototypes. I like warm environments with good lighting; I love cosy lighting just like the old Chinese film, 'In the Mood for Love'. In order for a craft to stand out, you need to put it in a minimalist environment.
Q: What's your favorite part of the design process?
Nada: My favorite part is really working with the craftsmen and coming up with a new technique. That's where my inspiration comes from. I love working with wood in terms of material. I'm also very interested in working with leather and combining something unexpected, like concrete and mother of pearl. I like to work a lot with duality and contrasts.
Q: What are you currently working on?
Nada: I'm working on so many things. We do a lot of custom furniture, and so we work with a lot of interior designers. I'm also on the look out for new craftsmen so I can come out with new ideas. I love to discuss ideas with craftsmen and learn about what are the things that they've always wanted to do, what they were never able to do or any ideas they propose in order to turn into a piece.
Q: What's your view on the design scene in Dubai?
Nada: Here people think about large scale design. It's all about economics and making the best out of it. So there's lots of CNC machines that give that handcrafted look and they do have like maybe a few people in a big factory doing some kind of handcrafted work. But I have not seen many workshops that are just completely pure craft. I am working on a collaboration with the Irthi council in Sharjah that work on weaving techniques. As I visit all these interior designers and the factories, I talk to them about the basics - about how important it is in order to preserve our identity through our craftwork, we need to preserve our craftsmanship. I'd like to be known as the 'Hermes' of the Middle East, not because it's a luxury brand, but because they promote handcraft and heritage and and this is something we need to preserve in our part of the world, because it's something very closely attached to our identity.
Q: What are some of your favorite reads?
Nada: Whenever I go to any country, I always read the books of that country just to understand the culture - whether fiction or not. But in terms of books, one of my favorite books is called 'In Praise of Shadows' by Jun'ichirō Tanizaki. He's an architect and he wrote a book on how the shadow is as important as the light of the moment. There's another book I love, which is called 'Wabi Sabi'.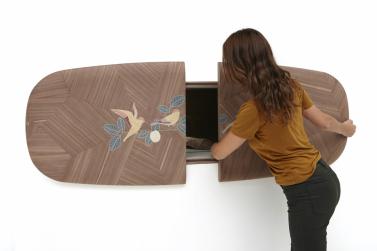 Q: Who are your favorite design personalities?
Nada: I was brought into the world of product design with Philippe Starck. I think he was revolutionary and I discovered him at a time when it was a big eye opener for me. Patricia Urquiola - because she brought a feminine side to this masculine world of furniture. I love the simplicity of Michael Anastassiades' lighting and Lindsay Adelman as well for her use of hand blown glass in her lighting pieces.
Q: Which one of your products would you send as a housewarming gift?
Nada: I love the marquetry mania bowl or a concrete bowl from my collection, I think either of those would make a great housewarming gift.
All images courtesy Nada Debs