Dubai Neighbourhoods And Areas Part 2
The second part of our ultimate guide to Dubai's neighbourhoods. Bookmark this if you want an orientation to the city!
Words by Ankita Bhowmick in The Guides · Jun. 13th, 2018
This is the second part in our guide to Dubai's neighbourhoods.
To read the first part, click here.
20. The Lakes
The Lakes compliments its residents with water-views, parks and landscaped greenery. Situated between two world-class golf courses, The Montgomery at Emirates Hills and Emirates Golf Course, the community features great green spaces and gorgeous, expansive lake-views, that give it an amazing community vibe.
The Lakes consists of six communities, Deema, Forat, Ghadeer, Hattan, Maeen and Zulal, that offer 600 villas in 12 different architectural styles. The homes that the community has on offer vary from 3 bedroom townhouses, up to 7 bedroom luxury villas.
21. The Villa
The Villa features beautifully designed Spanish styled villas at an affordable price. The gated community provides its residents with round-the-clock security and is located in the heart of Dubai and is easily accessible from Mohammed Bin Zayed Road and Al Ain Road.
The Villa features 1,811 luxury villas with 4, 5 and 6 bedroom options overlooking lush landscaped. It features 13 types of homes that are complemented with state-of-the-art modern features, inspired by the intricate details of a Spanish Home. In order to cater to the needs of the residents, the tranquil community offers a Community Centre, supermarkets, pharmacy, spas, salons, gyms, mosque, currency exchange, cafes and restaurants, that are located within the vicinity. Those who like to engage in outdoor activities, can take advantage of the large park, landscaped gardens, Tennis Courts and jogging and bicycle tracks that the community has on offer. Nursery, school and children's playground within close proximity, makes The Villa a perfect abode for families with children.

22. Victory Heights

Covering 25 million square feet, Victory Heights is a highly sought after private golf course villa community. It is home to a lot of families with children, who choose it for being safe and secured.
Victory Heights offers around 961 beautifully designed luxury villas and townhouses set around the Ernie Els design golf course. They feature a variety of architectural styles like European Classical, Spanish Andalusian, and Mediterranean. The homes range from our bedroom townhouses and villas to five to six bedroom villas. They feature spacious rooms, big windows, and high-end kitchen appliances.

23. Tilal Al Ghaf
Tilal Al Ghaf is a brand new mixed-use community, located not too far from Dubai Sports City. Slated to have over 350,000 sqm of open space, it features housing facilities, along with schools, hospitals and restaurants.
The community offers contemporary luxury villas with gorgeous open-plan layouts featuring high standard finishes. In order to cater to the needs of the residents, Tilal Al Ghaf will host a community area called The Hive. It will host gourmet grocery stores, food & beverage outlets, retail & convenience stores, pop-ups, banks & money exchange services, medical clinics, tennis & basketball courts, valet parking, golf cart services & transport stands.
24. Al Habtoor City
Bringing together hospitality, residence and leisure, Al Habtoor City is an all-encompassing city featuring world-class hospitality, residential and leisure facilities under one roof, along with spectacular gardens and a helipad. It hosts three 5-star luxury hotels and a range of exceptional leisure activities including the unique Dragon show, a state-of-the-art tennis academy and an impressive array of exclusive boutiques and cafes on the boulevard and the waterfront.
Al Habtoor City features two 73-storey and one 52-storey residential towers, Noura, Amna and Meera. They comprise of deluxe apartments, lofts and penthouses, ranging from 1-7 bedrooms. Catering to the needs of the residents are upscale amenities that include the largest swimming pool podium in the UAE, a state-of-the-art gym, a luxury spa and signature restaurants.

25. Bluewaters Island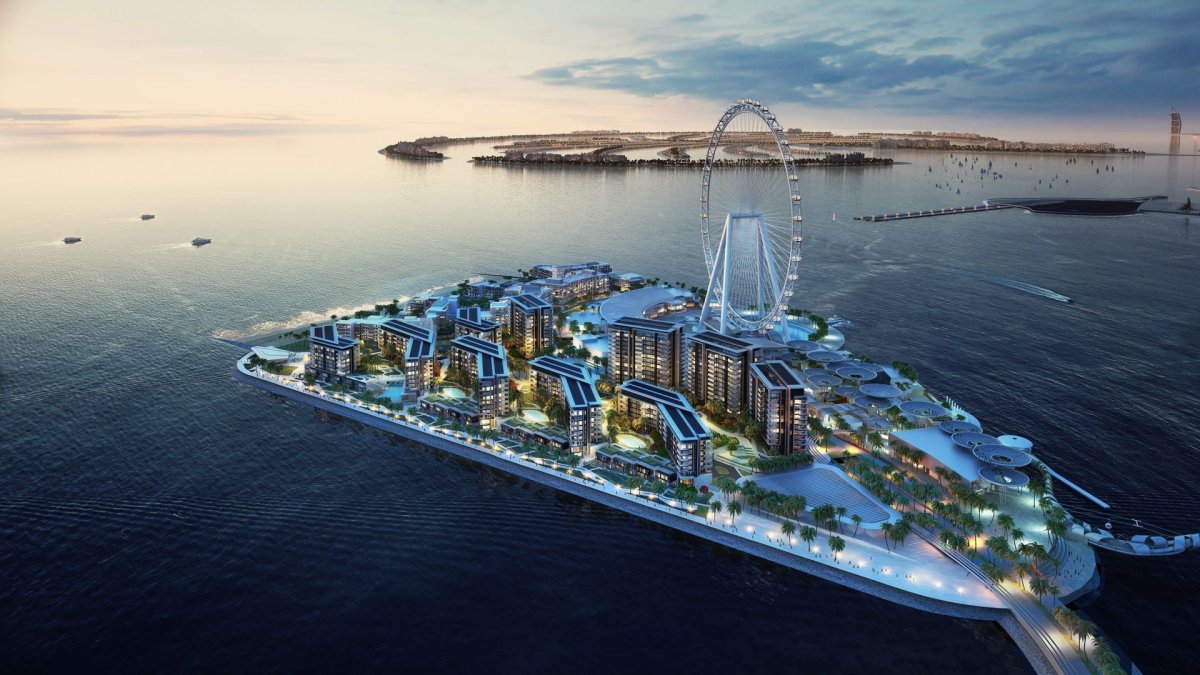 Bluewaters Island is a man-made mixed-use island located off the coast of Jumeirah Beach Residence (JBR). It hosts the Ain Dubai the world's largest observation wheel called the Ain Dubai as well as two five-star luxury hotels.
Bluewaters Island features 10 apartment buildings, 4 penthouses, and 17 townhouses and consists of home that are finished to the highest standards. Amenities that they have on offer include state-of-the-art gymnasiums, swimming pools, landscaped gardens, basketball courts and children play areas.

26. Green Community
A family-oriented community in the suburbs, the Green Community is a gated community and features landscaped gardens, stone streets and a relatively traffic free environment.
It covers 67 lush hectares of residential, leisure, retail, and commercial properties amidst beautiful surroundings with natural greenery. The self-sufficient community is perfect for singles to live in.

27. The World Island
The World Island is a man-made archipelago lying 4 km off the coastline of Dubai. It consists of 300 man-made islands in the shape of a map of the world. They are divided into four categories - private homes, estate homes, dream resorts, and community islands and the only means of transportation between the islands is by marine or air transport.
The residential islands will feature low rise residential buildings hosting stylish apartments while some islands have been dedicated to villas and water homes. The seahorse villas that the community has on offer features submerged bedrooms with views of transplanted corals and waters of the gulf.

Upcoming Communities
1. Dubai Creek Harbour
Creek Gate

AED 1,890,000

Apartment
2 beds
1,046 sq. ft.

Offplan
Situated on the banks of historic Dubai Creek, Dubai Creek Harbour is waterfront community that will feature The Dubai Creek Tower, a 928 metres tall building that will upstage the Burj Khalifa by 100 meters. The residential projects that will be a part of the community are Creek Gate, Harbour Gate, The Cove, Dubai Creek Residences, Creekside 18, Harbour Views and Creek Horizon.
The new vision of Dubai offers World class residences, spectacular cultural offerings, shopping, amenities, offices, state-of-the-art sports facilities and lush sprawling gardens. Dubai Creek Harbour hosts nice districts, each of which offers a distinctive lifestyle so as to cater to the need of all sorts of people.

2. Mohammed Bin Rashid City
A master development, Mohammmed Bin Rashid City focuses on four major components: theme parks, retail, art and an environment for sustainability and entrepreneurship. Residents will be complemented with a life in tranquility while enjoying the energy and excitement of the city at their doorstep. The three main prototypes that the development features are the Modern Arabic, Mediterranean and Contemporary design.
The homes that the community has on offer are of one, two and three bedrooms, that are suitable for couples as well as families. It is set around an 18-hole championship golf course and features landscaped parks and gardens, winding walkways, and large open areas. It also hosts a commercial centre, high-end retail centres, hotels, educational institutions, healthcare facilities, mosques and restaurants. The key highlights of the community include one of the largest entertainment facilities in the world in collaboration with Universal Studios, the largest mall in the world named The Mall of the World and also the biggest swimming pool in the world.

Dubai Hills Estate
Part of the Mohammed bin Rashid (MBR) city, Dubai Hills is a 2,700 acre development offering beautifully built villas overlooking the golf course and also offers luxury townhouses and villas. In order to cater to the needs of the residents, the community offers a mall called the Dubai Hills Mall, along with landscaped parks, gardens, retail outlets, offices, jogging and cycling tracks tennis academy and a clubhouse with a host of amenities including a pool and gym.
The villas that Dubai Hills has on offer are modern and contemporary along with a few classic mansions.

3. Emaar South
Located on the crossroads of Dubai and Abu Dhabi, Emaar South enjoys proximity to the Al Maktoum International Airport and the Expo 2020 site. The development is home to two business hotels, recreational facilities, convenient shopping options, a resort hotel and a well-appointed community centre.
Emaar South consists of 6 districts, featuring more than 1,500 residences with state-of-the-art facilities. It offers a new concept of tiered townhomes and standard townhouses. It also offers standalone villas and apartments that will provide the residents with stunning views of 18-hole championship golf course, that is situated within the community. Part of the community is The Golf Link Villas, a freehold mixed-use development that comprises of standalone villas, tiered townhouses, and low rise residential apartments. The 4 and 5 bedroom Emaar luxury Villas will be surrounded by an abundance of greenery and crafted landscape.